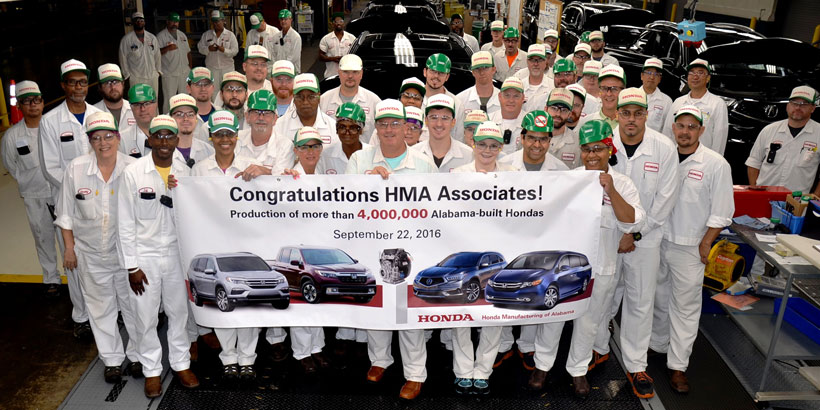 LINCOLN, Alabama — If you line up all the Honda vehicles that have been built at the automaker's Talladega County plant since it opened 15 years ago, they would stretch across the U.S., from New York to Los Angeles, more than four times.
That's what 4 million Alabama-made Hondas look like.
Today, Honda Manufacturing of Alabama celebrated a key milestone: the production of 4 million vehicles and V-6 engines.
The $2.2 billion plant started mass production in November 2001. It is the sole source of Honda's Odyssey minivan, Pilot SUV and Ridgeline pickup, as well as the Acura MDX luxury SUV. It also produces the engines that power all four vehicles.
"The commitment and dedication of our 4,500 associates has allowed HMA to achieve this production milestone and fulfill our commitment to quality for Honda customers across the globe," HMA President Jeff Tomko said.
The 4 million milestone comes as a delegation of Alabama government and business leaders are visiting Tokyo for SEUS Japan 39, a forum that aims to strengthen cultural and economic ties between the Southeastern U.S. and the Asian nation.
Greg Canfield, secretary of the Alabama Department of Commerce, is leading the state delegation in Tokyo. Canfield and a group of Alabama officials visited Honda's corporate headquarters this week.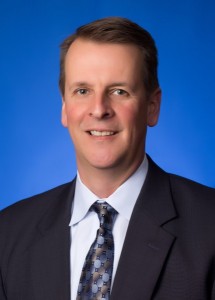 "Honda has been a powerful economic engine in Alabama, creating thousands of jobs and new levels of opportunity for residents in Talladega County and across the state," Canfield said.
"Honda has found a home in Alabama, expanding repeatedly to boost output and add capabilities," he added. "We'll work hard to keep this fruitful partnership going strong."
GOING THE DISTANCE
To mark the milestone, Honda had a little fun with the numbers.
Based on an average length of 16.4 feet per vehicle, 4 million HMA-built vehicles lined up end-to-end would stretch 12,422 miles, the company said.
That would:
• Stretch around the Talladega Superspeedway 4,670 times (2.66 miles)
• Nearly span the distance (just eight miles short) from the North Pole to the South Pole (12,430 miles)
• Go from New York to Los Angeles almost 4.5 times (2,791.8 miles)
Four million vehicles also would:
• Fill up every parking space at Hoover's Riverchase Galleria 370 times (10,800 spaces)
• Fill up every parking space at Walt Disney World 170 times (23,540 spaces)
2.2 MILLION MINIVANS
The Odyssey represents the lion's share of the plant's output over the past 15 years, accounting for more than 2.2 million models produced. It's followed by the Pilot, at 1.4 million, the Acura MDX at 216,521 and the Ridgeline at 121,009.
The plant also turned out 27,119 Accord V-6 sedans from 2009 to 2010.
Honda's Alabama assembly lines have the capacity to produce up to 340,000 vehicles and engines per year.
Since 2013, the company has invested more than $520 million and added more than 500 jobs in multiple expansions.
A 2015 study showed the plant generated $6.8 billion in economic activity in the state. Along with its Tier 1 suppliers, the automaker is responsible for more than 43,000 jobs and 4.4 percent of the state's total annual output of goods and services.
Honda leads the way in Japanese investment in the state.
Since 1999, when the automaker announced plans for the Talladega County operation, Japanese companies have invested more than $5 billion in Alabama.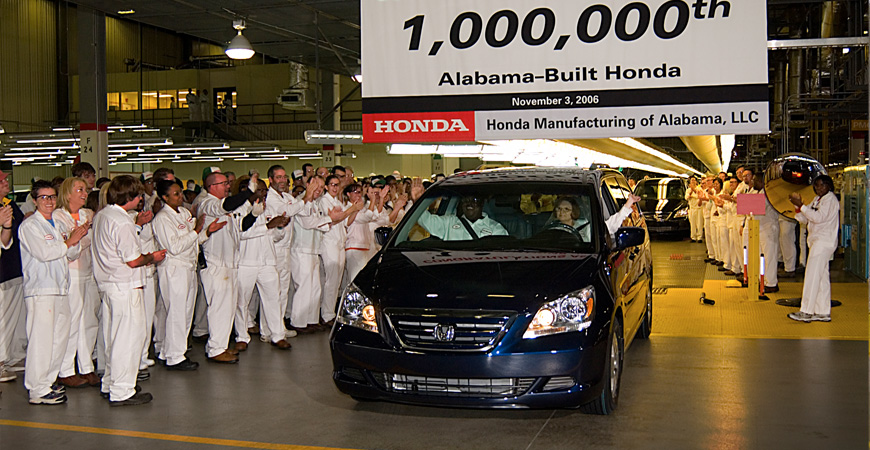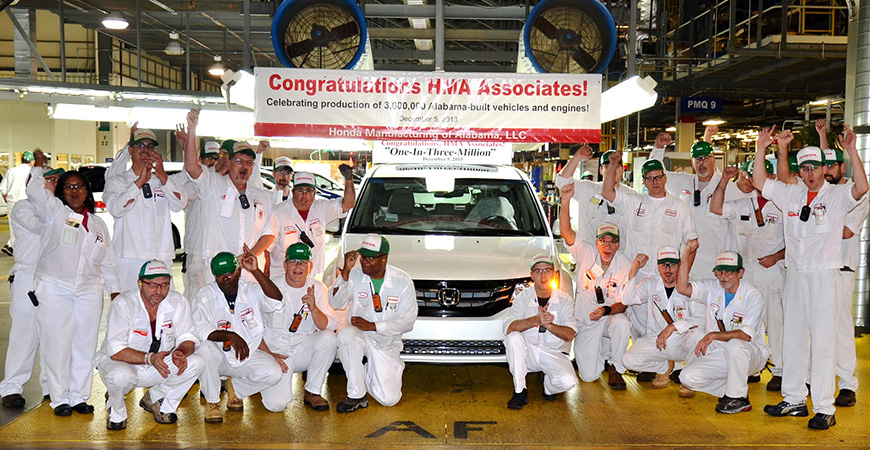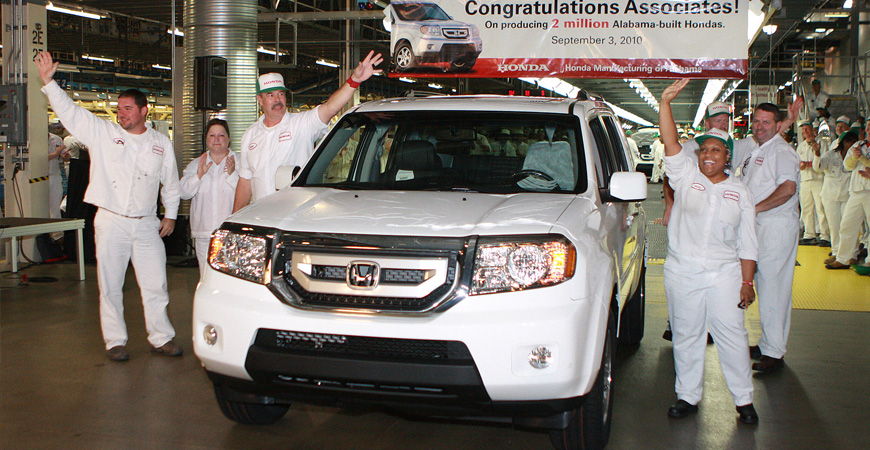 Don't miss out!  Subscribe today to have Alabama's leading headlines delivered to your inbox.