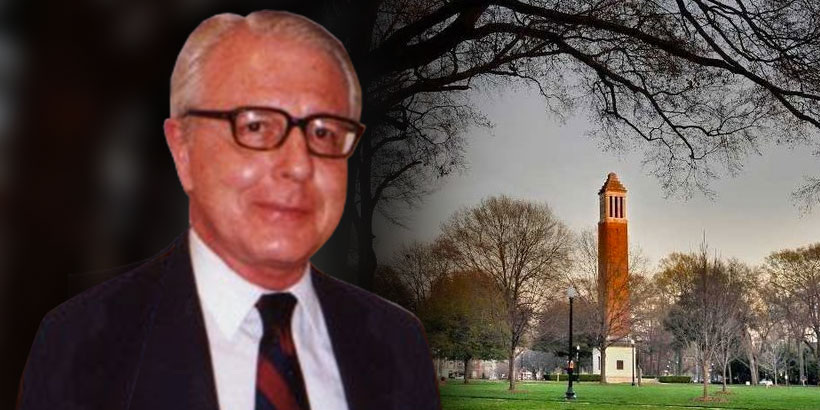 TUSCALOOSA, Ala. — The University of Alabama recently received a bequest of $5.3 million from the estate of John Deramus, a 1956 graduate of The University of Alabama.
The planned gift by the Clanton native will create the John B. Deramus Fund, an endowment that will provide support for the University's priority needs, including scholarships.
"John was a very caring, generous person, and he was a very private person," said Richard Moore, Deramus' cousin and a 1973 graduate of UA. "I didn't have any idea what he was planning, but I am not surprised that he was generous to the University. He was always fond of the University."
While Mr. Deramus made the University aware of his long-range plans to remember his alma mater, he did not reveal the value of his planned gift. The amount of Mr. Deramus' gift is indeed significant, but his greatest gift was giving the University discretion as to how the bequest would be used.
"We are astounded by the generosity of Mr. Deramus, and we appreciate the faith he has placed in us to allocate these funds in a way that most appropriately meets the needs of our growing University," said UA President Stuart R. Bell. "His remarkable contribution establishes a legacy that will continue to change lives for many years to come."
Deramus graduated from Chilton County High School before attending UA, where he was a member of Sigma Alpha Epsilon fraternity. After earning his Bachelor of Science degree in the College of Commerce and Business Administration, Deramus served as an officer in the U.S. Air Force.
Following his tour of duty in Japan, he worked for an investment firm in Montgomery—Thornton, Mohr and Farish. He later worked at the First National Bank of Atlanta, the Birmingham Trust National Bank and SouthTrust Bank in Birmingham. Following his retirement, he returned to his family home in Clanton.
Daniel Bass was a close friend and former colleague of Deramus', having worked with him for more than 20 years at SouthTrust Bank.
"John was easy-going all the time. He was always laughing. He was one of my favorite people, and I miss him," said Bass. "He told me that he was going to give some of his estate to The University of Alabama, but he never told me how much."
A collector of art, Deramus also enjoyed music and, according to friends and family, often traveled to visit museums and galleries and attend concerts. He died at his home Feb. 6, 2015, at the age of 81.
"Although I never had the opportunity to meet Mr. Deramus, I am grateful for his incredible dedication to The University of Alabama," said Bob Pierce, UA vice president for advancement. "He not only made a significant contribution that represents the culmination of his life's work, he also gave the gift of trust in the University's administration to use the bequest for the institution's best interests."
The full amount of the gift will create the corpus for an endowment that, per the guidelines of the University of Alabama System, typically generates an amount equal to 5 percent of the endowment's market value on an annual basis. That means approximately $265,000 will typically be made available in perpetuity to further the institution's mission under the leadership of the University president.
"Undesignated donations provide the most flexibility for campus leadership to best maximize the impact of a gift," said Pierce. "It will be wonderful to see Mr. Deramus' generosity used for the benefit of the University, including scholarships for future generations of students."
---
The University of Alabama, a student-centered research university, is experiencing significant growth in both enrollment and academic quality. This growth, which is positively impacting the campus and the state's economy, is in keeping with UA's vision to be the university of choice for the best and brightest students. UA, the state's flagship university, is an academic community united in its commitment to enhancing the quality of life for all Alabamians.
CONTACT: Edith Parten or Chris Bryant, UA media relations, 205/348-5320, cbryant@ur.ua.edu
Don't miss out!  Subscribe today to have Alabama's leading headlines delivered to your inbox.