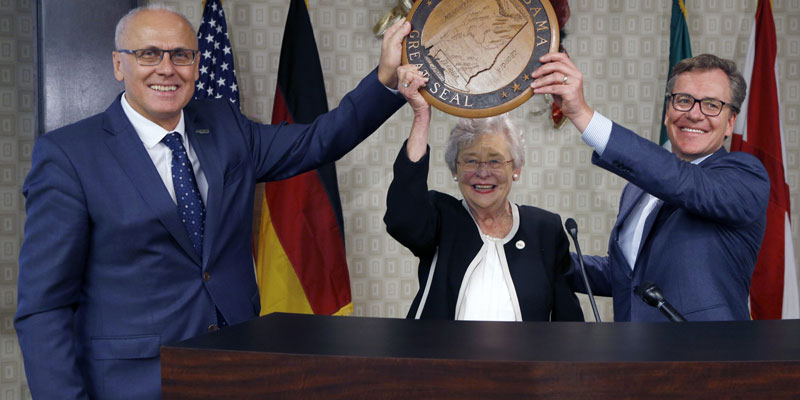 Executives from global auto supplier BOCAR Group said Tuesday that construction on a new $115 million manufacturing facility in Alabama will begin in spring 2018, with production launching at the site two years later.
The 350,000-square-foot plant, located on Bibb Garrett Road just off Interstate 65 in the Limestone County portion of Huntsville, will bring more than 300 jobs to the area.
Wilhelm Baum, CEO of BOCAR Group and president of BOCAR US Inc., said the state-of-the-art facility will be capable of producing high-end structural aluminum parts for automakers operating in the United States.
"Highest technology, excellent quality and efficiency are a must. However, people are the most relevant factor for success," Baum said. "Huntsville, Alabama offers everything necessary, and the plant will become a new member of the BOCAR family."
BOCAR executives joined state and local leaders for a ceremonial groundbreaking for the project at the Huntsville/Madison County Chamber on Tuesday afternoon. The company officially announced plans for the facility on Nov. 16, following an extensive site search.
"Alabama is a premier destination for the automotive and automotive supplier industries, and we are proud to welcome BOCAR to our state," Governor Kay Ivey said.
"BOCAR choosing Alabama is another sign our state is moving in the right direction and doing all we can to attract good-paying jobs for all Alabamians," she added.
STRONG GROWTH
BOCAR is a German company with a presence in the United States, Germany, Mexico and Japan. It is a high-end technology company with extensive experience producing high-pressure aluminum die casting, plastics and machining."With this manufacturing facility in Huntsville, Alabama, BOCAR is localizing in the USA the production of lightweight body structure parts," said Marcus Baur, president of BOCAR Group. "Providing latest technology and innovation expertise, following industry trends, we will fulfill the demands for weight reduction and lowering of CO2 emissions."
BOCAR selected Alabama at a time of strong growth for an automotive manufacturing sector that has attracted new facility and expansion projects creating well over 2,200 jobs in 2017 and beyond.
"Alabama's dynamic auto sector continues to attract world-class suppliers like BOCAR because we offer all the ingredients that this global industry needs for success, including a highly skilled workforce and a business-friendly environment," said Greg Canfield, secretary of the Alabama Department of Commerce.
"BOCAR's decision to make a significant investment in Huntsville reflects the company's confidence in our state, and we're committed to helping its new operation thrive."
Huntsville Mayor Tommy Battle said BOCAR's investment further confirms the state's emerging role as a national leader in the automotive sector.
"We look forward to a long and mutually beneficial partnership that will contribute to the economic and social vitality of our community," Battle said.
(By Jerry Underwood, courtesy Made in Alabama)