By Dawn Azok
When it comes to Japanese investment in Alabama, auto manufacturers Honda and Toyota and their broad network of suppliers across the state immediately come to mind.
But the Asian nation is behind a significant number of non-automotive companies here as well, from chemical and steel producers to pharmaceutical and life insurance firms.
In all, there are more than 140 Japanese companies that call Alabama home, and their combined annual contribution to the state economy, from a consumer perspective, tops $200 million, said Mark Jackson, honorary consul general of Japan in Alabama.
"It is a solid, proven base for Japanese investment to only grow bigger," he said. "The Japan America story is tremendous, but I think the Japan Alabama story is even better."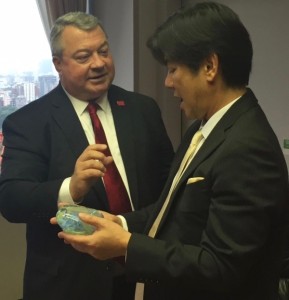 Jackson is part of an Alabama delegation that is visiting Tokyo this week and participating in SEUS Japan 39, a high-level forum that aims to strengthen cultural and economic ties.
Greg Canfield, secretary of the Alabama Department of Commerce and other Commerce officials, are part of delegation in Tokyo, where they visited Honda's corporate headquarters. While there, Canfield presented Honda officials with a hand-crafted glass sculpture from Orbix Hot Glass in Fort Payne.
The Commerce team has also engaged in meetings with representatives of Unipres, an auto supplier with an operation in Steele, and others.
BUSINESS CONNECTIONS
Last year alone, 19 new and expanding Japanese companies and joint ventures announced more than 700 new jobs and new investment topping $365 million, according to Alabama Department of Commerce data and the Japan-America Society of Alabama.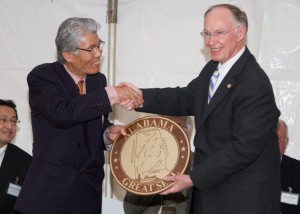 They included Pharmavite, a dietary supplement manufacturer in Opelika that is a subsidiary of Japan's Otsuka Pharmaceutical Co., and southwest Alabama carbon steel processor AM/NS Calvert, a joint venture that includes Japan's Nippon Steel.
In other recent moves, Japan's Dai-ichi Life Insurance Co. completed its purchase of Birmingham's Protective Life Corp. last year, a $5.7 billion deal. Shortly after the merger was completed, the companies announced $4.1 million in donations to medical research, education and cultural organizations in Alabama.
Elsewhere, other Japanese companies are also actively contributing to their communities in Alabama.
In Decatur, for example, chemical firm Daikin and Toray, maker of carbon fibers and fluorofibers, continue to grow their businesses and shape the region, said Jeremy Nails, president and CEO of the Morgan County Economic Development Association.
"Every year Daikin America hosts the Daikin Festival, a free event to educate our community on Japanese culture that often boasts attendance of more than 20,000," he said. "Daikin also donated funds to add the Daikin Amphitheater to downtown Decatur allowing the city much needed space for events."
"Toray is the annual title sponsor of the Dragon boat race where 75 teams compete and raise over $150,000 for the local hospital," Nails added.
Daikin added 20 jobs in 2014 amid plant expansions in Decatur and has been in a continuous growth mode since starting up in the early 1990s. Today the company has 370 employees, and this year marks its 25th anniversary in Alabama.
Toray currently has 320 employees at its carbon fiber plant and 53 at its fluorofiber plant, both of which are in Decatur. To date, Toray has invested more than $500 million in its Decatur facilities.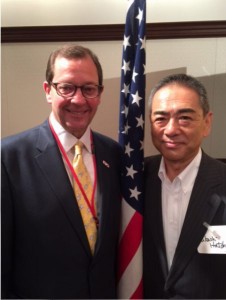 REWARDING RELATIONSHIP
Jackson, the honorary consul, said it's remarkable to consider the current relationship between the U.S. and Japan, since the countries were on opposite sides of World War II just a few generations ago.
"We have gone from becoming mortal enemies to global trading partners, and together we have built two of the strongest economies in the world," he said.
Jackson credits Sister Cities International, a citizen diplomacy program instituted by President Dwight D. Eisenhower in the 1950s, with helping spur not only cultural understanding but also economic cooperation with markets around the globe, including Japan. Cities across Alabama participate in the program, and several have sister cities in Japan.
Since 1999, when Honda announced plans for its auto assembly plant in Talladega County, Japanese companies have invested more than $5 billion in the state, according to Alabama Department of Commerce figures.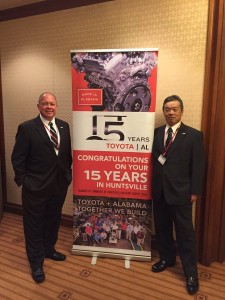 A recent study showed Honda's sprawling $2 billion plant generated $6.8 billion in economic activity in the state last year. Along with its Tier 1 suppliers, the automaker is responsible for more than 43,000 jobs and 4.4 percent of the state's total annual output of goods and services.
Toyota is celebrating its 15th anniversary in Huntsville this year. The $864 million engine factory has expanded four times since its groundbreaking in 2001 and now employs around 1,350 people.
The Alabama delegation in Tokyo includes more than 30 government officials, economic development professionals and others who work in finance, manufacturing, medical technology and tourism. Regions Financial Corp. executive John Turner is co-chairman of SEUS Japan 39.
They have taken part in sessions on environmental innovation, as well as investment and trade, and they are networking with Japanese business and government leaders.
Don't miss out!  Subscribe today to have Alabama's leading headlines delivered to your inbox.