With slow growth, Alabama at risk of losing seat in Congress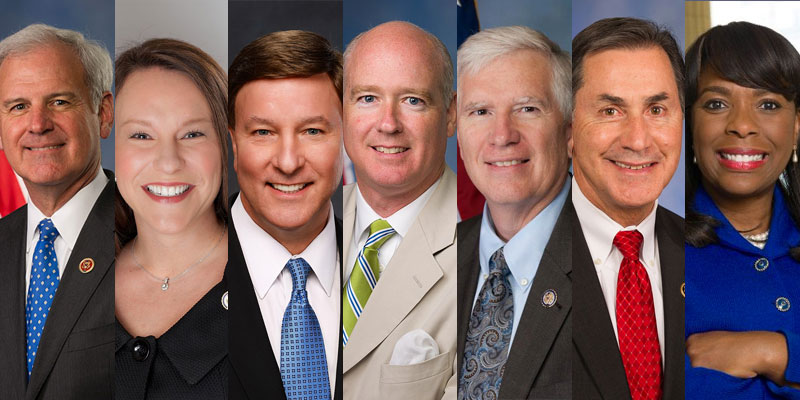 If the decennial redistribution of seats in the House of Representatives occurred this year, Alabama would be OK.
Unfortunately for the Yellowhammer State, the census figures that will be used to make that determination will not be gathered for another two years. And short- and long-term trends do not bode well for Alabama.
The political consulting firm Election Data Services last week ran three different scenarios and each projected that Alabama will lose a seat after the next census. The firm's president, Kimball Brace, said in an interview that Alabama stands out among its faster-growing neighbors in the Southeast.
"It is unusual," he said. "What we have seen since 1950 is a loss of population in the North and Northeast and states in the South and West are growing."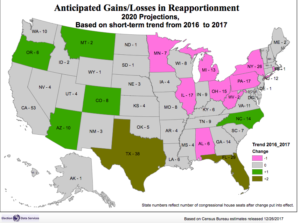 That growth has passed over the Heart of Dixie, however.
The Constitution requires that House districts be reapportioned based on population changes every 10 years. The bigger the state, the more representation it gets in the House. It was part of the great compromise that allowed populous and small states to buy into the new form of government that those statesmen crafted in Philadelphia in 1787.
Based on the latest estimates released last month by the Census Bureau, Alabama had 4.87 million people as of July, up about .2 percent from 2016. Both Election Data Services and the University of Michigan Population Studies Center agree that Alabama would not lose a seat if reapportionment occurred today.
But it would be close.
Alabama would avoid losing a seat by just 19,589 residents. Only Colorado and Rhode Island crossed the threshold with fewer people to spare.
By 2020, however, Alabama could be in trouble. It has grown less than half as fast as the rest of the country since 2010, and markedly slower than many of its peers in the Southeast.
The Election Data Services projects Alabama will lose a seat in each of three scenarios:
Based on the growth rate from 2016 to 2017, Alabama's population in 2020 would be 4.91 million — 48,850 fewer people than would be needed for a seventh seat.
Based on the growth rate between 2014 and 2017, Alabama's population in 2020 would be 4.9 million — 70,512 fewer people than would be needed for a seventh seat.
Based on the growth rate from 2010 to 2017, Alabama's population in 2020 would be 4.92 million — 88,485 fewer people than would be needed for a seventh seat.
Of course, nothing is written stone.
"There could be an event in the next three years that could change that projection," Brace said.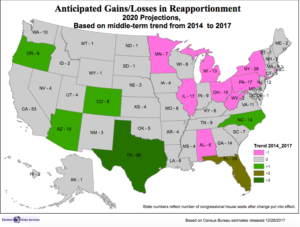 But Alabama has been stuck in a slow-growth pattern for decades. From 1913 to 1933, that state has 10 House districts. But in each successive census, the state either held steady or lost ground during reapportionment.
Steven Taylor, a political science professor at Troy University, said it is not entirely clear why Alabama has lagged its peers in the South.
"We haven't done a good job of attracting a lot of outside investment," he said.
Taylor said North Carolina and Georgia, for instance, have outperformed Alabama in education. He added that while the state's taxes are low, government services are skimpy.
If Alabama does lose a seat, how important is it?
"I don't know that it's super dramatic," Taylor said.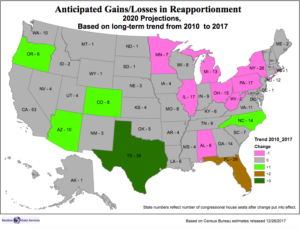 Brace agreed. He said the state would have a marginally smaller voice in Congress but added that the ability and seniority of the members of the delegation are more important than the size. Still, he said, all things being equal, "It's always better to have more members than less."
Taylor said the biggest impact would be that members of the House would be even more distant from their constituents with more people living in their districts. He noted that the size of the House had not been increased since 1912, when it was set at 435 districts.
The average member of the House had 210,000 constituents. Since then, the U.S. population has grown from 92 million to more than 325 million. but the size of the House has remained unchanged.
"It really is a more of a representation quality issue. … that doesn't really get talked about much," he said.
The ideal number of constituents per district is debatable. But there is one group that indisputably would be affected by a reduction in Alabama's House delegation — politicians. An unfavorable result from the census would force state legislators to redraw the lines and cut out one of the districts.
Ordinarily, a Republican-dominated legislature would target Democrats to take the hit. But since the only House Democrat in Alabama is Rep. Terri Sewell, who represents a majority-black district, she probably would be safe. That means two incumbent Republicans might well end up running against each other.
"Ultimately, if you do lose a seat, the question is who's the one who takes the bullet?" Brace asked.
Brendan Kirby is senior political reporter at LifeZette.com and a Yellowhammer contributor. He also is the author of "Wicked Mobile." Follow him on Twitter.