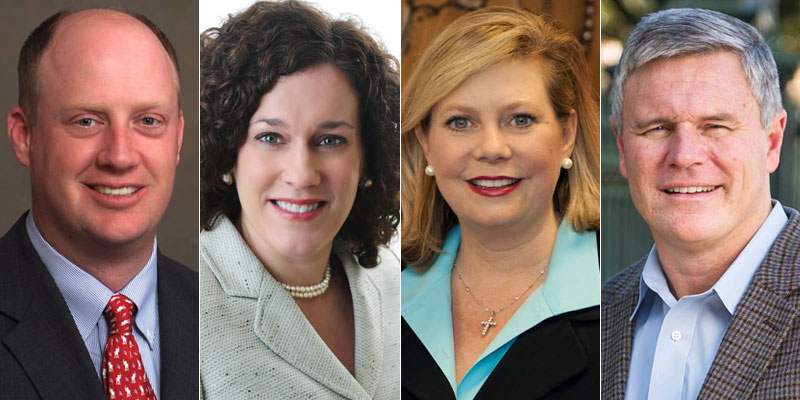 The Republican primary for Alabama's Lieutenant Governor's race continues to draw the attention of voters, as evidenced by strong campaign donations in August. Here's how each candidate's fundraising efforts stacked up:
William Ainsworth (R)
State Representative Will Ainsworth is currently leading the fundraising race, raising $92,000 in August. Ainsworth now has over a million dollars on hand in his campaign fund—$1,031,731.32 to be exact. This is an impressive number considering that his war chest is larger than anyone in the Governor's race, except perhaps for Kay Ivey with whom he's neck and neck. In a press release on this achievement, Ainsworth said:
"Our campaign has attracted support from all corners of the state, and I am deeply grateful for the campaign contributions and offers of volunteer support that have been collected in my travels across Alabama. I am determined that our campaign will have the resources necessary to be highly competitive in the Republican primary, a run-off if one is necessary, and the general election, and this finance report shows we are keeping that commitment."
Mary Scott Hunter (R)
Mary Scott Hunter, who represents Alabama's District 8 on the State Board of Education, has also generated notable fundraising traction. She's second behind Ainsworth in cash contributions, raising an additional $73,362.77 in August. This brings the balance of her campaign fund to $194,120.19. On these achievements, Hunter said:
I am incredibly humbled by the outpouring of support from across Alabama. We have met and exceeded our goals every month, and our momentum has only continued to grow. This is going to be statewide grassroots campaign, and my supporters reflect that.
Twinkle Cavanaugh (R)
Public Service Commissioner Twinkle Cavanaugh joined the Lieutenant Governor's race last month, after moving over from the Governor's race when it became apparent Kay Ivey would seek a full term. Cavanaugh raised $13,050 in August and has a whopping $587,570.23 on hand, mostly from personal funds.
Benjamin "Rusty" Glover (R)
Rusty Glover has represented Alabama's 34th district in the Alabama Senate since 2006. Glover raised $6,125 in August and has $56,406.67 in his campaign fund.