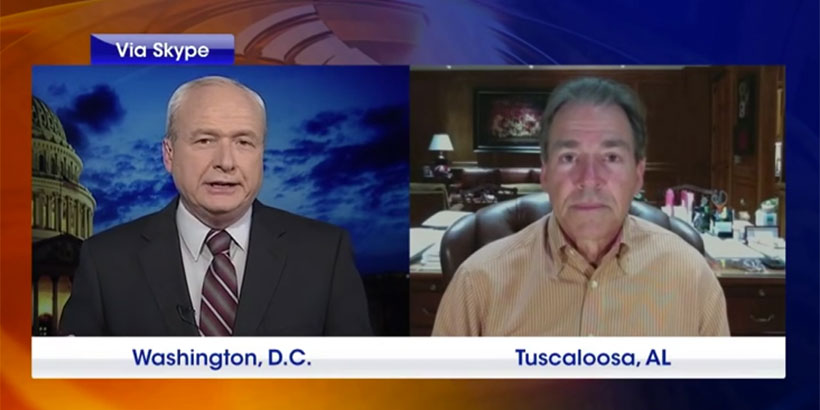 TUSCALOOSA, Ala. — Over the weekend, Alabama head football coach Nick Saban was interviewed on EWTN's News Nightly about the role that his faith plays in his development of championship teams.
"I don't think there's any question about the fact that character, moral development are all a part of leadership," Saban said.
Saban discussed how he believes individuals are called to exhibit God's mercy towards other people.
"That mercy…it's not a well, it's not a cistern. It's a channel that should run through us to other people," he stated.
"Merciful" is perhaps not the word most often used to describe Saban's intense persona, but he has passionately defended giving troubled players a second chance.
After defensive end D.J. Pettway and three other UA players were kicked off the team for robbing a fellow student in 2012, Pettway transfered to a junior college for a year before landing a spot back on the Crimson Tide roster. He went on to earn his degree.
"Guy makes a mistake, where do you want them to be?" Saban asked. "Want them to be in the street, or do you want them to be here graduating?"
Saban has also mentioned former Michigan State and NFL wide receiver Muhsin Muhammad, a player he coached while in East Lansing. Saban said everyone around the program was "killing the guy" because he got into trouble. Saban suspended Muhammad, rather than kicking him off the team, and he eventually went on to graduate from Michigan State and play 15 seasons in the NFL. He is now the managing partner at Axum Capital Partners, has seven kids, and his oldest daughter goes to Princeton.
"So who was right?" Saban asked. "I feel strong about this now, really strong, about all the criticism out there of every guy that's 19 years old that makes a mistake and you all kill them. And then some people won't stand up for them.
"So my question to you is, where do you want them to be? You want to condemn them to a life sentence, or do you want a guy to have his children going to Princeton?"
During this week's interview with EWTN, the coach also discussed the role he and his family have played in the creation of a new Catholic student center at the university that will bear his name. Nick and his wife Terry have raised money, contributed, and been involved in the creation of the center. Set to be 4600 square feet, the facility will be a part of the St. Francis of Assisi Church in Tuscaloosa.
Coah Saban and Mrs. Terry got involved because they wanted a place where young Catholic students could go develop relationships that would help with their faith development.
In the interview, the five-time national champion noted that the catholic student population is growing at UA and all the masses at St. Francis were standing room only on Easter Sunday.
EWTN Global Catholic Network exclusively presents Catholic-themed programming. It was founded by the late Mother Mary Angelica in 1980 and began broadcasting on August 15, 1981, from a garage studio at the Our Lady of the Angels Monastery in Irondale, Alabama, which she founded in 1962.
The full interview on EWTN can be seen below.