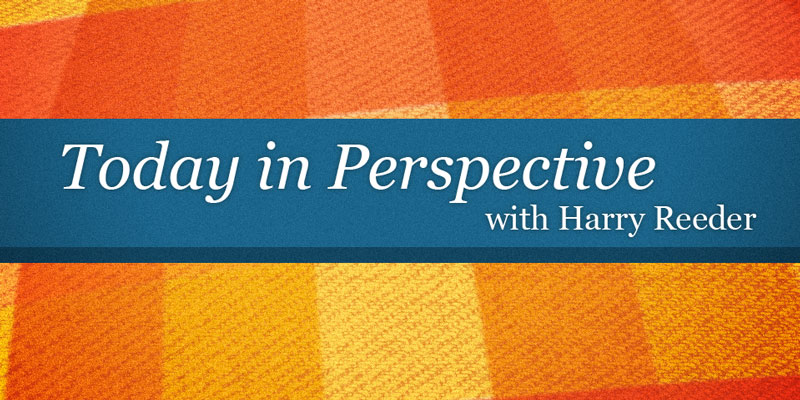 Listen to the 10-min. audio:
Read the transcript:
TOM LAMPRECHT: Harry, "Evangelical Focus" is reporting on a new religion to worship artificial intelligence. Former Google and Uber engineer, Anthony Levandowski, founded the "Way of the Future," which aims to create a deity based on artificial intelligence for the betterment of society. Levandowski filed paperwork in 2015 to establish "Way of the Future," dedicated to worshipping artificial intelligence.
DR. REEDER: A lot of our fellow believers out there are saying, "Now, why are you all taking time on this program to talk about something so: 1.), infantile, 2.), insidious as this notion of a religion, whereby, artificial intelligence is now going to be worshipped by the people who have encoded the artificial intelligence so that it is accessible by technology?"
In the Old Testament, we are informed of the reality of idolatry. Idolatry is anything that you worship in front of, beside of, or above the God of Glory.
There are a lot of things I love, and appreciate, and, to some degree, adore and have my allegiance to, but it's always under the Lordship of Christ and, if I can't do it under the Lordship of Christ, then I don't do it.
The word "idolatry" comes from the word "latria," which means "to worship." Idolatry is wrong worship, or misguided worship, or blasphemous worship. What we want to give to the Lord is latria. Latria is the worship of the Triune God of Glory.
However, here's a fact – please jot it down from a Christian world and life view – that people are going to worship. Now, there are some people out there that look at what we're just talking about today and saying, "How ridiculous is that?" Yet, if you look at their life carefully – their time, their talents, their treasure, their adoration, their allegiance, their conversation – they will reveal what, in their heart, they worship.
The other day, I flew to New Jersey and, as I try to be frugal, I got one of the cheap seats that they offer, which meant I was going to get a seat in between two people. I walked in and looked and saw that two of the largest human beings I've ever seen in my life were in those seats – one on the aisle and one next to the window.
Both of these guys were so big and one of the reasons is, by the way, they were both ex-football players. And we were on that flight and, from the moment we took off to the moment we landed, I heard about almost every college football game, its schedule, who was rated, the recruiting classes, who was doing what, the Heisman trophy – I've never heard such knowledgeable people in my life.
Well, you don't get that information just by walking by a newsstand. These were guys that were utterly devoted. Do you remember the Bible says that the 3,000 were converted at Jerusalem and then it says they intentionally devoted themselves to the apostles' teaching? Why? Because they loved Jesus and they worshipped the God of Glory.
These guys had intentionally devoted themselves to what they worshipped, which was college football, and there was no doubt in my mind what consumed their life, their adulation, their adoration, their allegiance, their affection and, I'm sure, a lot of their resources.
People are going to worship. They're going to worship something. In the Old Testament, it speaks of idolatry and Isaiah says isn't it amazing: Here's a piece of wood and you cut it in half, you use part of it to warm yourself, part of it to cook your food and, the other one, you set it up, and carve it and you worship it?
How stupid is that? Why do men and women love idolatry? Because, if I make the idol I worship, then who really am I worshipping? Me, the creator of the idol. That's why we say no to the God who created us and we deny the doctrine of creation and we deny all that God has put in creation like marriage, and gender, and sex.
We're going to worship, but what we want to do is worship false worship because to do false worship, you have to engage in idolatry and, whatever idol I make, now, ultimately, I'm worshipping myself because I am the idol maker.
Thus, the guy that invented the artificial intelligence and the technology to deliver it is now saying, "Let's worship it." Do you know why? He wants you to worship the artificial intelligence for the same reason he worships the artificial intelligence. Ultimately, you're worshipping the one who put the intelligence into the technology. It is the exaltation of self.
That's why we say constantly on this program that there are multiple world views and -isms out there – positivism, scientism, consumerism, materialism, humanism, secularism – but, in reality, they all fall under one category: the sovereign self as opposed to a world and life view affirming a sovereign, and true and living God.
The sovereign God or the sovereign self: The sovereign self gives you a whole menu of choices, while the sovereign God says, "Oh, no, your world and life view is focused upon the Triune God of Glory, it is defined by the Word of God, it is to the glory of the Father, it is secured through the Son of God, Jesus Christ, and it is empowered by the Spirit of God when he indwells you."
This is why Paul says, in Romans 12, "Do not be conformed to this world," – this world and life view – "but be transformed." How? "By the renewing of your mind so that you may prove that which is good, and acceptable and perfect."
My dear brothers and sisters, when you come to Christ, you get a new heart, you get a new record, you get a new family, you get a new life and you get a new home. However, let me tell you don't get: you don't get a new mind, but you do have the Word of God and the Spirit of God and you can renew your mind and that will show up in worship – Lord's Day worship and lifestyle worship.
It will show up in worship and, therefore, we say no to idolatria and yes to the latria of the God of Glory and the way we do it is by having God give us the Mind of Christ, by the Spirit of God, through the Word of God.
You either worship the God who has revealed Himself, or you invent a God that you can worship so that you can worship yourself, the inventor.
TOM LAMPRECHT: Harry, for the Christian, I guess the silver lining might be that we can point to this story and perhaps, on the surface, it looks silly, but we can point to the fact that there is a part of us that God created that longs for worship.
DR. REEDER: Yeah, you were made for a relationship with God and that relationship is a relationship of worship: gathered worship with His people and lifestyle worship, whereby, you present your bodies as a living sacrifice. "Whether you eat or drink, or whatsoever you do, you do all to the glory of God."
Yes, this story is so silly when we talked about doing it and I wanted to do it because it is no sillier than the silliness of the Old Testament when it talks about taking a piece of wood, cooking, and building the house and everything with it and then setting up the other half of the stump to worship.
What he's doing is no sillier than to make football your god, to make sports your god, to make your grades in school your god or to make your athletic achievements your god. All the gods fail you. Sports are wonderful, but sports are a terrible god.
"Therefore, you cannot serve two masters; you'll either love one or hate the other," so the only Master we have is Jesus Christ and the only worship we want to give is to the Lord of Glory.
Artificial intelligence? That's great but, by the way, it's artificial and it's only so good as what you put into it. The technology that delivers it, it's all moral and it's useful but, once you turn it into your object of worship, you've just engaged in blasphemy.
And the God of Glory, who alone should be worshipped, is a jealous God and, therefore, our idols will soon fall and, when they fall, they will consume the idolater.
However, the Lord of Glory is forever, so come to Him and know the joy of living with Him through Christ, who loved you and gave Himself for you on the cross. He's risen and is worthy of our praise.
Dr. Harry L. Reeder III is the Senior Pastor of Briarwood Presbyterian Church in Birmingham.
This podcast was transcribed by Jessica Havin. Jessica is editorial assistant for Yellowhammer News. Jessica has transcribed some of the top podcasts in the country and her work has been featured in a New York Times Bestseller.
Podcast: Play in new window | Download
Subscribe: Google Podcasts | RSS