Rep. who led charge to impeach Bentley tells church he regrets 'finding joy' in governor's downfall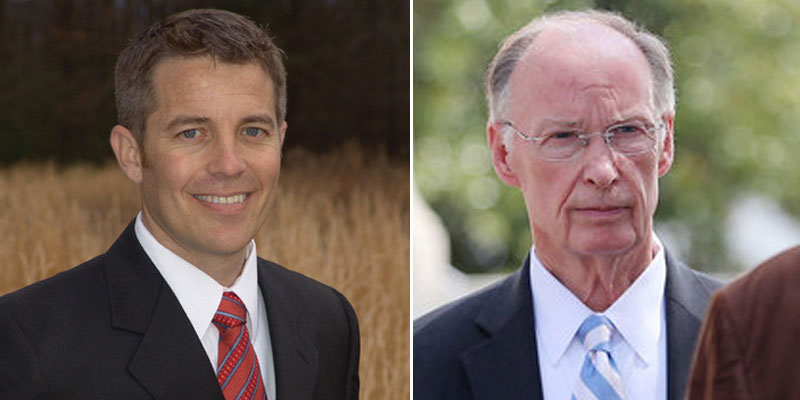 MONTGOMERY, Ala. — Over the past year, Rep. Ed Henry and Gov. Robert Bentley (R-Ala.) have not been the best of friends. In fact, saying that they even liked each other would be a pretty dramatic stretch.
On April 5, 2016 Henry called a press conference to introduce articles of impeachment against Bentley. "His actions and lies have caused us to doubt his leadership," he said. "The process starts today."
Impeachment actions against the governor have stalled out, but Henry has remained steadfast in his criticism of Bentley, noting his actions hurt the reputation of Alabama. "If he really loves Alabama, he should put aside his selfishness and step down," Henry said.
But during his mission to hold the governor responsible for his "betrayal of the public trust," Henry now says that he went too far. While there is nothing wrong with demanding accountability, Henry said he was wrong for enjoying the personal struggles of Bentley.
In a tweet series prior to the start of the legislative session, Henry pointed out that brothers and sisters in Christ should not relish in the mistakes of others.
Part 1:
Spoke at Church today about regretting finding joy in @GovernorBentley 's turmoil and relishing in his troubles.

— Ed Henry (@Ed_Henry_HD9) February 5, 2017
Part 2:
Spoke about personally apologizing to @GovernorBentley for enjoying his persecution. He apologized for putting us in this situation.

— Ed Henry (@Ed_Henry_HD9) February 5, 2017
Part 3:
We are all accountable for our actions but as brothers and sisters in Christ we should not rejoice in other's misery.

— Ed Henry (@Ed_Henry_HD9) February 5, 2017
Part 4:
AL is on the cusp of doing great things but our leaders must be true and honest, not only with the citizens but with each other.

— Ed Henry (@Ed_Henry_HD9) February 5, 2017
I will be praying for @GovernorBentley and our entire Legislature as we prepare for the 2017 session. Please lift us all up in prayer.

— Ed Henry (@Ed_Henry_HD9) February 5, 2017
In an interview with Yellowhammer, Henry elaborated on how his Christian faith led him to apologize to the Governor in person. He reached out to Bentley, who – much to his surprise – was open to a conversation. But as the meeting approached, Henry got second thoughts; he did not know what to say.
Henry said he was inspired by his recently passed father-in-law, who served as a Methodist minister. One night after being saved, he told his father-in-law his life story: warts and all. While his father-in-law appreciated it, he told Henry to be careful with whom he shares his story. "It is the tendency of the church to kill their weak and wounded. Somebody will use that against you," he prophetically warned Henry.
Then it hit him. What his father-in-law cautioned him about was exactly what he was doing to Governor Bentley. "We all need to be accountable for our actions, but I sure shouldn't enjoy it the way I had," he said.
He explained to the governor that he felt embarrassed he attacked the governor's walk with God. "Instead of trying to comfort him, I set out to destroy him," Henry said. "I was so appalled when I was first saved that there were people out there like that, and here I was doing exactly what my father-in-law was afraid would happen to me."
Bentley, in turn, apologized to Henry for putting him and the whole state in such an awful position. "We began to speak as brothers in Christ, instead of governor and legislator," Henry said.
"My prayer for Governor Bentley is that he is right with god and that he will be reconciled with his family," Henry said. "And I think after meeting with him, that it is possible."