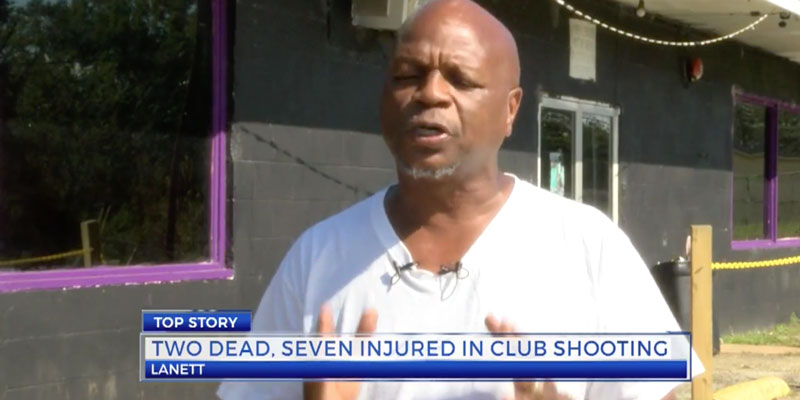 Police continue to investigate a shooting that left two dead and seven wounded at a nightclub in Lanett, Alabama early Sunday morning. Lanett police chief Angie Spates said that a shooter opened fire at Club Addiction just before 2 a.m., killing one man and one woman.
"We heard the shots, and everybody scattered," recalled club patron Bridget King. "They were going pop, pop, pop, pop, pop. It seemed like a lot of shots." According to the Opelika-Auburn News, King was standing outside of the club when the shooting began. She found cover behind a dumpster and remained there until the chaos was over.
Michael Woody owns the building that houses Club Addiction and was next door when he heard shots ringing out. "We had some people having a birthday party, and we noticed that a lot of young kids were running from there through my parking lot," Woody said. "I went to the door, and I heard some shots going off. It was a lot of people just running. They were running, trying to get away."
Police arrived and found one man with a critical gunshot wound lying on the pavement. He was taken to East Alabama Medical Center-Lanier, but was pronounced dead at the hospital.
"During that time, there was a young lady who was parked up the street, on the side of the road. We noticed some more shooting going on up there," Woody said. "Someone shot into that young lady's car, during the time the police officers were here. They had no regard for the police or anybody."
Police are trying to determine how many shooters were actually involved. The gunman(men) allegedly stormed into the club, firing a weapon. A security guard attempted to restrain the suspect, but was shot in the hand.
Woody estimates that there were between 275 and 375 patrons in the club at the time of the shooting. He said that this incident provides more evidence for ensuring that criminals face strict penalties for actions related to gun violence.
"One lady asked me if the business would close," he said. "I don't know what the city might do, but I can tell you right now, that ain't the solution. These people need to be locked up and put off the street for good, not get out on parole. They need to stay locked up for the rest of their days, because they took some family member away from their mothers or children."