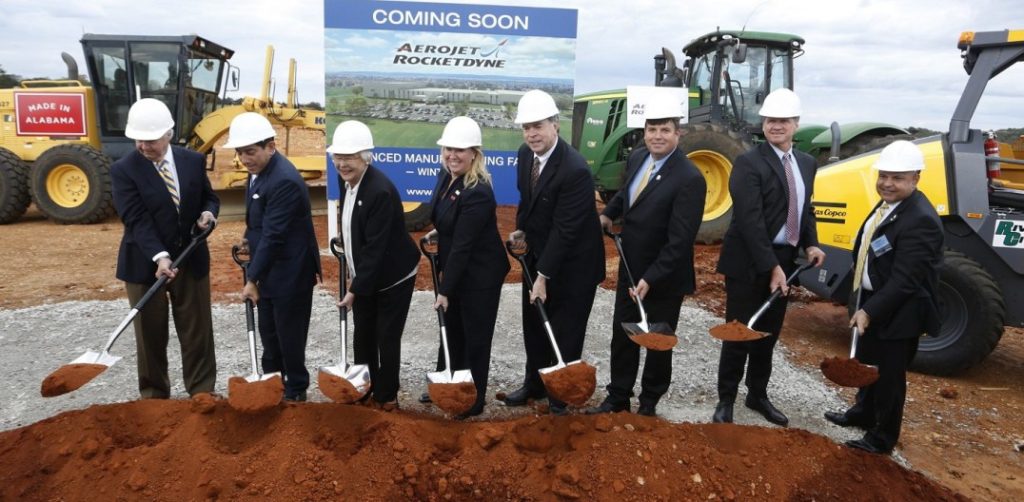 As reported by Alabama News Center, Aerojet Rocketdyne has officially begun work on their new 136,000-square-foot advanced manufacturing facility.
The new facility, which will produce the AR1 rocket engine, composite cases for rocket motors, and 3-D printed rocket engine components, is expected to create 800 more jobs in the Rocket City. At the ceremony was Aerojet Rocketdyne President and CEO Eileen Drake. "Our major expansion in this region that started in 2016 underscores Aerojet Rocketdyne's belief that Huntsville, which is known as 'Rocket City', will continue to grow as a key aerospace and defense hub for our nation for many decades to come, and Aerojet Rocketdyne plans to be a leader in that growth," said Drake.
To support the new facility, the company has also leased substantial office space in Cummings Research Park. In addition to the 800 news jobs needed for the manufacturing facility, Aerojet Rocketdyne expects to hire 150 workers for their new office space.
In attendance for the ceremony, Gov. Ivey said, "This is not only an exciting day for Aerojet Rocketdyne and the city of Huntsville, it's an exciting day for the entire state of Alabama."
According to data from the Alabama Department of Commerce, aerospace companies announced $260 million worth of investments in 2016 alone. The new hires at the Huntsville facility are expected to offer an average annual salary of around $80,000.