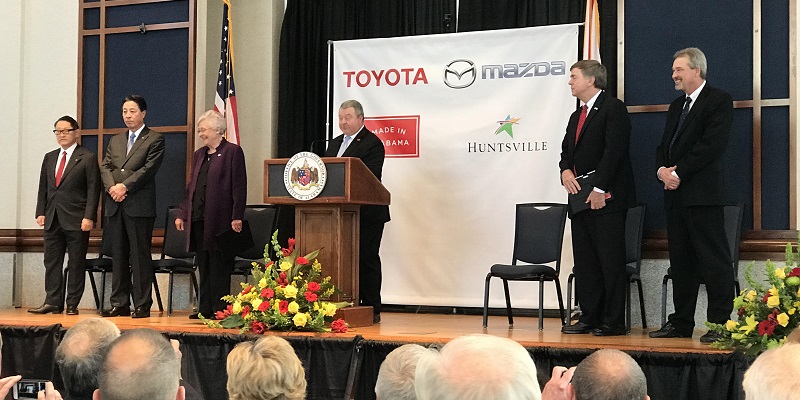 MONTGOMERY — Wednesday at the RSA Activity Center in the shadow of the Alabama State Capitol, Gov. Kay Ivey made it official by announcing Limestone County would be the new home for a $1.6 billion Toyota-Mazda manufacturing facility.
"Today is indeed a great day in the state of Alabama," Ivey said to the audience assembled for the announcement.
"As governor, it is my honor and privilege to announce that Mazda and Toyota have chosen Alabama as the home of their new production plant," she added.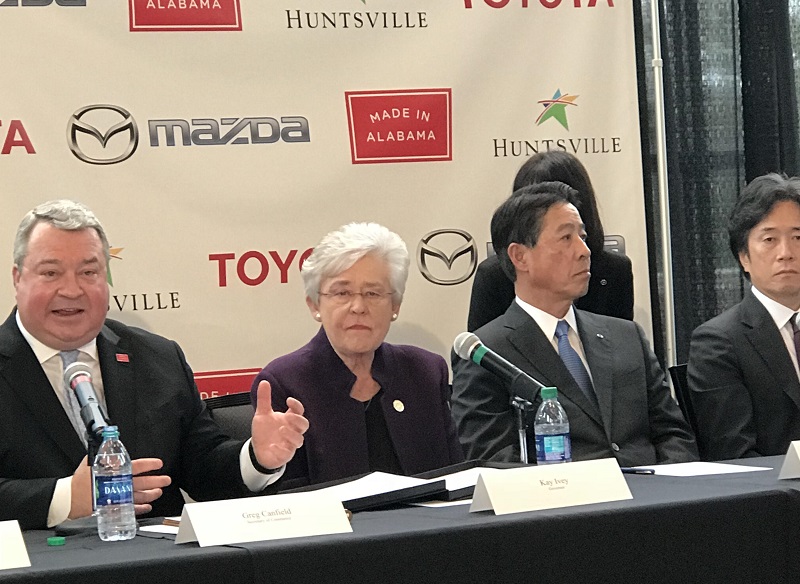 The plant will add 4,000 new jobs with average salaries said to be $50,000 annually. It will have the capacity to produce 300,000 cars annually.
The site of the plant is a 1,200-acre tract of farmland in Limestone County's Greenbrier, which is part of the city of Huntsville.
Alongside Ivey for the announcement were Toyota Motors president Akio Toyoda, Mazda President and CEO Masamichi Kogai, Alabama Commerce Secretary Greg Canfield, Huntsville Mayor Tommy Battle and Limestone County Commission chairman Mark Yarbrough.
Yarborough, who Battle described as his "lucky rabbit's foot," told Yellowhammer News a lot of the preparations were either underway or already in place. That included highway access from Interstate 565 on Greenbrier Parkway. Yarborough also said the project would require what would amount to a "small railyard" for the amount of volume coming in by rail and that was currently being designed.
"There's no place in the world ready for this infrastructure-wise," he explained. "This is such a massive undertaking. We were the best site. We have the best infrastructure in place. Do we have all of it in place? No. We will start rapidly doing that to accommodate this as plans are finalized."
Later that day, President Donald Trump offered celebratory tweets about the announcement.
Good news: Toyota and Mazda announce giant new Huntsville, Alabama, plant which will produce over 300,000 cars and SUV's a year and employ 4000 people. Companies are coming back to the U.S. in a very big way. Congratulations Alabama!

— Donald J. Trump (@realDonaldTrump) January 11, 2018
Cutting taxes and simplifying regulations makes America the place to invest! Great news as Toyota and Mazda announce they are bringing 4,000 JOBS and investing $1.6 BILLION in Alabama, helping to further grow our economy! pic.twitter.com/Kcg8IVH6iA

— Donald J. Trump (@realDonaldTrump) January 10, 2018
For Toyoda and Kogai's arrival to the State Capitol, the Japanese flag flew under the U.S. and Alabama flags.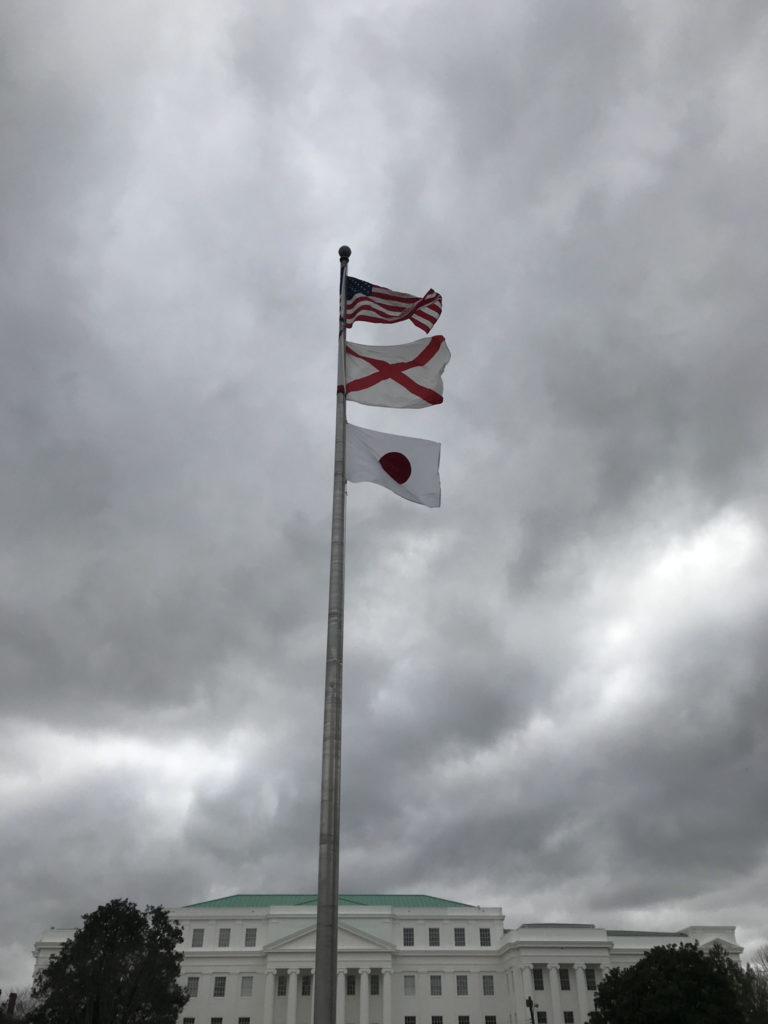 Jeff Poor is a graduate of Auburn University and works as the editor of Breitbart TV. Follow Jeff on Twitter @jeff_poor.