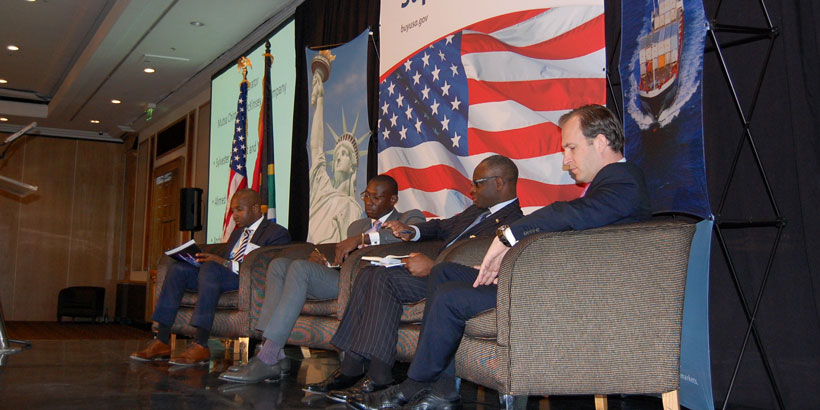 DAR ES SALAAM, Tanzania — An Alabama trade and business development mission to Africa is wrapping up after introducing business executives and international trade specialists to opportunities in a region that's growing rapidly if unevenly.
The Alabama delegation, headed by Commerce Secretary Greg Canfield, kicked off the mission in Johannesburg, South Africa, where it participated in the Trade Winds Africa Conference organized by the U.S. Commerce Department.
Trade Winds 2015, the largest-ever U.S. government trade mission to Africa, featured a business forum in South Africa and offered representatives from companies and organizations stops in seven other African nations. Alabama firms on the trade mission had scheduled meetings in Tanzania, Ghana and Mozambique.
"Feedback received from the six Alabama companies on the mission indicate that the first leg of the mission was highly successful for them," Secretary Canfield said. "We overwhelmingly heard from these companies the business-to-business meetings they participated in were of high quality. In addition, we've pursued in-bound investment opportunities we feel could bear fruit for Alabama."
While in Johannesburg, Secretary Canfield and his team met with senior officials in U.S. Commerce Department's International Trade Administration and the U.S. Commercial Office. His Alabama team also met with Steven Miller, a senior international investment specialist for the Select USA program, which helps identify foreign direct investment possibilities.
Secretary Canfield and a group of economic development officials concluded the trade mission with two days of pre-screened appointments in Tanzania, which sent a high-level government delegation to Alabama two years ago. While in Dar es Salaam, Secretary Canfield met with Edwin Rutageruka, acting director general of the Tanzania Trade Development Authority, and representatives of the Ministry of Industry and Trade, among others.
'RELATIONSHIP BUILDING'
Bill Sisson, president and CEO of the Mobile Area Chamber of Commerce, said the Alabama trade mission to Africa offered delegates a chance to cultivate partnerships and engage in the kind of "good old-fashioned relationship building" that's key to doing business on the continent.
"As Alabama's port city and a region with an economy built on international business, it makes complete sense for Mobile to build cultural and business ties with Africa," Sisson said. "By 2025, Africa's middle class will be larger than that of the U.S. That provides tremendous opportunity for Alabama business."
Hilda Lockhart, director of International Trade for the Alabama Department of Commerce, said Sub-Saharan Africa – the part of the continent south of Sahara Desert – contains many promising markets and several of the world's fastest-growing economies. Alabama's strongest trade ties are with South Africa, which imported $212 million of Alabama-made goods in 2014, more than half of the state's shipments to the entire continent.
"The one message we have heard here is that if your business is not in Africa, then it is missing out," Lockhart said. "For many Alabama businesses, the time may be right to test the waters in Africa. There have been lots of changes in the past decade – government reform, emerging consumers with money to spend, great growth rates."
Africa, however, is not a unified market, and all 54 countries are different, so business opportunities should be assessed carefully, Lockhart added.
"The amount of business opportunity in Africa is astounding, but it is not without its challenges," Sisson said. "There are pockets of prosperity and many emerging markets, but sales and marketing techniques must adjust to many different cultures and languages."
Don't miss out!  Subscribe today to have Alabama's leading headlines delivered to your inbox.