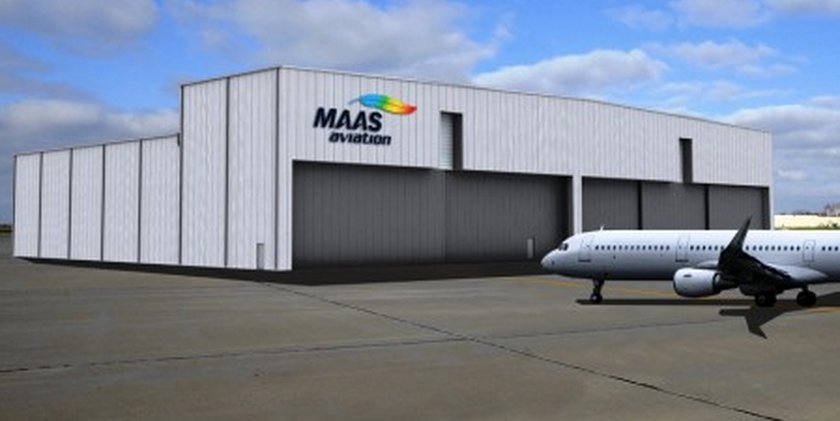 In a move one official called "classic economic development," MAAS Aviation received tax abatements totaling nearly $2.2 million Wednesday for construction of a proposed $13 million second paint facility at Mobile Aeroplex at Brookley.
News of Dublin, Ireland-based MAAS' plans to expand its footprint in Mobile broke during the second day of the 2015 Paris Air Show in June, but a company representative said the $39 million investment figure disclosed at that time embodied several long-term investment proposals intended to strengthen its position as an integral supplier to aircraft manufacturer Airbus. The proposals would expand MAAS' U.S. capabilities to target third-party original equipment manufacturers; maintenance, repair and overhaul providers; and potential military clients.
"We are a very specialized niche business … We bring world-class standards … and we complement what already exists," Tim Macdougald, chief financial officer and commercial director of MAAS Aviation Brookley Inc., told members of the Mobile Industrial Development Board.
MAAS is nearing completion on a paint facility dedicated to servicing the A320 aircraft assembled at the recently inaugurated Airbus U.S. Manufacturing Facility at Brookley.
That paint facility, Macdougald said, will employ 52 within three years and pay average annual salaries of $41,000. That equates to MAAS pumping an estimated $4.4 million into the Mobile economy each year, including nearly $2.2 million in payroll, he said.
Those jobs are in addition to the 26 MAAS will have dedicated to the Airbus paint shop.
The new twin-bay painting facility – featuring a state-of-the-art vertical airflow system – will be capable of handling aircraft as large as the Boeing 757 but will also target maintenance, repair and operations painting of third-party aircraft with focus on U.S operators of single-aisle aircraft.
"Clearly, Airbus gives us an opportunity to expand our footprint here … but Airbus won't commit to a second shop until the first is at capacity; therefore, we need an external shop," Macdougald said, noting the byproduct is MAAS' increased "relevance to third-party work."
MAAS operates two paint shops in Hamburg, Germany (with a third under construction) as well as a facility the Netherlands and has a long-term contract as the exclusive paint service provider to Airbus Americas Inc.
Macdougald characterized the 30-year-old company as the "Neiman Marcus of aircraft painting" because of its focus on low-volume, high-quality craftsmanship.
Per recently passed "Made in Alabama" jobs incentives legislation, MAAS is qualified to request 20-year abatements for the expansion. Although the Mobile Industrial Development Board is authorized to approve municipal, county and state abatements through an initial 10-year period, its authority to extend the abatements an additional 10 years applies only to the city's portion of the request. MAAS must secure separate approval for the second 10-years from both Mobile County and the state of Alabama
In recommending the project's approval, Troy Wayman, the Mobile Area Chamber of Commerce vice president of economic development, told the board the MAAS project will generate nearly $16.3 million in collectable tax revenue during the course of the abatement. "When we recruit companies like Airbus, that's not the end of the process," Wayman said, calling MAAS a perfect example of the ancillary development the area is beginning to see.
"This will only make us more attractive to others companies outside Airbus," he said.
Following the vote, Industrial Development Board Chairman Mike Saxon, vice president of Alabama Power's Mobile Division, said the ripple effect already being felt from the $600 million Airbus project is exhilarating.
"That is classic economic development," Saxon said.
Macdougald said the implications run deeper for MAAS.
"We have no financial history in the United States," he said, noting the board's abatement approval "levels the playing pitch" and will allow MAAS to co-locate at Brookley alongside Airbus and VT Mobile Aerospace Engineering, the largest MRO provider in the world.
"We're hoping this is the beginning of something, the beginning of a journey," Macdougald said, noting MAAS' discussions to date with the Singapore-based VT MAE have focused on ways to "directly complement existing infrastructure."
"This project is clearly a high-end extension of the Airbus project," he said, calling MAAS' Mobile venture a "prime example" of the Airbus investment paying off.
"What you have here in Airbus is only the beginning," Macdougald said.
Don't miss out!  Subscribe today to have Alabama's leading headlines delivered to your inbox.