The inspiring Super Bowl faith stories showing coaches and players on mission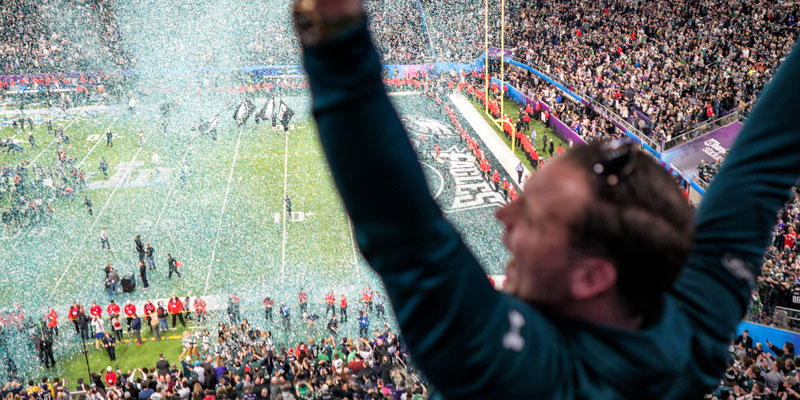 Listen to the 10 min audio
Read the transcript:
SUPER BOWL CHAMPIONS EVANGELIZE CHRIST TO THE NATION
TOM LAMPRECHT:  Harry, Super Bowl LII is now in the books. The Philadelphia Eagles are now the world champions. There's a story behind the story and let's talk about it today.
DR. REEDER: When I hear that Super Bowl LII is in the books, I say, "Oh my goodness." I remember the first Super Bowl and I, of course, remember those famous initial games of the Packers and the Cowboys, and all of the hoopla around it, and Tom Landry and Vince Lombardi — those were interesting days — and then to continue to watch this spectacle unfold.
The NFL has had a tough year, but something interesting happened. I just love the way God brings up roses when everybody else looks at ashes. Philadelphia Eagles, they were the underdogs and they won. "Replacement quarterback" Nick Foles basically outshines Tom Brady. I got home in time from the Sunday evening service to see the last piece of it — which NFL games and NBA games are pretty much the same that, if you can see the last ten minutes, you've just about seen everything — and it was an extraordinary ending, of course.
And then, I purposely stayed connected because I had a vested interest and I had a sense I knew what would come and I was not disappointed. In fact, I was exhilarated. The first three people that were interviewed were the Most Valuable Player — the quarterback of the Philadelphia Eagles, Nick Foles — the receiver who caught the game-winning touchdown and then the coach.
All three of them not only honored Christ, not only honored the Lord, but they did it thoughtfully. The testimony they gave was about honoring Christ. Basically, if I can sum them all up: "I want to thank the Lord. I want to give Him the glory for what we were able to do. I want to thank Him for enabling us to do it. What a privilege to serve the Lord in this game." And you could tell they wanted to be good stewards of the platform so it was a much more thoughtful, Biblically-consistent Christian world and life view reflecting testimony by the three of them.
I'm cheering and I'm getting up and marching around and everything else — my wife has to tell me to sit down. I love to see when people take whatever platform God gives them and use it to honor the Lord and do it thoughtfully. Now, what we have subsequently found out is that there's been a revival going on with this team. There's five or six or seven Bible studies, they have extended prayer time on the night before the game, and the guys have come together.
EAGLES PRACTICED TEAM UNITY ON THE FIELD AND IN FAITH BUILDING
And then, all of the divisiveness we've seen in the NFL, this team is notably united. You don't see all of this rich/poor, lineman back/quarterback — you don't see this hierarchy. You got a second string tied in that becomes a spokesman. The replacement quarterback who is lifted up and said, "Oh, yeah, the guy that I replaced, this is his team. I just think God brought me here for this particular purpose and I just want to honor Him in it." You see this humility in it; you don't see this chest thumping.
It was just really refreshing to see that, well, the story behind the story is what's been going on and the work of the Gospel, not only through the quarterback, not only through the head coach and not only through the wide receiver and others — there's a lineman, this hulking guy, that's just so gracious and humble in the way he talked — and this perspective that, "Football is fun and let's do what we do well, but it's not our life. The Lord is our life," and that really enables you to not only enjoy life for His Glory, but to enjoy Him in the midst of life and that's wonderful to see.
OFFENSIVE COORDINATOR FRANK REICH'S FAITH BACKSTORY
Tom, let me give you a little background. The offensive coordinator is a guy by the name of Frank Reich. What you may not know is it's Reverend Frank Reich. Frank Reich holds two records and they're the same record: one for college and one for the NFL. In a college bowl game, he was the backup quarterback for the University of Maryland and Boomer Esiason, and he came in after Esiason was injured and led Maryland to the biggest comeback in a bowl game in the history of NCAA football.
Then, when he was in the NFL, he was the backup for Jim Kelly of the Buffalo Bills. And Jim Kelly was injured and he comes in and, in the second half, again, he leads his team to the largest comeback in the history of playoff football in the NFL. He became known as the "comeback kid." When he was interviewed afterwards, he quoted the Getty hymn "In Christ Alone." That was his quote after and that's what he said he was singing the whole time that he was playing. He later got traded to the Carolina Panthers and, eventually, I had the privilege to be his pastor in Charlotte, North Carolina.
At the end of his career — even before the end of his career — he started going to Reformed Theological Seminary in Charlotte. He graduated and then he became the president of Reformed Theological Seminary for a number of years. He then became an ordained pastor of the Associate Reformed Presbyterian Church and, eventually, he was back in football. I think it was Tony Dungy that brought him in with the Indianapolis Colts as a quarterback coach, and then he went to another team, now ended up at Philadelphia.
I fully expect Frank Reich to be a head coach someday. He's a great guy. Playing golf with him, I can tell you this: he hits a drive about 325 yards — he smokes it. Absolutely wonderful man and I love his family. What people don't know is this quiet, gentle leadership that he brings — thoughtful leadership. He's written a wonderful paper on a Biblical world and life view on competition.
SIMILARITIES WITH COLLEGE CHAMPIONSHIP
I tell you, it's just absolutely astounding how the Lord has used him and how the Lord has used the receiver, Ertz, and how the Lord has used Foles. By the way, isn't it interesting that, in the NCAA Championship, you had the backup quarterback come in, he wins the game and he lifts up honor to the Lord — Tua with the University of Alabama — and then, here in the Philadelphia Eagles, you get this guy who is brought back as the backup quarterback and, when the franchise quarterback is injured, he steps up and leads them and becomes the Most Valuable Player, also in the championship game. And, in both cases, they both deflect from themselves and they lift up Christ.
TEAM REVIVAL IS GREAT EXAMPLE OF WHAT WE NEED FOR NATION'S REVIVAL
Let me just make one other point, Tom, in conclusion, on this. When I see what Frank Reich has done, and the quarterback, and the coach, Pederson, when I see what's happening at the Alabama team, I see these consistent Christians on-mission, on-message in ministry doing evangelism and discipleship, and then I see revival taking place and then I see a Gospel awakening where people are being brought to Christ.
And I see the culture of an entire team stand in stark contrast to all the division that's taking place in the league and I see all of that that happens in the blessings of the Gospel, not only in the conversion of men to Christ, but also the changing of their lives, and the changing of their families and the changing of their team.
And then putting life in Biblical perspective as a game is embraced and they do their job well, but they don't idolize the game — the game isn't worship, their fame is not worship, their awards are not worship. The Lord is honored and the Lord is lifted up and you see everything changing in the culture of that team, Tom. That's exactly what I pray for every single day.
BE ON MISSION WHEREVER YOU ARE
Well, I know I'm not a Frank Reich, I know I am not Coach Pederson and I know I'm not the wide receiver. Listen, I know I'm just a Presbyterian pastor in a Presbyterian church in Birmingham, Alabama, but I've asked God, "God, help me to be faithful."
All of our listeners, I want you to pray, "God, help me to be faithful: on-mission, on-message, in ministry," and see what God does in your family, what God does in your business, what God does on your team, your classroom, everywhere else. And this culture of Gospel blessings where people are converted and being discipled, it consequentially changes.
I can tell you right now: Frank Reich and these other believers, their aim was not to bring Jesus to make Philadelphia Eagles a championship team — their aim was to bring Jesus to those people. The result was the changing culture of the team and the result was achievement. All of that's fine, but whether they had won or lost, they would have given the same testimony because the objective was to make disciples, preach the Gospel, disciple men and women to come to Christ and to grow in Christ and watch what happens."
I just ask God, "What You did on that team — even in its imperfections — would You do again and again and again? And would you do it in this nation and to all the nations of the world?"
COMING UP TOMORROW: CALIFORNIA REQUIRES CAMPUSES TO PROVIDE ABORTION PILLS
TOM LAMPRECHT:  Harry, we are out of time for today. On Wednesday's edition of Today in Perspective, I want to take you to a story out of Life Action. California Senate has voted to approve a bill that would require all public colleges and universities in the state to provide medication abortion pills.
DR. REEDER: We continue the march in the culture of death even though the culture's dissipating because of the culture of death. What are the answers and what are the pitfalls? What all is happening there and always remembering what happens in California usually seeps into the other states as well — let's take a look at it tomorrow.
Dr. Harry L. Reeder III is the Senior Pastor of Briarwood Presbyterian Church in Birmingham.
This podcast was transcribed by Jessica Havin, editorial assistant for Yellowhammer News. Jessica has transcribed some of the top podcasts in the country and her work has been featured in a New York Times Bestseller.