Is Roby preparing to run for Alabama Governor? It sure looks and sounds like it.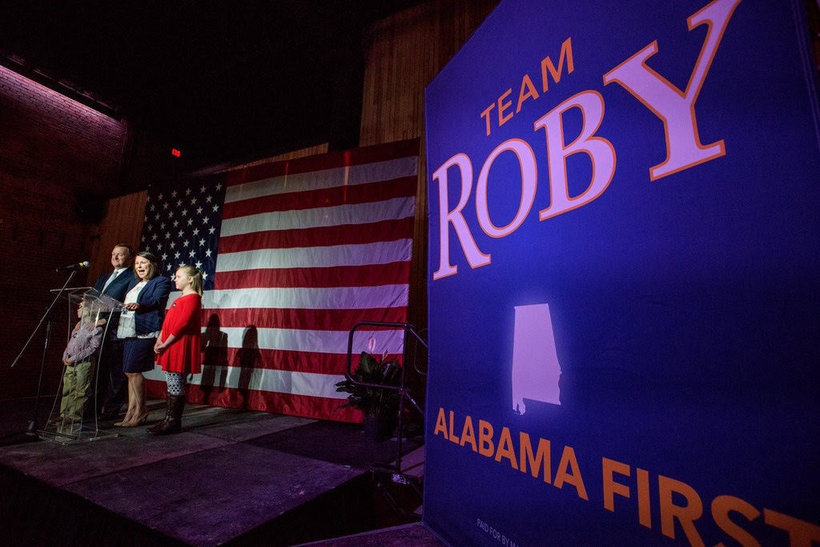 Martha Roby cruised to re-election on Tuesday, defeating well-known tea party leader Becky Gerritson to earn a fourth term in Congress with 67% of the vote.
It was an impressive win for Roby, whose close ties to Republican congressional leadership made her a prime target for a grassroots primary challenge from her right.
But on an Election Night dominated by incumbent wins, Roby's victory speech — both the setting and the remarks — stood out.
Flanked by giant campaign signs featuring the previously unseen slogan "Alabama First" and backed by an enormous American flag, the setting more closely resembled a slick presidential campaign rally than a congressional candidate's victory party.
Roby, who is known to focus her messaging on issues directly impacting the 2nd District, like the annual Farm Bill and Veterans Affairs, on Tuesday night turned her attention to the state as a whole.
I love this state. I love its people.

And, you know, the working people of this state deserve better. All they want good job with a fair shake. An opportunity to send children to college, save for retirement and maybe a little left over to go to a few Alabama or Auburn games. It's not a lot to ask, and most are willing to put in the hard work to build that life for themselves.

But too often, politics gets in the way. Too often, when it comes to decisions that affect the lives of people right here in Alabama, the politically expedient thing to do wins over the right thing to do.

Whether it's in Washington or Montgomery, too many politicians are so afraid of losing their job that they forget to do their job.

Well, not this girl.

Tomorrow, we're back to work. There's so much to do.

There's so much to do to help working families.

There's so much to do to help people get ahead.

There's so much to do to for us to fulfill Alabama's amazing potential.
In a crowded 2018 primary full of men, simply being a credible female candidate would instantly give Roby a big leg up, maybe even securing her place in an almost guaranteed runoff. Her weaknesses at this point are that she lacks name recognition and fundraising ability outside of her district. And in a state where almost half of Republican primary voters just cast their ballot for Donald Trump, Roby's D.C. ties and more moderate approach may be a challenging sell to populist conservatives.
Yellowhammer asked Roby's campaign spokesman Todd Stacy if the Roby camp had a response to the gubernatorial campaign rumors that are already picking up steam in Montgomery.
"I can certainly see why people see that," Stacy said of the speculation. "She is a dynamic leader with broad appeal, and the message of putting Alabama's interests ahead of political interests really resonated with voters. But, right now she is focused on 'doing her job,' which is representing the people of Alabama's 2nd District and working hard to get results on their behalf."
This is not the first time Roby's name has come up in gubernatorial rumor mill. This is what Yellowhammer wrote of her last year:
The 2nd Congressional District representative has managed to move up the ladder in Washington fairly quickly, landing a coveted seat on the Appropriations Committee. She has proven herself to be an able defender of the District's large military and farming communities, but has taken some shots from grassroots conservatives for not bucking congressional leadership on tough votes. The Montgomery resident with young children undoubtedly sees the appeal of not having to travel to D.C. during the week, but if she wins re-election to a fourth term in Congress, would she give up a relatively safe seat and jump into the mass chaos of a gubernatorial run?
With a fourth term secured, Roby will now have an opportunity to think about the future.

RELATED: These are the politicians eyeing a run for Alabama's highest offices in 2018