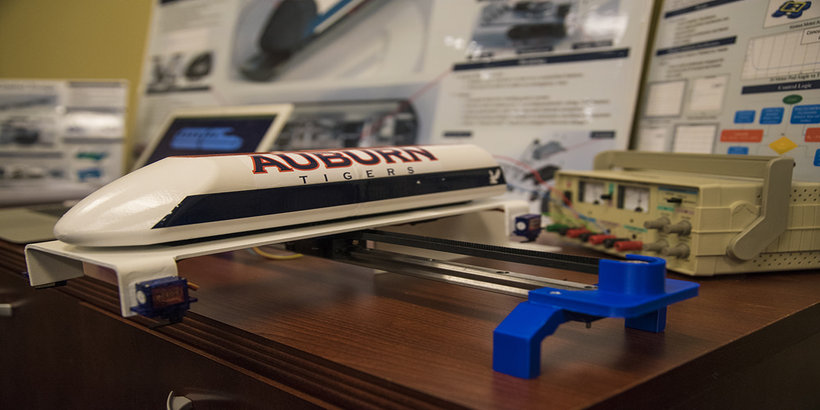 2015 came and went without the invention of "Back to the Future"-style hoverboards (and no, this does not count), but in 2016 a team of Auburn students is figuring out how to make us travel 760 miles an hour in a conceptual high-speed transportation system known as a Hyperloop.
The Hyperloop is a conceptual high-speed transportation system that consists of a pod in a low-pressure tube, allowing for travel speeds of up to 760 miles per hour. This technology would make the commute between San Francisco and Los Angeles, which now takes over five and a half hours, last about 30 minutes. The Hyperloop would also be cheaper and more efficient than driving or flying, and it would have a major global impact.
How does it work?
"It's very similar to planes at high altitudes," explains Dirk Ahlborn, Hyperloop Transportation Technologies CEO. "You have a low-pressure environment inside a tube. A capsule that doesn't touch anywhere — it hovers. And because of the low pressure, it doesn't encounter a lot of resistance."
The concept was originally created by billionaire Elon Musk, who is known for founding PayPal, Tesla Motors and SpaceX. This year, Musk launched a Hyperloop Pod Competition Design Weekend at Texas A&M University, and the Auburn team came away with two top awards.
Auburn's Hyperloop team formed in 2015 after senior mechanical engineering student Addison Baitcher heard about the Hyperloop while interning at Tesla Motors. He brought the idea to Auburn's Mechanical Engineering Department and partnered with fellow senior Alexander Thompson to form the team.
"I knew that there were going to be some great universities entering this competition, and Alex and I were convinced we could compete at the level of some of these top tier schools," Baitcher said. "I felt like with the right team and the right leadership, that Auburn could really deliver a great product that would be competitive."
The team, which included 50 students and sponsor Associate Professor Rick Williams, was immediately enthusiastic about the project, but the school administration was initially hesitant.
Building a pod for the competition would potentially cost up to $100,000. Dr. Williams advised the team to focus solely on a design to submit, which would cost significantly less. The team organized into three divisions: mechanical, electrical, and industrial. Then the real work began.
"We started designing by simply reading — papers, books, technical documents — whatever we could get our hands on that would give us a jumping off point," said Baitcher. "The more we read, the more refined our design became. The main focus of the design was a control system that worked to keep the pod centered on the track as it traveled. This type of system could be adapted and potentially implemented in applications such as rounding corners and turning."
At the competition in College Station, Texas, Auburn faced 126 other teams representing 21 different countries. Auburn's Hyperloop Team won the Best Overall Subsystem and the Design Concept Innovation Award. One of their awards was even signed by Elon Musk himself.
The team competed against and even beat some of the top engineering schools in the world. They now plan to continue work on their designs as the Hyperloop evolves.
"To be a part of this movement is truly humbling, and to do so well competing on an international scale is a testament to our team's dedication and knowledge," said Thompson. "I see an extremely bright future and successful careers for each of our team members and I also see an exciting future for the Hyperloop. I look forward to the transformation of this competition into an annual event, as Musk hinted at during his speech at the competition and Auburn's continued participation."
(Video below: CNN takes an in-depth look at the Hyperloop)

Don't miss out!  Subscribe today to have Alabama's leading headlines delivered to your inbox.