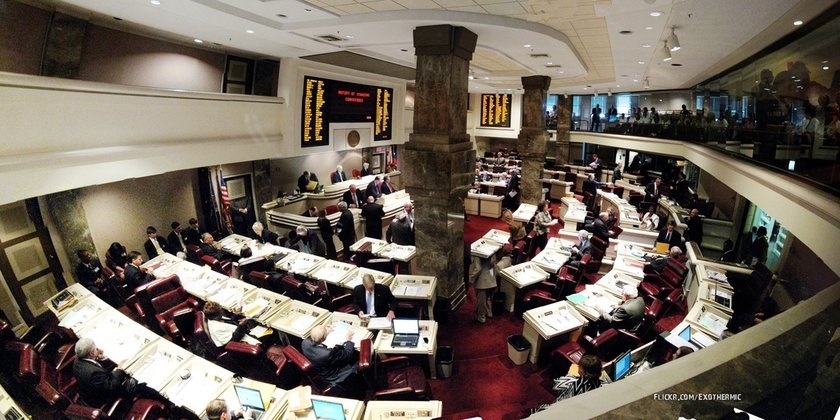 MONTGOMERY, Ala. — Alabama lawmakers are making preparations to bring forth articles of impeachment against Governor Robert Bentley on the grounds that he is unfit to serve in the office to which he was elected.
Articles of impeachment, which function as the charges against the accused, must be passed by a simple majority in the Alabama House of Representatives. If the House impeaches the governor, he then stands trial before the Alabama Senate in a trial presided over by the Chief Justice of the State Supreme Court.
If the Governor is convicted by the Senate, he would be removed from office and replaced by the current Lieutenant Governor, Kay Ivey.
"I'm trying to have something ready for next week," State Rep. Ed Henry (R-Hartselle) told Yellowhammer by phone Wednesday afternoon. The legislature is currently on spring break.
"The difficult part is that we've never impeached a governor before," he continued. "There's no precedent, so we're having to work through it all for the first time. The Constitution is fairly vague about the process."
The Alabama House did attempt to impeach then-Secretary of State John Purifoy in 1915, but they failed because the crime he committed occurred before he was elected, not while he was in office.
Yellowhammer sources on Goat Hill say members of the legislature are currently divided into three groups when it comes to pressing forward with impeachment.
One group would prefer not to impeach because, as one source put it, "they have similar skeletons in their closets." A second group of lawmakers is not necessarily opposed to impeachment — and may even prefer it — but is concerned that such proceedings will wreck the remainder of the 2016 legislative session. The third group, which is currently the largest, is ready to move forward as soon as the details of the process are ironed out.
Democrats appear to be on board with impeachment as well.
"We support it," House Minority Leader Craig Ford (D-Gadsden) told Alabama sports website and liberal political blog al.com. "We look forward to working across party lines. We're encouraged to see that someone within the Republican Party was taking the lead in this endeavor."
One ongoing internal debate is whether the articles of impeachment would have to work their way through the typical committee process used for other bills. Most lawmakers Yellowhammer spoke with seem to believe that an impeachment vote should go directly before the full body, but some say it should begin in the Rules Committee, which would add a hurdle to the process.
Regardless of the process used, Rep. Henry said impeaching the governor has become an imperative.
"We need to deal with a governor who is unfit to hold office," said Henry. "If Alabama had a recall process, there wouldn't be a need for the impeachment because the people of this state would have removed him from office last year when he blatantly lied about 'no new taxes,' then shoved $800 million worth of tax hikes in our face after getting re-elected."
Alabama is not one of the 19 states that has a recall provision by which voters can remove a sitting elected official from office prior to the end of his term, but Rep. Will Ainsworth (R-Guntersville) is planning to introduce a bill that would create a recall provision.
"Since we don't have recall right now, the only method of dealing with a governor like Bentley is impeachment," said Henry. "Now the question is whether the legislature is willing to do the hard thing — take the hard stance. I think we will. Robert Bentley doesn't care enough about this state to put the people's welfare above his own, so we're just going to have to get rid of him."
---
RELATED:
1. UNCOVERED: Bentley and Mason co-own secret safe deposit box together
2. DEVELOPING: State, Feds launch criminal investigations into Bentley-Mason relationship
3. Governor Bentley isn't going anywhere and here's why
4. EXCLUSIVE: The complete Bentley-Mason affair audio recordings and transcripts
5. These four audio clips suggest Bentley is lying when he denies having a 'physical affair'
6. 'Bentley was framed!' — Rick & Bubba producer performs hilarious original song
7. 'Gender bias' cries from Bentley's alleged mistress are a desperate diversion (opinion)
8. WOW: This is what's engraved on the podium Bentley stood behind to discuss affair
9. CARTOON: Slick Willy backs Bentley
10. SOURCES: Lt. Gov has been preparing for possible Bentley resignation for months
11. Bentley addresses affair allegations: 'I made a mistake'
12. Alabama's former top cop: Bentley mistress was 'de facto Governor'
13. Bentley staffer lashes out, says sources exposing secrets are 'the public's worst enemy'
14. Was Bentley booted out of his church? Here's what really happened.
Don't miss out!  Subscribe today to have Alabama's leading headlines delivered to your inbox.