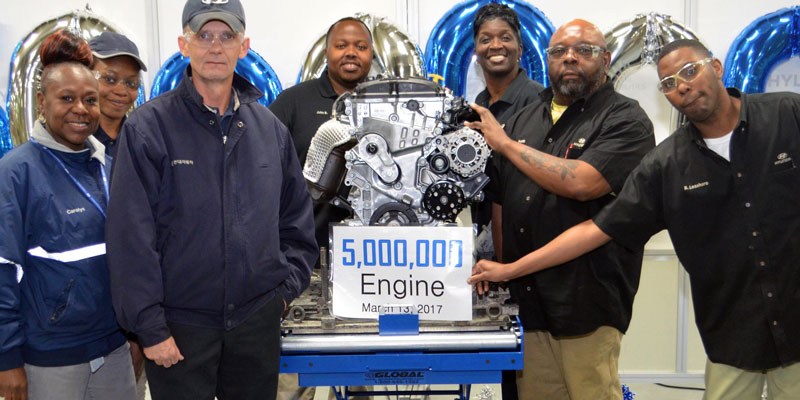 MONTGOMERY, Alabama – Hyundai today celebrated the production of its 5 millionth Alabama-made engine, a key milestone for the company's Montgomery auto operations.
The event comes less than 12 years after the plant assembled its first Lambda six-cylinder engine in May 2005.
Hyundai says its engine shops achieved this milestone faster than any other engine assembly operation in the Southeast because they have been supplying two auto plants – Hyundai's auto assembly lines in Montgomery as well as those operated by affiliate Kia in Georgia – since 2010.
Engine shop workers and leaders of Hyundai Motor Manufacturing Alabama (HMMA) gathered at a luncheon to recognize the achievement.
"We would not have been able to celebrate this milestone if it weren't the tremendous support of all our engine production and maintenance team members," said Chris Susock, vice president – production at HMMA. "They have a history of collaborating together to get the job done with an absolute priority on safety, efficiency and the best quality for their customers."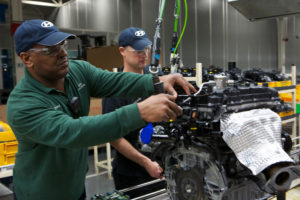 POWER PLANTS
Greg Canfield, secretary of the Alabama Department of Commerce, congratulated Hyundai on the milestone.
"Hyundai is a critical part of Alabama's auto industry, which continues to produce impressive numbers of engines and vehicles each year," Secretary Canfield said. "We're proud of Hyundai's workers, and the plant's leaders, for their commitment to building high-quality, high-performance engines and vehicles for customers around the world."
HMMA's two engine shops currently manufacture the Nu 1.8-liter 4-cylinder engine and the Theta 2.0- and 2.4-liter 4-cylinder engines. Their combined capacity tops 700,000 engines per year, and they employ more than 700 workers.
---
"Hyundai is a critical part of Alabama's auto industry, which continues to produce impressive numbers of engines and vehicles each year. "
---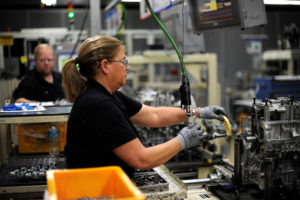 Last year, the state's engine manufacturers, which include Toyota's engine plant in Huntsville and Honda's auto plant in Talladega County, combined to turn out more than 1.75 million engines.
And just last month, Toyota celebrated its own major milestone, with the completion of its 5 millionth engine.
Pete Branham, senior manager – engine production at HMMA, added, "Our team members pour their heart into every single engine to ensure that it meets the highest quality standards. Their track record for excellence has set the stage for the long-term success of HMMA and the Hyundai brand in the North American market."
To mark the milestone, Hyundai had a little fun with the numbers:
• If lined up back-to-back, 5 million engines would stretch from Montgomery to California.

• Five million engines would weigh 750,000 tons, which is more than 150,000 elephants.

• HMMA has built more engines than there are registered vehicles in the state of Alabama.

• If each of HMMA's 5 million engines achieved 150,000 miles on the road, it would equate to 750 billion miles traveled, or more than 3,000 trips to Mars.
Don't miss out!  Subscribe today to have Alabama's leading headlines delivered to your inbox.