Can Doug Jones Earn the Support of His Fellow Democrats?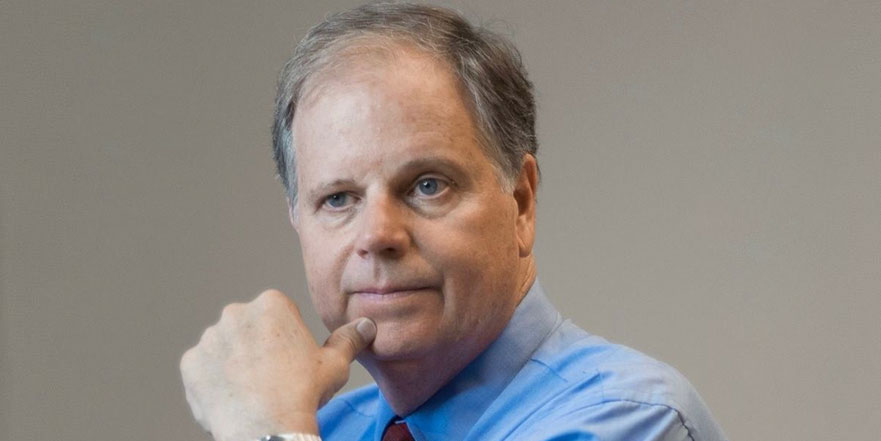 Doug Jones, the Democratic candidate for the Alabama senate race to fill Jeff Sessions' vacated seat, seems to be flying relatively low under the radar. While it will be tough for any Democrat to mount a significant campaign in a deeply red state, according to an article by POLITICO, Jones is "cash poor, outgunned," and isn't getting any help from his fellow Democrats.
Several state special elections have gained national recognition as of late, as Democrats attempt to swing seats as disapproval with the GOP continues to rise. Many of those attempts have crashed and burned, most notably Jon Ossoff's attempt at Georgia's sixth congressional district. Ossoff was able to gain national prominence by positioning himself as a leader of the anti-Trump resistance. He railed against Trump throughout his campaign, earning him the support of prominent Democratic super-PACs. In the end, Ossoff raised more money than any House candidate ever – $23 million – but it still was not enough to swing the election.
Perhaps in light of these recent defeats, Democrats have been reluctant to get their hands dirty in Alabama's special election. In fact, Jones reportedly has under $100,000 in cash for his run at the Senate. However, Jones seems perfectly fine with running a low profile campaign. He appears to be an ideal Democratic candidate in the "the post-Charlottesville world." However, unlike some other Democratic candidates such as Ossoff, Jones has refused to make anti-Trump messaging the driving force of his campaign.
In an interview with POLITICO, Jones insisted that he would rather focus his campaign on civil rights, wages, and health care.
"This election should not be about Donald Trump. He is popular in a lot of places, but he is also widely unpopular [among some] people that are going to vote. I don't really have to talk about Donald Trump, [though] sometimes it's just impossible not to, given some of the noise that went out of the White House these days."
Without Jones receiving any national recognition, Democrats seem very reluctant to get involved in a race where the Republican president won by 28 percentage points last year. POLITICO also pointed out that while Trump's approval ratings have continued to fall across the nation, his approval continues to rise in Alabama. His national approval rating currently sits at 40 percent, compared to 54 percent in Alabama.
"Alabama is a stretch. Some of the other races this year have been too, [but] this seat is probably more difficult," said Adam Bozzi, a senior operative for the group. "Replicating what Jon Ossoff did is probably unrealistic, for anybody."
Even the most optimistic Democrats acknowledge Jones's chances are a long shot at best. POLITICO noted, "Jones is looking more closely at the model of Archie Parnell, the little-noticed South Carolina Democrat who came surprisingly close to winning a congressional seat in June by organizing a strong ground game that largely flew under the GOP radar." Joe Trippi, Jones' chief strategist, said that the campaign hopes to appeal to the state's broader electorate by focusing on Jones's biography instead of flashy fundraising.
Jones has received support from prominent Democrats such as former Vice President Joe Biden and civil rights activist Representative John Lewis. However, any major fundraising by Democrats will have to wait until after the Republican runoff in late September. Many are waiting to see who Jones' opponent will be before promising any contributions.
"We haven't decided to get involved in this race. Alabama is obviously a tough state for any Democrat, but with Trump's nose-diving approval ratings and Democrats' string of successes in special elections this year, we're keeping a close eye on this," said Carolyn Fiddler, political editor at Daily Kos, the blog that was largely responsible for Ossoff's fundraising efforts.
There is no doubt that Jones will need help if he hopes to mount any sort of challenge to Luther Strange or Roy Moore. Will his fellow Democrats rally behind him or will he be left to fight on his own?