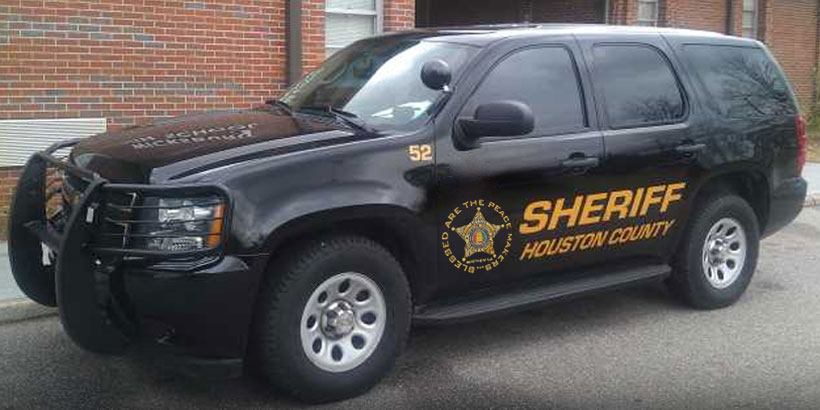 HOUSTON COUNTY, Ala. — "Blessed are the Peacemakers" decals have been removed from Houston County Sheriff vehicles Wednesday after County Administrator Bill Dempsey made the removal recommendation to County Sheriff Donald Valenza.
Yellowhammer reported last month that the Houston County Sheriff Donald Valenza had bought and placed small decals on the back of every patrol car in his service with an excerpt from Matthew 5:9, stating "Blessed are the peacemakers."
"I've always had religious belief, and I feel like that's kept me alive," Valenza said. "We've used that (quote) with (the special response team) for 15 years. It symbolizes the Houston County Sheriff's Office."
The decals, which Valenza said cost about $1.60 each, received mostly positive feedback from Alabamians and Houston County residents, but that isn't acceptable according to Freedom From Religion Foundation, the Wisconsin-based non-profit atheist group which has become notorious for its attempt to bully organizations and municipalities into abandoning Christian symbols.
The out-of-state group threatened to sue the Houston County Sheriff if he didn't comply with their order.
The Dothan Eagle reports that the recommendation was made Tuesday by Dempsey after he and the sheriff had received two letters from Americans United for Separation of Church and State making threats to take legal action if the decals were not removed from the sheriff's vehicles.
"We have been in meetings with the sheriff for the past week, and we told him we support what's written on the stickers and we support the spirit of it," Dempsey said. "But unfortunately, from a legal perspective, we could spend hundreds of thousands and still likely lose."
It appears that due to the time and money it would take to defend against any expensive lawsuit, the Houston County Sheriff Department will have to adhere to "recommended" orders.
This isn't the first time the out-of-state group has bullied small towns in Alabama. In July, FFRF's similar challenge to the city of Glencoe's display of a Christian flag that was, in their opinion, a violation of the separation of Church and State.
---
Thanks for reading! Let me know what you think about this story on Twitter.

— John James (@john_james_20) August 19, 2015