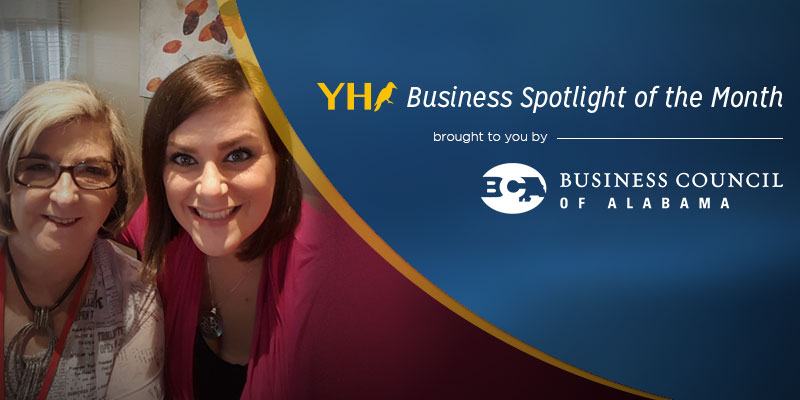 By Lauren Naumcheff
Women around the country are starting their own businesses more than ever before. Opening a business is a risky and challenging feat, and according to Bloomberg, eight out of ten businesses fail in the first 18 months. However, women and men alike in Alabama have a resource for training and mentorship when starting and managing a business through The Catalyst Center for Business and Entrepreneurship.
The Catalyst is a Hunstville-based organization that serves as driver for economic growth and job creation by providing support for entrepreneurs and business owners in every stage of growth.
"We started 17 years ago with a single focus on women," said Joanne Randolph, CEO of The Catalyst. "We believed Huntsville needed a place for women to go who wanted to start a business and needed guidance and support. After three years of due diligence, we were incorporated as the Women's Business Center of North Alabama (WBCNA), a non-profit organization."
Since its inception, The Catalyst has served over 21,000 individuals in Hunstville and surrounding areas. The organization began with basically no funds at all, but is now operating with an annual budget of almost one million dollars.
Randolph and her colleagues at The Catalyst have dedicated themselves to supporting and developing women in business, but after nearly two decades of experience, Randolph decided it was time for The Catalyst to expand its services. In March of this year, the organization was renamed to its current title as a part of their rebranding process. In addition to focusing on women, The Catalyst now provides services to startups, male and female entrepreneurs alike, established businesses, veterans, government contractors and innovative and technology companies. For more information on The Catalyst's growth and rebranding, click here.
The Catalyst has experienced significant growth since its humble beginnings nearly two decades ago, however, the goal of Randolph and her team remains the same.
"Our success is based upon our client's success.  Seeing individuals start and grow their businesses is what we are all about," said Randolph.
The Catalyst manages three ongoing projects furthering this goal of serving business owners and entrepreneurs. The first is the Women's Business Center, which serves as an educational and resource center for women interested in starting a new business or managing an existing one. Second, TechRich is The Catalyst's project focusing on fueling collaboration between businesses. TechRich provides businessmen and women with networking opportunities as well as training services. Nascent, the third major project created by The Catalyst, offers support and mentorship to small businesses in rural areas.
In addition to ongoing projects, The Catalyst hosts training courses year-round for businessmen and women on topics such as goal setting, time management and managing teams. It also offers a wide array of online topics for busy professionals who cannot attend live events.
The Catalyst is an active member of the Business Council of Alabama (BCA), a statewide business association dedicated to advocating for Alabama businesses and entrepreneurs of all types.
 
"I joined the BCA and serve on its Board of Directors because it is Alabama's most well-respected business association. BCA is our business advocate and works tirelessly to ensure that business is effectively represented whenever and wherever public policy is made. They truly are the 'voice of Alabama businesses,'" Randolph said when asked about The Catalyst's involvement with the BCA.
 
The Catalyst has served as a driver for economic growth and job creation in the state, and North Alabamians have benefitted greatly from the efforts of Randolph and her team.
For more information on The Catalyst's upcoming events, or to get involved in supporting the organization, please visit their website.
---
About the Business Council of Alabama: For more than three decades, the Business Council of Alabama has been Alabama's foremost voice for business, standing up for Alabama businesses that are the job creators and innovators driving our state's economy. Through this Business Spotlight Series, the BCA tells the stories of these businesses that proudly call Alabama home and in the process, we hope to show why we work hard every day making a sweet home for business. For more information about the BCA, please visit their website.
---
Sponsored Content
Don't miss out!  Subscribe today to have Alabama's leading headlines delivered to your inbox.