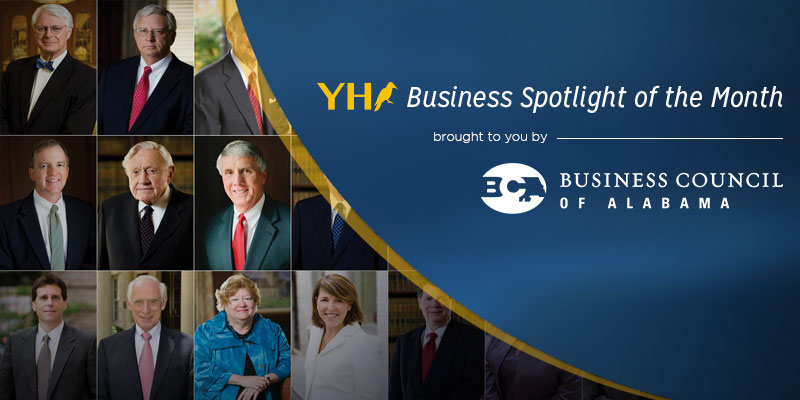 By Lauren Naumcheff
Starting a new business can be a risky and daunting task for new and seasoned entrepreneurs alike. Studies show that about half of all businesses fail within the first five years. To survive the early years is undoubtedly an accomplishment, but to continue to grow throughout several decades is exceptional. One Alabama company has stood the test of time and grown from a small, two-person law firm to a regionally recognized legal team.
Capell & Howard, P.C. was founded in 1947 in Montgomery, Ala. Over the last 70 years, the firm has experienced continuous growth and recognition for its legal services that encompass a wide range of practice areas. Today, the Capell & Howard firm employs 40 attorneys and provides legal services throughout the Southeast.
This year, 18 of Capell & Howard's attorneys were named among The Best Lawyers in America—a significant honor as nominees are chosen based on peer reviews for their performance in a specific practice area and geographic location.
In December of 2016, the Business Council of Alabama and the Chamber of Commerce Association of Alabama named the Capell & Howard P.C. law firm as a Small Business of the Year for 2016. The award in the category of 51-100 employees was announced at the BCA-CCAA annual meeting on Dec. 2.
"It was an honor for us to be able to recognize our member, Capell & Howard, with this significant award," said BCA President and CEO William J. Canary. "Longevity in any business speaks to a dedication to sound business practices and continued service to clients. In the case of a law firm, offering premier legal service to clients for seven decades shows a commitment to excellence and a great respect for clients."
Capell & Howard was formed on Aug. 1, 1947, by founders Jack L. Capell and Fontaine M. Howard. Capell and Howard were joined by Edward E. Cobbs and Walter J. Knabe, and the firm became known as Capell, Howard, Knabe & Cobbs in 1963. The firm kept that name until 1999, when it reverted to its original name.
Capell & Howard's commitment to excellence has driven its continual success. Henry Hutchinson, managing director of the firm, said, "We are recognized as one of the preeminent and most respected law firms in central Alabama, which we consider to be one of our greatest accomplishments."
The firm has established its rapport with its clients by providing personal, tailored service and fostering a culture of collegiality among its attorneys and collaboration with other supporting professionals.
Capell & Howard has expanded to multiple locations around the state, but is still headquartered in the same building where it was founded in 1947. The firm is dedicated to seeing Alabama thrive, and has proven this through its involvement in state and local governments. Attorneys from the firm have served in government positions including General Counsel to the Governor of Alabama, Chief Deputy Attorney General, U.S. Attorney for the Middle District of Alabama, and Justice of the Alabama Supreme Court, among many others.
"As has been the tradition during our 70-year history, we expect the firm to be a leader in all of the communities that it serves until its 100th anniversary and beyond. If we continue that tradition, we will be known not only as a well-respected law firm that provides first class services to its clients, but also as an enjoyable place for all of our employees to work and contribute to their community," said Hutchinson.
Capell & Howard handles commercial litigation, as well as business, corporate, construction, labor and employment, administrative, real estate, trusts and estates, family, tax, and employee benefit legal services for both domestic and international clients.
---
About the Business Council of Alabama: For more than three decades, the Business Council of Alabama has been Alabama's foremost voice for business, standing up for Alabama businesses that are the job creators and innovators driving our state's economy. Through this Business Spotlight Series, the BCA tells the stories of these businesses that proudly call Alabama home and in the process, we hope to show why we work hard every day making a sweet home for business. For more information about the BCA, please visit their website.
Sponsored Content
Don't miss out!  Subscribe today to have Alabama's leading headlines delivered to your inbox.