Vestavia Hills Down Syndrome Player Welcomed by Dabo Swinney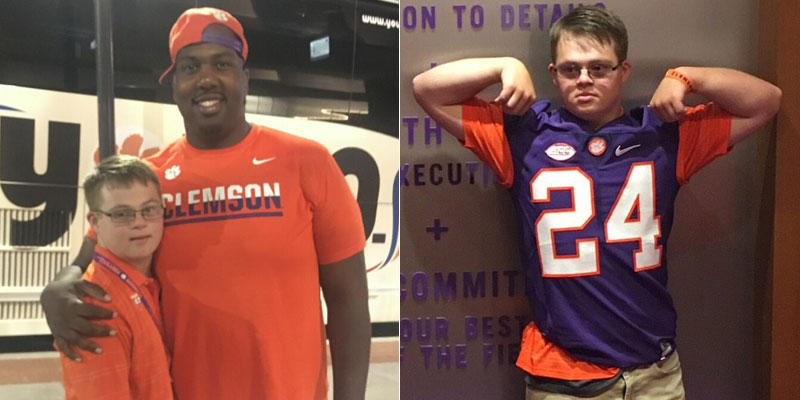 Jake Pratt has taken Alabama and the entire country by storm in recent weeks. The 18-year-old football player with Down Syndrome went viral on social media and was featured on ESPN for his epic touchdown run at the end of Vestavia's pre-season game against Briarwood Christian.
RELATED: A Once-in-a-Lifetime Moment in an Alabama High School Football Game
This weekend, Jake was recognized by another Alabama native, Clemson head coach Dabo Swinney. Just before his No. 3 Tigers took on the No. 12 Auburn Tigers, Swinney stopped on the sideline to greet Jake, who he invited to the game.
"Are you that famous guy?" Swinney joked.
Jake answered with an ecstatic, "Yes Sir!"
"Hey, I'm so glad to meet you," Swinney continued. "You know, I'm a (Pelham) Panther. We don't like those Rebels. You're a Rebel."
Coach Swinney gave Jake a big bear hug before heading off to the sidelines. As the two parted ways, Swinney assured Jake, "You look good in orange!"
Christina Chambers of WBRC captured the heartfelt moment. You can check out the video below:
How cool is this! Clemson head coach Dabo Swinney invited Vestavia Hill's football star Jake Pratt to tonight's game after seeing the viral video of his touchdown a couple of weeks ago. Dabo stopped to talk to Jake before the game! Talk about emotional for him and his family! #VestaviaHills WBRC FOX6 News

Posted by Christina Chambers WBRC on Saturday, September 9, 2017
Also, if you happened to miss it, be sure to check out Jake's epic touchdown run here.