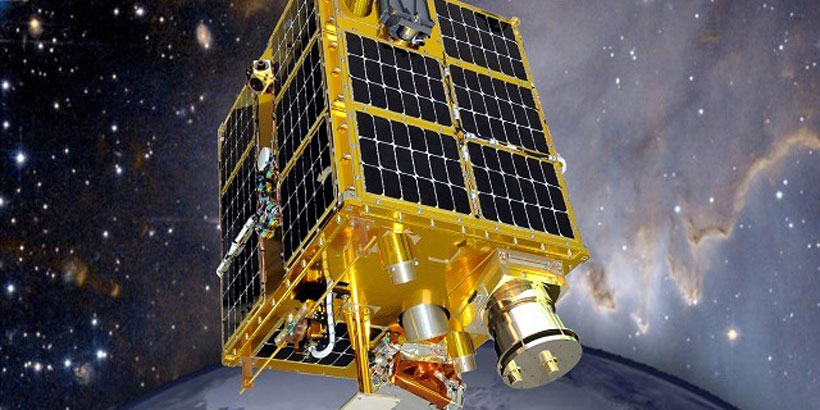 By Dawn Azok
The University of Alabama and Auburn University are collaborating with NASA on future technologies that could aid space exploration.
Officials from both universities and representatives of NASA's Marshall Space Flight Center in Huntsville signed new Space Act Agreements to kick off the partnerships.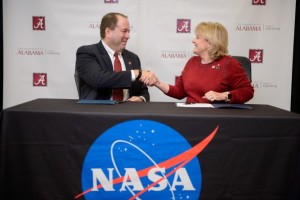 Under an agreement signed Thursday, University of Alabama students will work to enhance understanding of the propulsion systems for small satellites, called CubeSats, that orbit the Earth.
Meanwhile, work at Auburn will focus on the development of wireless sensor and communication technologies, as part of a pact signed last month.
"This agreement allows our students the chance to work on applied research ultimately used by NASA, which is a win-win for all sides," said Dr. Carl A. Pinkert, UA vice president for research and economic development. "The University of Alabama and the NASA Marshall Space Flight Center have partnered many times, and we look forward to continuing that relationship."
Pinkert was joined on campus Thursday by Joan A. "Jody" Singer, Marshall's deputy director, to sign the Space Act Agreement. The signing ceremony was part of a two-day NASA event at UA, which included an address by Singer, a panel discussion on "The Path to Mars," NASA exhibits, a career fair and technical sessions on solar dynamics and deep space exploration.
LINKING WITH UNIVERSITIES
Singer, a UA industrial engineering alumnus, said connecting universities with NASA's skills and expertise is a priority at Marshall.
"This new partnership agreement provides research and development opportunities for students and faculty, while helping NASA better understand the performance of this emerging technology," she said.
The work will be done by students in STEM Path to the MBA, a program that allows students in the fields of science, technology, engineering and math to earn Bachelor of Science and Master of Business Administration degrees within five years.
The students' support of the NASA project will expose them to job opportunities at the space agency, as well as those in its contractor workforce, all while analyzing and testing state-of-the-art technologies in a lab setting.
CubeSats are small, fairly inexpensive satellites deployed for research purposes, often designed and used by education and non-profit institutions. They typically hitch rides on other missions and are dropped into low-Earth orbit without the ability to move.
NASA wants to provide CubeSats with a method of propulsion and wants students to come up with ways to do so without damaging the satellites.
This marks the second Space Act Agreement between NASA and UA. The first was for testing NASA-developed vibration mitigation technology for structures in the university's Large Scale Structures Lab.
WIRELESS TECHNOLOGIES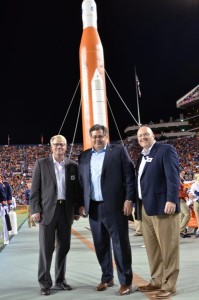 At Auburn, the latest Space Act Agreement, also the university's second, was signed last month by John Mason, Auburn's vice president for research and economic development, and Todd May, Marshall's director and a graduate of Auburn's Samuel Ginn College of Engineering.
Auburn has a long history with NASA, including six astronaut alumni.
Under the new agreement, Auburn and NASA will work together to better understand the wireless technology that can be used in space and avionics applications.
"Small, light, energy efficient wireless technologies hold tremendous potential for spacecraft, in everything from the robotic explorers of distant planets to the powerful Space Launch System rocket that will launch human explorers to deep space and on to Mars," May said.
Wireless communication networks can reduce payload size and weight on an aircraft. And for the SLS specifically, wireless sensors could allow NASA to remotely monitor the rocket's main fuel tank, rather than running miles of wires during the testing phase.
Last year, Auburn and NASA signed a Space Act Agreement to explore the applications of additive manufacturing, or 3-D printing.
"Similar to Auburn's partnership with NASA last year to provide additive manufacturing expertise, this new agreement for wireless engineering capabilities will further leverage Auburn research to enhance current systems in space exploration," Mason said.
"As the only university in the U.S. offering a degree program in wireless engineering, Auburn continues to be a leader in this field, and this connection with NASA reflects that."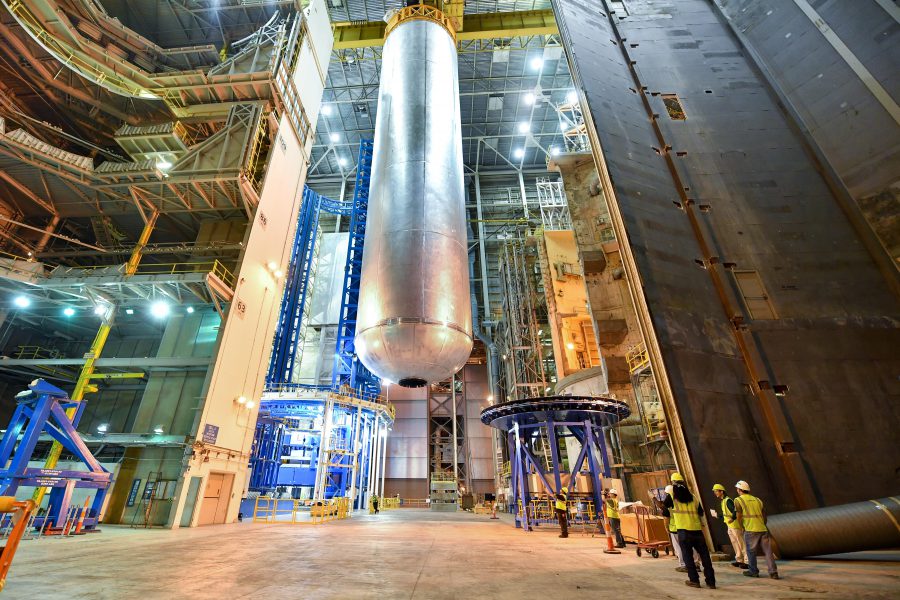 Don't miss out!  Subscribe today to have Alabama's leading headlines delivered to your inbox.