On Friday, a Wisconsin jury found Kyle Rittenhouse not guilty on charges in the fatal shooting of two people during rioting last year in Kenosha, Wis.
While many celebrated the verdict as a victory for self-defense, not everyone took the news well, including State Rep. Juandalynn Givan (D-Birmingham).
Immediately after the verdict was read, Givan took to social media to criticize the ruling, declaring "white supremacy" was America.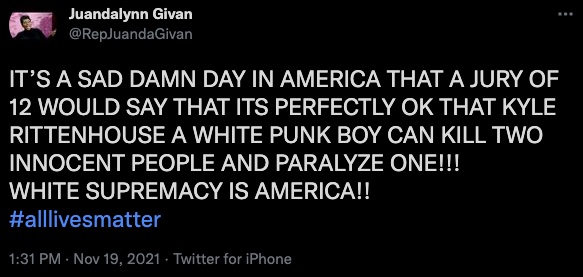 She tweeted, "IT'S A SAD DAMN DAY IN AMERICA THAT A JURY OF 12 WOULD SAY THAT ITS PERFECTLY OK THAT KYLE RITTENHOUSE A WHITE PUNK BOY CAN KILL TWO INNOCENT PEOPLE AND PARALYZE ONE!!! WHITE SUPREMACY IS AMERICA!!"
@Jeff_Poor is a graduate of Auburn University and the University of South Alabama, the editor of Breitbart TV, a columnist for Mobile's Lagniappe Weekly, and host of Mobile's "The Jeff Poor Show" from 9 a.m.-12 p.m. on FM Talk 106.5.