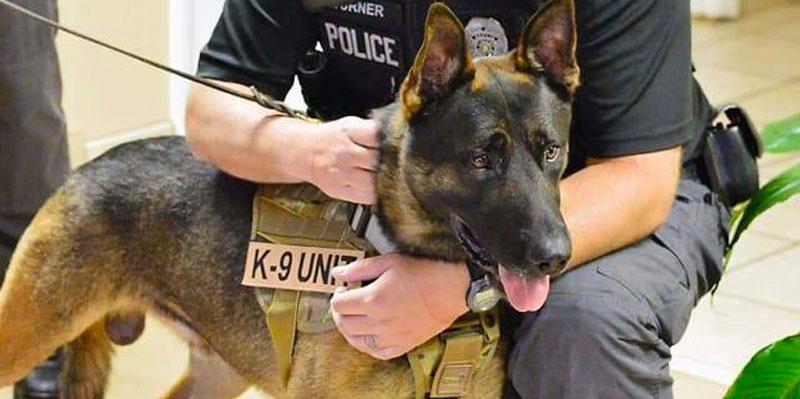 What has brown eyes and long dark hair, wears a vest, pants when he runs and can smell a crime scene from a mile away? Beni – your local neighborhood police K9. 
Just a little over two months ago, Yellowhammer News reported that Beni helped apprehend a drug bust suspect in Heflin, Alabama. Once again, this impressive K9 is out on the streets working closely with the Heflin Police Department to keep the community free of harm. This week alone, Beni has apprehended several different suspects and found over 10 lbs of marijuana, one pound of crystal meth and $10,000.00 in cash. 
Intelligent, energetic and quick, Beni's impressive record is a direct result of his training at Alabama company, iK9. Donated to the Heflin Police Department by iK9's nonprofit partner, the 1st Foundation, Beni is putting his training to good use. 
Based in Anniston, Alabama iK9 trains dogs like Beni to serve with police officers, first responders, military service members and various law enforcement agencies both throughout the nation and around the world. From detecting bombs in countries overseas to apprehending suspects in Alabama, these special K9's daily put their lives at risk to keep Americans out of harm's way. 
When asked about Beni's recent successes, iK9 owner Landon Ash said that the organization is, "always proud to see our dogs successful in the field as they serve and protect our citizens in Alabama." 
Police dogs are an integral part of law enforcement operations nationwide. What many don't know is that due to their intense and lengthy training, police dogs can be expensive. Due to budget cuts, many police department can't afford the dogs they need. But that's where the 1st Foundation steps in. The Alabama nonprofit donates K9s to police and military organizations free of charge. Run solely by volunteers, 100% of donations to the 1st Foundation go directly to those who need it most. 
The 1st Foundation's partnership with iK9 ensures that the dogs they donate are correctly and efficiently trained to handle a wide variety of situations – that require the skills and precision of an expert.  
The services provided by iK9 and the 1st Foundation are essential to maintaining a community's safety.  When 1st Foundation gives a dog to a police department, the impact is felt for more than a moment. In keeping dangerous criminals and illegal substances off the streets – the effects are felt not only for months but years to come. 
"When you take a step back and look at the big picture, what these dogs do is nothing short of incredible. It's a privilege for iK9 to partner with the 1st Foundation to provide assistance to Alabama's law enforcement departments," said Ash. 
To learn more about the 1st Foundation or to make a donation to the nonprofit, visit their website at www.1stfoundation.org. You can also support the 1st Foundation by making your Amazon purchases at AmazonSmile.com and selecting the 1st Foundation as your charity of choice. 
Don't miss out!  Subscribe today to have Alabama's leading headlines delivered to your inbox.