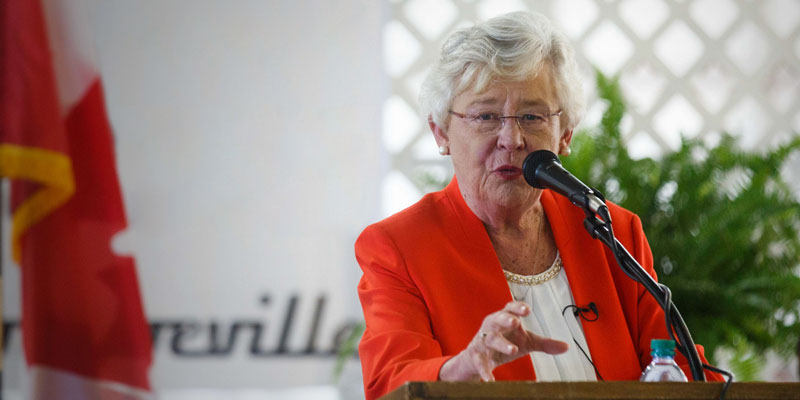 Kay Ivey became the Governor of Alabama when Robert Bentley resigned in shame last April. After her promotion to the Governor's mansion, Ivey has gone about her business as the state's top executive with high approval ratings. The big question on everyone's mind, will Governor Ivey seek a full term in 2018?
A strong indicator that the answer may be "yes" came Wednesday when Del Marsh, the President Pro Tem of the Alabama Senate, announced that he's running for re-election to his State Senate seat. It's well-known in Alabama political circles that Marsh was eyeing a run for governor if Ivey didn't run. Marsh's announcement to seek re-election to the Senate strongly suggests the answer to the Kay Ivey question is now apparent.
An even clearer picture developed later this week when sources began saying Ivey made calls to several prominent business leaders and members of the legislature notifying them of her intention to run. Asked to comment on these developments, Ivey spokesman Daniel Sparkman stated, "Governor Ivey is considering her options and what she feels is best for the people of Alabama and plans to decide the near future."
With Governor Ivey seemingly on the verge of announcing her candidacy, questions naturally arise about the reverberating effect this will have on the existing field, especially on fundraising, geographical interests, and messaging strategy.
Will fundraising continue at the same pace for the other candidates? More than $1.5 million has been raised thus far in the governor's race by other candidates. Have some donors been driven by the uncertainty of her candidacy? Will contributors we've yet to see begin showing up on her campaign finance reports?
Concerning geography, are we seeing regionalism break out in Alabama politics? Fundraising leaders in all the major statewide offices hail from north Alabama. Moreover, most donors to these campaigns are also from north Alabama. Huntsville Mayor Tommy Battle is currently the fundraising leader in the governor's race. If Ivey's entrance into the race fails to slow his fundraising momentum, then it will seem that Huntsville and the surrounding areas are intent on making a political power move.
Another question is how Ivey's presence will change the messaging strategy of the other candidates if she runs. Ivey's tenure has been marked by a perceptible calm settling over the state government in the wake of Bentley's tumultuous departure. So far, the messaging of the other candidates has been heavily weighted on their ability to restore credibility to the office, i.e. to rid the state of the kind of shameful and corrupt conduct that became Bentley's legacy. Will these candidates now be forced to shift their messaging to run against Kay Ivey instead of Robert Bentley? Will they begin to make the case that they're better suited for the job than Ivey? For a governor who enjoys high approval ratings throughout the state, this will be a tough question to answer. Decisions will have to be made by campaign teams as to how and when to refine their messaging.
One thing is certain if Ivey jumps in the race as we now expect, no one knows exactly how campaign strategies will change. And, clearly, the core motivation of some candidates will remain unchanged, but in all likelihood, the race will soon take on a different disposition. In the next few weeks, it may feel as if the race to be the next governor of Alabama has started anew.
Don't miss out!  Subscribe today to have Alabama's leading headlines delivered to your inbox.