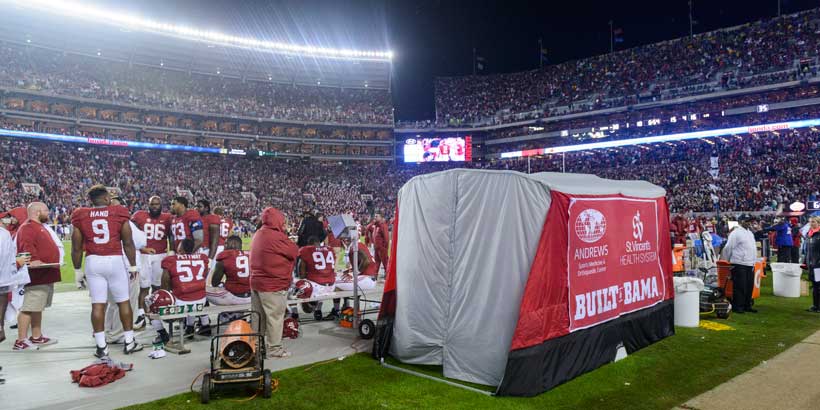 About this same time last year, Yellowhammer published its second article highlighting an extraordinary innovation developed by University of Alabama engineering students—SidelineER. This collapsible sideline tent for injured athletes was commonly seen on college football games last fall. The tents allow trainers and doctors a place to assess and treat injured players, out of view from TV cameras, opposing teams, and fans, and according to NBC Sports, they're now being purchased by the NFL.
As Yellowhammer reported last summer, Jeff Allen, Director of Sports Medicine at the University of Alabama, worked with four senior mechanical engineering students to develop the product for their senior project. Jared Cassity, Patrick Powell, Jared Porteous, and Christian Parris created the tent in 2015. After its development, Allen helped the students form Kinematic Sports, LLC to manufacture, market, and sell the patented product, named SidelineER, which is now jointly licensed by UA and Kinematic.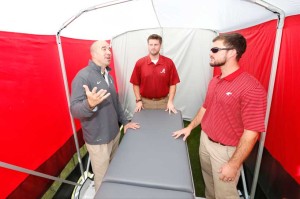 The NBC Sports article says Commissioner Roger Goodell told reporters today that the NFL will use the medical evaluation tents in the 2017 season, so we'll presumably see them starting in preseason games this August.
As the article's author, Mike Florio, states:
The tent will inject a high degree of secrecy to the medical evaluation process, putting the media and fans at the mercy of the accuracy of the in-game updates by hiding what sideline reporters or binocular-equipped journalists in the press box otherwise would be able to observe in plain view. While some teams may still do basic evaluations and manipulations in the open, it makes plenty of sense to use and device available to keep prying eyes from nothing anything more than the bare minimum about a given player's health.
Related:
How a secret student project helped Alabama football and could turn into a cash cow
A student project designed to help Alabama football now might make its creators rich
Don't miss out!  Subscribe today to have Alabama's leading headlines delivered to your inbox.