The website for the South Alabama Veterans Council (SAVC), a private organization not affiliated with the State of Alabama or the federal government, has been hacked, with those responsible claiming to be Iranian.
This comes in the wake of the United States military killing Qasem Soleimani, the head of Iran's Islamic Revolutionary Guard Corps (IRGC) Quds Force, a U.S.-designated Foreign Terrorist Organization.
The SAVC describes itself as "an informal organization of Veterans and members of the community that are interested in the issues that concern Veterans and their families." The group is reportedly sponsored by the Military Officers Association of America, a 501(c) non-profit organization.
On Tuesday, the SAVC's website was defaced, meaning the pages on the site visible to the public were replaced. An image of Soleimani now appears on the site, along with the text, "Hacked by Iranian Hacker… Hacked by Shield Iran."
Here's what the website looked like as of noon on Tuesday: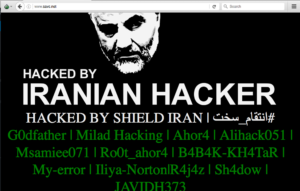 According to Vice News, the same group appears to be responsible for hacking the Texas Department of Agriculture with an identical image and attribution.
Vice further outlined that the group the hack was attributed to is linked with "a security contractor with ties to Iran's Islamic Revolutionary Guard Corps."
Sean Ross is the editor of Yellowhammer News. You can follow him on Twitter @sean_yhn
Don't miss out!  Subscribe today to have Alabama's leading headlines delivered to your inbox.