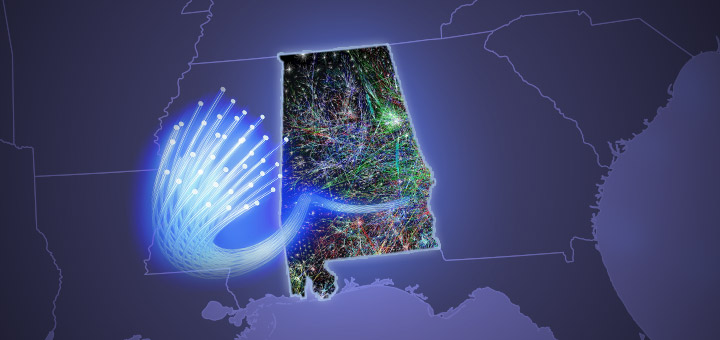 By Johnny Kampis of Watchdog.org
AT&T is now testing an Internet service in Walker County that could help fill the broadband gap in Alabama's rural areas.
About 65 households in the Carbon Hill area are being paid to participate in the wireless local loop service, which involves installing a directional antenna on their homes to receive a wireless Internet signal from a nearby cell tower.
Although users won't receive as fast a signal as those with copper wire or fiber coming into their homes (normally at speeds of 100 megabytes per second, or so), the speed of 10-30 mbps anticipated by AT&T is fast enough to watch a streaming movie in high definition.
Tom Struble, policy counsel for TechFreedom, which advocates technology expansion through entrepreneurship and sound public policy, told Watchdog.org the WLL service could be a strong alternative to the costly effort of burying and running lines to individual households in rural areas.
"It's a good broadband solution for people who don't have it," he said. "It's pretty typical of what you could get on your cell phone."
The test comes at a time when Gov. Robert Bentley and state leaders are considering how to serve rural areas that currently can't access high-speed Internet. The governor created the Office of Broadband Development last year for that purpose.
Struble noted the WLL method allows a private provider to more easily improve the service over time than with buried lines. He said 5G wireless services, with expected implementation in the next four to six years, could be faster than current wired services.
"Once you do this, you can roll it out incrementally," Struble said. "If they can do this, then Alabama doesn't have to waste taxpayers' dollars installing fiber."
David Williams, president of the Washington, D.C.-based Taxpayers Protection Alliance, said the government has an obligation to provide public safety in the form of adequate bridges and roads, but high-speed Internet is best served by the free market. To that end, AT&T's tests are a positive development, he said.
"This is great news for taxpayers in Alabama," Williams said. "We hope the state Legislature and governor take notice."
Carbon Hill was selected for its rolling topography, AT&T said. The test there will last for three months, with similar studies being conducted in Georgia, Kansas and Virginia.
AT&T product manager Bill Robbins, who is heading up the Carbon Hill effort, declined to comment to Watchdog.org.
The company first discussed its WLL plans in filings with the U.S. Securities and Exchange Commission as part of its proposal to acquire DirecTV. That proposal said the WLL technology would use AT&T's wireless spectrum and LTE infrastructure to provide better speeds.
The company said it would "provide consumers with a robust broadband experience, with speeds and usage comparable, and typically superior to, the best wireline services available."
FierceWireless.com reports AT&T proposed deploying WLL to about 13 million rural customers in 48 states, but that proposal was not included in the final conditions of the merger with DirecTV.
The website said the trials appear to be part of a plan to phase out expensive-to-maintain copper-line networks in rural areas.
---
Johnny Kampis is a content editor at Watchdog.org, and is helping to start the organization's Alabama Watchdog bureau in his home state. Johnny previously worked in the newspaper industry and as a freelance writer, and has been published in The New York Times, Time.com, FoxNews.com and Atlanta Journal-Constitution.