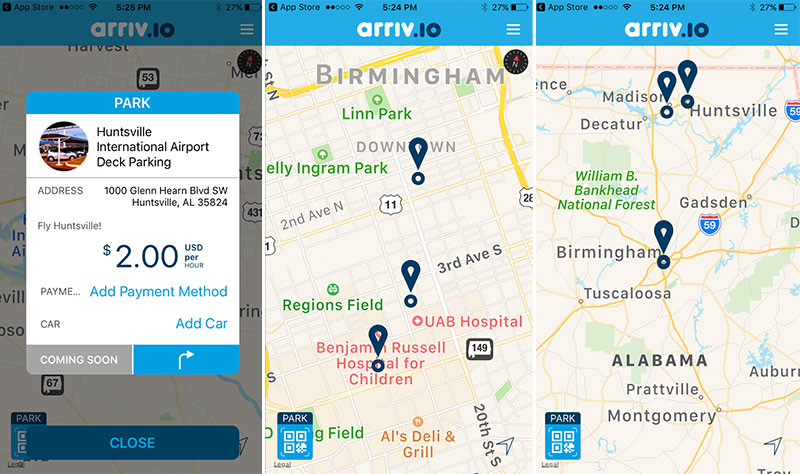 Everyone knows what a pain it is to be late for a meeting or event, only to be stuck in an endless loop of downtown city streets, circling like a vulture for a coveted parking spot as anxieties rise. An innovative new app developed in Huntsville, Alabama will help solve that problem, as long as public and private parking facilities continue to get on board.
Arrivio is a free app drivers can download that shows them exactly where open parking spaces are, in real time—hugely simplifying the stressful process of finding a good parking spot without wasting time searching. After locating the spot, the app also allows you to conveniently pay for it on your smartphone. As the app's website says, you can "find, park, and pay via your mobile phone." In short, Arrivio allows drivers more control over their parking experience.
Presently, Arrivio is only available where parking lot owners and local governments partner with Arrivio, but the more these entities sign on to the service—and the faster they sign on—the easier everyone's life will become when headed downtown, to airports, or big events in Alabama.
As the company's website says, Arrivio "is a cashless, ticketless, on-demand parking app" that makes finding parking spaces easier by "connecting parking sites to the surrounding business and real estate ecosystem. Drivers can use Arrivio at any time for on-the-spot, pre-purchase, or monthly parking and for all types of parking scenarios, including street parking and gated parking lots."
The app's co-founder Robin Reyes says "Parking is the biggest issue facing so many downtowns, airports, and event centers across Alabama, and we have a solution that makes it much easier for everyone"—the driver and those who own or manage parking spaces.  "First, our app simplifies the process for drivers, by 'holding their hand' all the way from accessing the parking site to payment. This reduces the need for paper tickets and cash." As Reyes pointed out, they no longer have to roll their windows down, dig through their pockets for cash, wait while the parking attendant makes change, and endure the impatient honking as the line behind them grows.
Arrivio goes way beyond its benefit to drivers, however. Reyes says it's an economic development tool that revolutionizes the way parking authorities manage traffic flow and the parking process. Consider one small part of that equation—parking meters. "The city of Birmingham has some 10,000 meters—a big number for a city of Birmingham's size and replacing them as they age will cost millions," Reyes noted. "By partnering with us, drivers can pull up to an on-street parking space, pay conveniently, the city gets their money through our app, and everyone happily goes about their business, saving taxpayers and simplifying the process for everyone involved."
As he continued to explain, parking meters are just one example. Arrivio works with private and public lots, as well as airport parking garages.
Another point Reyes made is that airports are in a battle in which they're losing revenue to companies like Uber and Lift because travelers are increasingly opting for the convenience of being dropped off, even though it costs more. With Arrivio, convenience is reintroduced to the airport parking experience, which will boost the airports' revenue and still allow the travelers considerable savings over a car service.
"Because we've developed our technology right here in Alabama," Reyes said, "and because our growth here represents jobs as well as the obvious benefits to parking authorities and drivers, we're hopeful more airports, convention centers, private garages and municipalities will make Arrivio available to their customers soon."
If you own a parking facility or if you're a public official who manages parking, you can learn more and contact Arrivio here. If you're an Alabama and driver who just wants to download the app on download the App for your Android phone or iPhone, you can do so here.
Currently, Arrivio is available at various locations in Birmingham and Huntsville, but will hopefully spread across Alabama in a hurry to make all our lives much easier. It's also available at nearby Jackson, Mississippi airport and 13 other international airports.
Don't miss out!  Subscribe today to have Alabama's leading headlines delivered to your inbox.