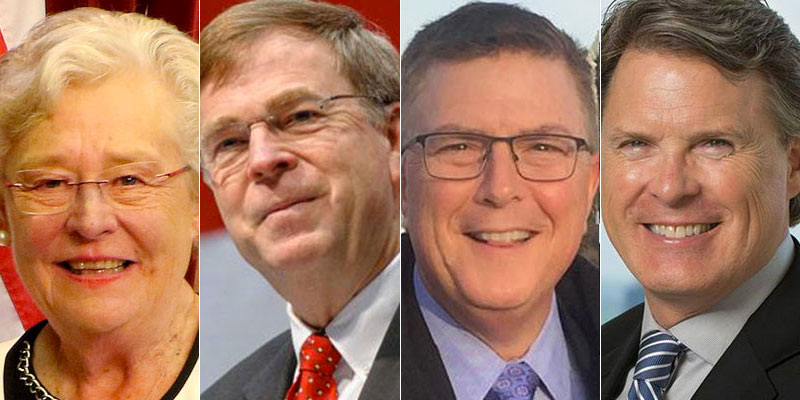 Again this month, incumbent Kay Ivey, Huntsville Mayor Tommy Battle, Alabama minister Scott Dawson, and state Senator Bill Hightower lead the fundraising charge in the Alabama governor's race.
Ivey jumped in late but wasted no time raising large sums of cash. Thanks to a $25,000 boost from Regions Bank, she started September with a balance of  $1,000,2000. She spent a whopping $83,663 launching her campaign during the month, ending it with $1,157869 in cash on hand. Not counting a couple of major cash contributions (upwards of $50k), she raised $241,332 from everyday donors in September. Governor Ivey is riding the wave most incumbents enjoy while touting restored stability to the office following the forced resignation of her disgraced predecessor, Robert Bentley.
Not far behind Ivey is Tommy Battle. The Huntsville Mayor started September with $852,391 on hand, and he spent $35,975, finishing with a balance of $1,028,017. This makes him the only candidate besides Ivey to break the million-dollar barrier. Battle raised $211,506 from everyday donors and also enjoyed a major contribution boost of $25,000 from an individual donor. He's popular among Huntsville-area business leaders and benefits from his economic development record in the Rocket City, which is filled with high-tech, high-wage jobs.
Finishing third in fundraising several months in a row is Birmingham minister Scott Dawson, who raised  $54,067 in September. Starting the month with a balance of $254,135, he spent about $9,400 getting his message out during the month and heads into October with a balance of $301,004. Dawson was bolstered by the endorsement of Mike Huckabee, as the former Arkansas governor drew comparisons between he and Dawson as ministers in the political arena, while announcing his support for his Alabama friend on the Rick & Bubba Show. Dawson also benefits from a grassroots network across Alabama—a state that's proven its affinity for those outside the political establishment.
Close behind Dawson in cash raised in the governor's race, but ahead of him in cash on hand, is Alabama state Senator Bill Hightower. The Senator started the month with a balance of $537,708. He spent just over $40,000 in September and finished the month with a principal campaign balance of $546,222. From everyday donors, Hightower raised $47,306. Popular among south Alabama business leaders, the affable Senator is working hard to show how his private sector business achievements translate into broadening the geographic scope of his campaign as a statewide political leader.