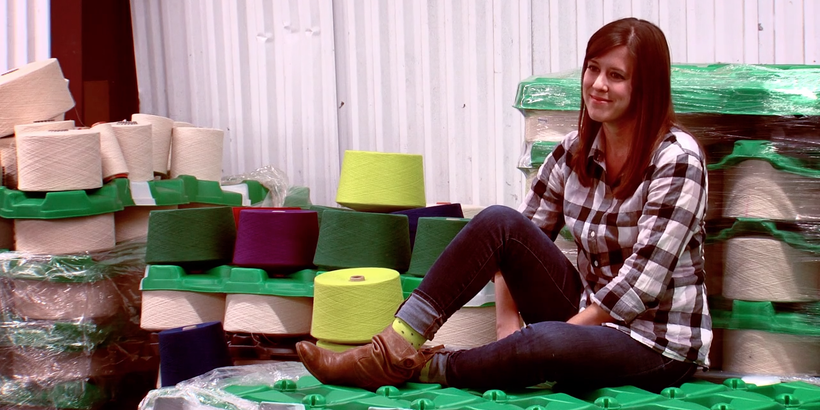 There was a time when one out of every eight pairs of socks sold around the world was made in Fort Payne, Alabama. Sadly, globalization, cheap foreign labor, free-trade agreements, and the 2008 financial crisis shut down all but a handful of the Sock Capitol's 120-plus sock mills.
But Alabama native and second-generation sock maker Gina Locklear is making socks for a new generation. After selling real estate for a few years, Locklear told her parents that she wanted to make fashionable socks that were organic and sustainable.
Locklear's parents opened Emi-G Knitting in 1991. For years, they made plain white sports socks for Russell Athletics. When the economy turned, the Locklears were able to keep their mill open, but just barely.
Locklear now produces two sock lines out of her parents' old factory: Zkano, designed with fun colors and patterns, and Little River Sock Mill, which tend to be more refined and sell in upscale stores like Margaret O'Leary in Manhattan. Zkano has been running since 2008 and Little River started production in 2013. The majority of her customers are women, but Zkano does sell socks for men, and Locklear hopes to introduce a men's line to Little River this fall. Zkano's men line has even been worn many times by Tony Hale's character on HBO's "Veep."
Both Zkano and Little River use 100% organic materials, which gives Locklear a leg up against her competition and a niche appeal to millennials and other environmentally friendly buyers. The cotton she uses comes from Texas and the dyes come from North Carolina.
Using new dyes and manufacturing patterned socks has been a challenge for the old knitting machines that are used to plain white socks. Emi-G plant manager Vance Veal has had to teach the machines to make a different kind of sock.
"Gina keeps me on my toes," Mr. Veal said. "She's made me better at what I do."
Mr. Veal can even produce sample batches of new designs on site, which gives Locklear a competitive advantage in experimenting and fine-tuning patterns, colors, and materials. The mill also seams the socks and fills orders on site too, which allows Locklear to streamline her process and keep a closer eye on product quality.
Last fall, Locklear won Martha Stewart's American Made award, which helps bring recognition to small business owners. Stewart praised Locklear for helping bring business and new jobs back to Alabama.
"Encouraging the American public to buy American-made matters," Ms. Stewart said. "The more socks she sells, the more people she can employ."
Ms. Stewart also praised Locklear's smart choice of product, saying, "Everyone needs socks. Women are wearing socks as a fashion statement like never before. Turn the pages of Vogue and almost every fancy dress is worn with a pair of socks."
Even with all her success, Locklear has to work hard to keep her business going. Little River and Zkano don't sell enough product on their own to keep the Emi-G mill sustainable, so Locklear's parents continue to make white athletic socks when orders come in. The mill also recently downsized from 45 to 30 workers. Locklear takes on a number of responsibilities for the company herself, including customer service, ordering yarn, designing new socks, marketing on social media, and processing orders.
The life of a small-business owner can be difficult, but Locklear keeps an optimistic outlook. She has been fundamental in revitalizing the "Sock Capitol of the World" for a new generation.
"It's hard every day but I still love it," Locklear said. "It's what I want to do forever."
Don't miss out!  Subscribe today to have Alabama's leading headlines delivered to your inbox.