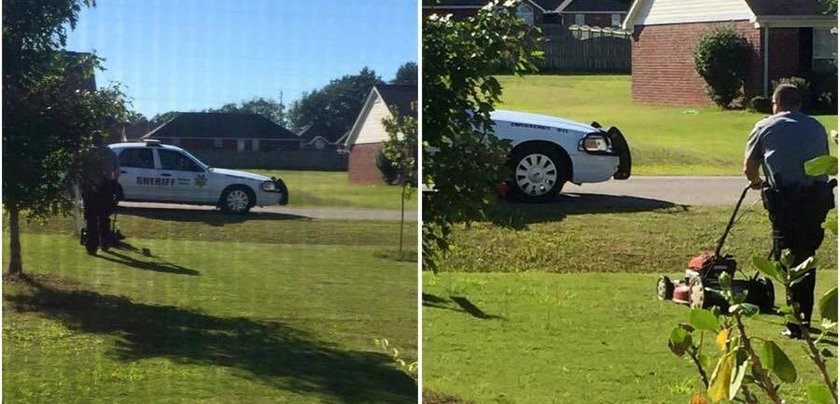 MADISON, Ala. — Rachael Brindley was mowing the front yard with her 4 month old baby strapped to her chest, when a Madison County Sheriff's Deputy stopped in front of the house.
"I thought I was about to get in trouble or something for baby wearing while mowing," Brindley wrote on Facebook. Instead, the Deputy surprised her by taking over the mower, and finishing the yard for her.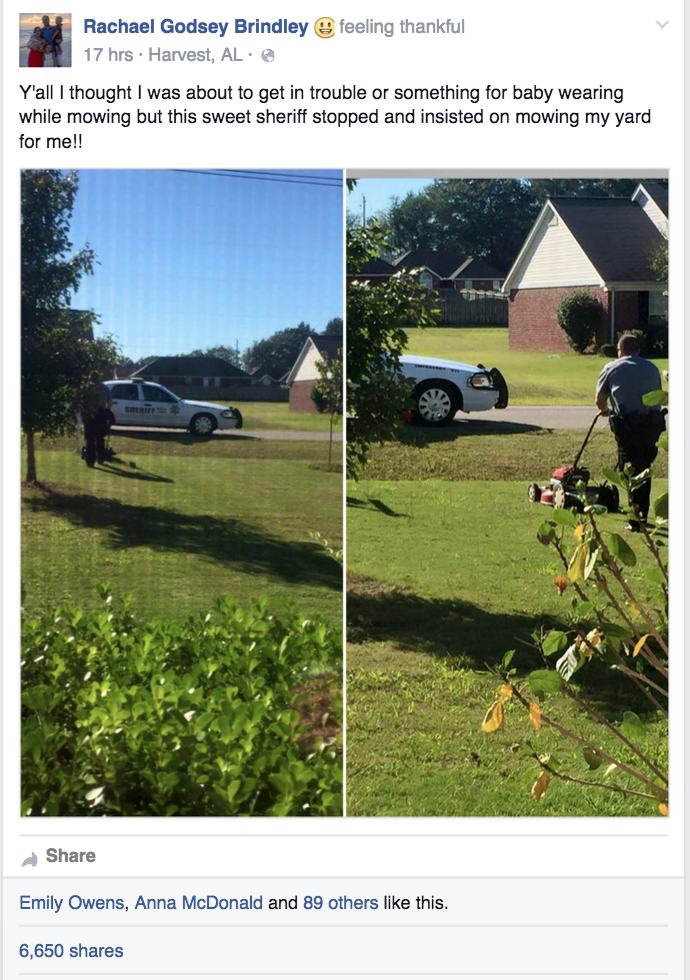 Posted Monday afternoon, by Tuesday morning Brindley's story had been shared more than 6,000 times.
"It was a nice day out," Brindley told Yellowhammer. "Everyone was out working in their yards and I thought 'hey, I'll mow my yard too.' I have a small yard and it doesn't take long to mow, so I wrapped up my little one secure in my Boba wrap and got about halfway done before he stopped by."
"I honestly thought he was going to tell me to not mow with a LO but he said, 'I can't drive by and watch you mow with a baby.' So, He checked in on his radio where he was at and finished mowing for me. We had just gotten back from being on vacation and my husband has been working hard on a work project, so I wanted to help him out and do it myself. He works hard so I can be a stay at home mom, and I actually enjoy mowing. I'm not one to just sit around.
"My husband and I appreciate the officer for doing a good deed! I only posted because I wanted people to see that police are good especially with all the heat they've been getting lately. I had no idea my post would go viral! We're grateful to all the men and women who put their lives on the line for our country!"
"I can't express enough of my gratitude for this man-in-blue," said Rachael's husband, Ryan. "It's small in nature, but was a huge help to my wife today."
In a time when many members of law enforcement are coming under attack, Brindley's story is a refreshing reminder of the positive role the vast majority of officers play in our communities.
"This Deputy goes Above and beyond every time he comes in contact with the public," said one commenter on Brindley's Facebook post. "I personally know him and glad to call him my Brother in Blue."
---
Like this article? Hate it? Follow me and let me know how you feel on Twitter!

— Elizabeth BeShears (@LizEBeesh) January 21, 2015
Don't miss out!  Subscribe today to have Alabama's leading headlines delivered to your inbox.