[tps_footer][/tps_footer]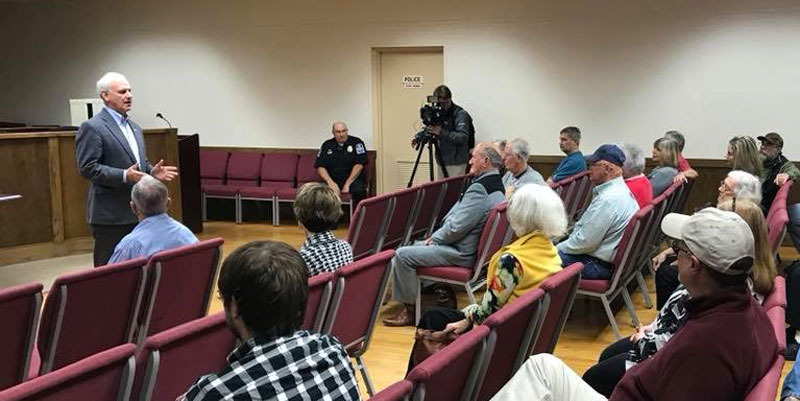 [Second update added, see below]
The federal government shutdown had perhaps its first noticeable impact on Alabama on Sunday. According to a tweet from Rep. Bradley Byrne (R-Fairhope) and later confirmed to Yellowhammer News by Byrne's office, Byrne has canceled two town hall meetings scheduled for Monday.
Due to the ongoing government shutdown, I will not be able to hold town hall meetings in #FriscoCity and #BayMinette on Monday. Legislative business will keep me in D.C. We will reschedule them!

— Rep. Bradley Byrne (@RepByrne) January 21, 2018
One was to be held in Monroe County's Frisco City and the other in Baldwin County's Bay Minette.
At the other end of the state, Rep. Mo Brooks (R-Huntsville) had a town hall meeting scheduled for Monday as well. As of 10 p.m. local time, Brooks' office had not responded to Yellowhammer News' query about the status of the meeting scheduled to be held at Oak Park Middle School in Decatur for 6:30 p.m.
Hope to see you this Monday in Decatur at Oak Park Middle School for a Town Hall Meeting. The public event is open Q&A, so I hope you will attend to join the discussion on important issues facing North Alabama and our nation. pic.twitter.com/xDasUrcDmJ

— Mo Brooks (@RepMoBrooks) January 18, 2018
UPDATE, 10 a.m. CT: A spokesman for Brooks' office told Yellowhammer News Monday morning the plan was for Brooks 6:30 p.m. CT town hall to go on as scheduled.
UPDATE, 4 p.m. CT: Per Mo Brooks' office, the meeting is now canceled.
Jeff Poor is a graduate of Auburn University and works as the editor of Breitbart TV. Follow Jeff on Twitter @jeff_poor.