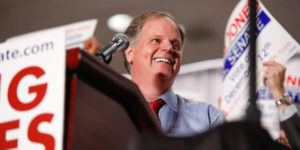 Democrat Doug Jones scored an upset victory in last month's special election in no small part by convincing voters that he would pursue a moderate course and seek bipartisan consensus.
On one of his first opportunities to demonstrate it, he bucked his party Friday night over the government shutdown fight.
Jones joined most Republicans in supporting a short-term funding measure passed by the House of Representatives to keep the government operating through Feb. 16. But the measure fell well short of the 60 votes needed to break a filibuster. That means nonessential functions of the federal government will shut down for the first time in five years.
Jones did not vote for the spending measure enthusiastically. He told the Associated Press that he was disgusted by the process but that he would "reluctantly" vote for it. He cited the need to fund the Children's Health Insurance Program. Alabama is one of a half-dozen states facing a critical shortage of federal funds for the program, which provides health coverage to children in lower-income families.
The Republican bill would have reauthorized the program for six years.
Four other Democrats, all of whom face potentially tough re-election campaigns this year in states that President Donald Trump carried, also voted for the bill. They were Sens. Heidi Heitkamp of North Dakota; Joe Donnelly of Indiana; Joe Manchin of West Virginia; and Claire McCaskill of Missouri.
The vote put Jones in a tough spot. Not only does Alabama face a CHIP funding shortfall, but shutting down the government likely is not popular in the state. But Democrats faced pressure to stick together in order to force concessions from Trump and Republicans on an unrelated issue — amnesty for the so-called dreamers, illegal immigrants whose parents brought them to the United States as children.
Jones supports the Development, Relief and Education for Alien Minors, or DREAM, Act, which would give permanent residency and a path to citizenship for that group. But he was unwilling to use a government shutdown as leverage.
Despite the Democratic defections, the measure got only 50 votes. That is because four Republicans also opposed the funding extension — Sens. Lindsey Graham of South Carolina and Jeff Flake of Arizona, who have worked with Democrats on amnesty; and Sens. Rand Paul of Kentucky and Mike Lee of Utah, who object to a seemingly never-ending series of short-term funding extensions without permanent funding for the fiscal year.
Senate Majority Leader Mitch McConnell (R-Ky.) also voted "no," but only for parliamentary reasons. As a member of the winning side, he now can bring the measure back for a revote if Republicans and Democrats strike a deal over the weekend.
Brendan Kirby is senior political reporter at LifeZette.com and a Yellowhammer contributor. He also is the author of "Wicked Mobile." Follow him on Twitter.