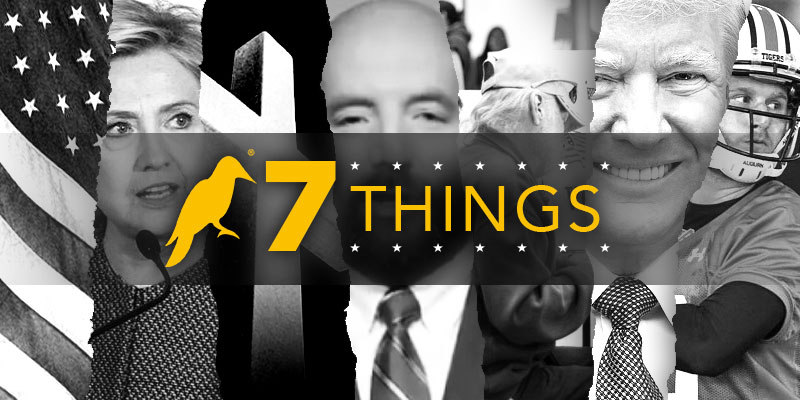 The 7 Things You Should Be Talking About Today
1. White House drama continues to block out positive economic news
— The fallout from Micheal Wolff's book "Fire and Fury" is the number one story in the world again.
— Speculation about the President's demeanor and mental state are becoming mainstream.
— Yesterday, the stock market hit 25,000 for the first time ever after.
2. Roy Moore's accuser, Leigh Corfman files lawsuit seeking an apology
— Corfman's explosive accusation was the most damning; she claimed that Moore touched her sexually when she was 14.
— Moore denied the accusation, called her a liar and alleged that she received money for making the claims.
— Winning a libel suit in a situation like this seems unlikely, because the standard requires proof that Moore knows the claims are false.
3. Attorney General Jeff Sessions revokes policy that allowed legal weed to flourish
— Sessions rescinded a trio of memos that signaled the Federal government would do nothing about states legalizing marijuana.
— The move, which has drawn outrage from Republicans and Democrats, allows federal prosecutors across the country to use resources to crack down on the sale and possession of pot.
— The AG did not direct prosecutors to go after "legal" pot business, as many thought he would.
4. The Anniston Star's chairman resigns after admitting to spanking his employees
— H. Brandt Ayers was accused by multiple employees of assaulting them when they worked for him.
— The former chairman said he went to an employee's home and spanked her in the 1970s. He claimed he consulted a doctor who told him to treat her psychological issues with spankings to "calm her down".
— Prior to stepping down, Ayers had stated that he would stay on because his family had served honorably for years.
5. Steve Bannon could soon be out at Breitbart
— Andrew Breitbart's widow and Breitbart CEO Larry Solov are being lobbied to oust the former Trump aide.
— Part-owner of Breitbart, and Bannon benefactor, Rebekah Mercer has stated, "I support President Trump and the platform upon which he was elected."
— Bannon cannot win a war with Trump, especially with Breitbart viewers.
6. Alabama Supreme Court Justice quits job to (maybe) run for something somewhere
— Alabama Supreme Court Justice Glenn Murdock announced Thursday he will resign effective Jan. 16.
— With an eye towards a U.S. Senate seat Murdock stated, "I am interested in that and don't know when that might be, in three years or five years."
— Gov. Kay Ivey will now replace Murdock and that person will serve until November's general election.
7. Liberals target Nick Saban and Alabama football over potential trip to the White House
— The activist group CREDO has started a petition demanding Saban speak out against Donald Trump's criticism of NFL players.
— CREDO also doesn't want Alabama to accept an invitation to the White House IF they win the national championship on Monday.
— Saban will probably be annoyed by this petition when he is inevitably asked. He's stated in the past, "I'm just a football coach. I don't keep up with that stuff as much as everybody else does, especially during the season."
Don't miss out!  Subscribe today to have Alabama's leading headlines delivered to your inbox.