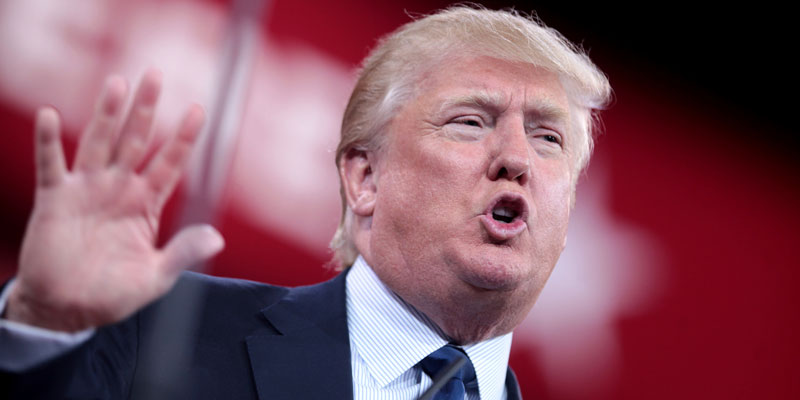 1. Latest headache for President Donald Trump comes from a former campaign staffer, George Papadopoulos.
— The New York Times alleges that a drunk Papadopoulos told an Australian diplomat that Russia had Hillary Clinton's deleted e-mails.
— When stolen e-mails appeared online, Australian authorities alerted "their American counterparts" about the conversation.
— Papadopoulos has already pleaded guilty to lying to the FBI as part of Special Counsel Robert Mueller's probe into Russia's interference in the 2016 Presidential election.
2. President Donald Trump warns Iran that the world is watching their response to protests in the street.
— Early Sunday the Iranian government warned protesters will "pay the price" for their actions.
— Trump tweeted: "The USA is watching very closely for human rights violations!"
— Trump campaigned against Iran, calling it the world's "No. 1 terror state".
3. President Donald Trump stakes out a very different position than former President Barack Obama did during 2009's Iranian protests.
— Obama's administration backed the Iranian regime in 2009 because they were seeking a nuclear deal.
— Former United Nations Ambassador said, "You have President Trump, members of his administration, taking the side of the demonstrators," he added. "180 degrees the opposite of what Barack Obama did in 2009."
— U.S. Lindsey Graham criticized Obama's reaction to those 2009 protests saying he didn't want to get involved because it would mess up the nuclear deal.
4. Wisconsin-based Freedom from Religion Foundation is going after Alabama Governor Kay Ivey's Facebook page.
— Governor Ivey, like many politicians, used her Facebook page to wish her followers a Merry Christmas.
— The Freedom from Religion Foundation claimed her Christmas cheer was "unconstitutional".
— In the past the group has targeted Alabama schools and local governments to mixed results.
5. Roy Moore's election loss was really all sports talker Paul Finebaum's fault.
— Finebaum claimed in his 2014 book, "My Conference Can Beat Your Conference" that he is responsible for Gov. Robert Bentley being elected in 2010.
— The influential talker claims Bentley would tell people Finebaum "got me elected".
— Bentley's scandal-plagued 2nd term led to an appointment of Sen. Luther Strange and that set the wheels in motion for Democrat Doug Jones to win in a very red state.
6. While the media tells you 2017 was amazing for Democrats, the reality is far different.
— Democrats predicted the stock market would plunge, instead it soared.
—  Democrats predicted world-wide chaos in Trump's first year, instead United Nations Ambassador Nikki Haley has secured votes for sanctions for North Korea from Russia and China.
— With the help of a complicit news media, Democrats waged a massive misinformation campaign against tax cuts, it still passed.
7. As the new year begins, many forget President Trump's biggest victory is how he is packing the court with conservative judges.
— Trump and the Republican Senate have confirmed a record 12 appellate judges this year.
— The last two confirmed judges were conservative Twitter-darling Don Willet and Taiwanese immigrant Jim Ho.
— Many Trump voters cited his list of conservative Supreme Court possibilities as the reason they voted for him.
Yellowhammer News contributor Dale Jackson hosts a daily radio show from 7-11 a.m. on NewsTalk 770 AM/92.5 FM WVNN and "Yellowhammer News Presents: Guerrilla Politics" on WAAY-TV, both in North Alabama.
Don't miss out!  Subscribe today to have Alabama's leading headlines delivered to your inbox.