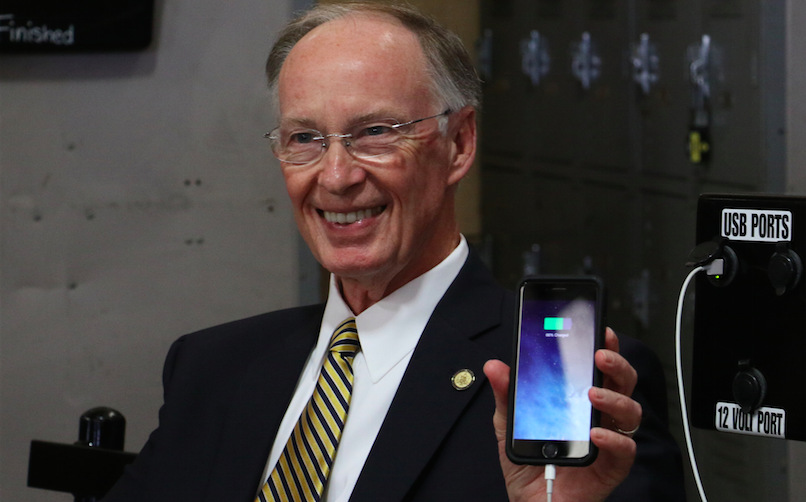 TUSCALOOSA, Ala. — Governor Robert Bentley personally bought multiple disposable cell phones — often referred to as "burners" — at a Tuscaloosa Best Buy last year, according to the store's employees.
Prepaid phones were widely used in the early days of cell phone proliferation, but went out of vogue as smartphone technology became more accessible. However, they continue to offer an affordable option for individuals wanting the safety and convenience of cell technology without the cost of a monthly voice and data plan.
In recent years, prepaid phones have become known in popular culture as the go-to, low-cost solution for criminals seeking to avoid detection and surveillance by frequently changing numbers. In HBO's popular series "The Wire," for instance, drug dealers frequently used burners to make it difficult for law enforcement to tap their phones.
Governor Bentley personally buying such phones appears to have struck the Best Buy employees as odd at the time, but they did not find it particularly noteworthy until the governor's affair came to light and allegations of impropriety began to spread.
"[U]p until the scandal came to light, Bentley HIMSELF would by (sic) little burner phones," a Best Buy employee told al.com in a Facebook message. "I witnessed it with my own 2 eyes and even sold him one. I sold to him once, saw him purchase twice."
A former Best Buy employee confirmed that he had witnessed the governor purchasing AT&T flip phones, which typically cost about $15 dollars.
"I just remember Governor Bentley coming into Best Buy. And he purchased one," the former employee said. "There was one other man with him. I don't know if he was security; he wasn't dressed like security. He may have been an advisor or a friend or something."
The burner phone purchases are the latest in a string of curious wrinkles in the growing Bentley scandal.
Yellowhammer earlier this week broke the news that Bentley and his then-senior advisor and mistress Rebekah Mason shared a secret safe deposit box at a Montgomery bank. Bentley subsequently confirmed the box's existence to the New York Times, but said Mason's name was on the box just so she could have access to it if he died.
Governor Bentley's office did not respond to a request for comment on the phones.
---
RELATED:
1. Bentley expresses frustration with media, says his actions were 'not all that egregious'
2. IMPEACHMENT: Alabama lawmakers angling to remove disgraced governor from office
3. UNCOVERED: Bentley and Mason co-own secret safe deposit box together
4. DEVELOPING: State, Feds launch criminal investigations into Bentley-Mason relationship
5. Governor Bentley isn't going anywhere and here's why
6. EXCLUSIVE: The complete Bentley-Mason affair audio recordings and transcripts
7. These four audio clips suggest Bentley is lying when he denies having a 'physical affair'
8. 'Bentley was framed!' — Rick & Bubba producer performs hilarious original song
9. 'Gender bias' cries from Bentley's alleged mistress are a desperate diversion (opinion)
10. WOW: This is what's engraved on the podium Bentley stood behind to discuss affair
11. CARTOON: Slick Willy backs Bentley
12. SOURCES: Lt. Gov has been preparing for possible Bentley resignation for months
13. Bentley addresses affair allegations: 'I made a mistake'
14. Alabama's former top cop: Bentley mistress was 'de facto Governor'
15. Bentley staffer lashes out, says sources exposing secrets are 'the public's worst enemy'
16. Was Bentley booted out of his church? Here's what really happened.
Don't miss out!  Subscribe today to have Alabama's leading headlines delivered to your inbox.