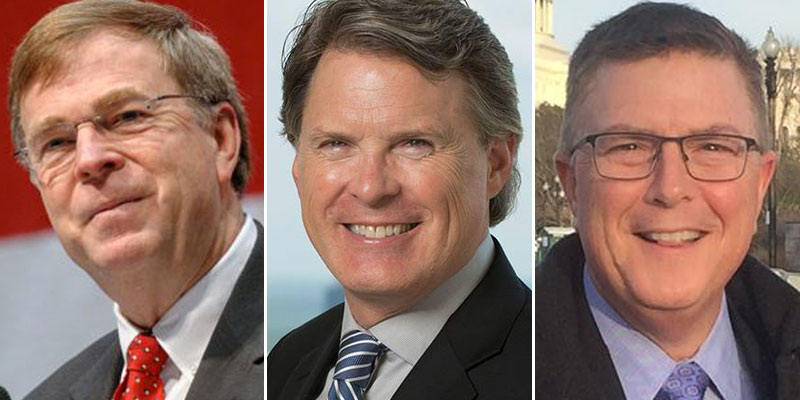 There seems to be a broad consensus around Alabama that what the state wants in a Governor, above all else, is someone who's trustworthy. In other words, someone who isn't going bring embarrassment to our great state. Again.
To that end, one of the surest ways to gauge whether a candidate is gaining traction is to look at their fundraising totals. Based upon recently disclosed July reports, it's evident that energy is quickly building for the 2018 gubernatorial race, and candidates are gaining traction.
In round numbers, campaign finance reports indicate the following candidates have raised significant dollars in cash contributions. Not counting transfers and loans, here are the numbers so far:
• Huntsville Mayor Tommy Battle raised $303,000 in July and $271,000 for a total of $574,000
• State Senator Bill Hightower raised $270,000 in July and in $170,000 in June for a total of $440,000
• Minister Scott Dawson raised $78,000 in July and $178,000 in June for a total of $256,000
• Jefferson County Commissioner David Carrington raised $29,000 in July and $126,000 in June for a total of $155,000
• Alabama Public Service Commission President Twinkle Cavanaugh $42,000 in July and $70,000 in June for a total of $112,000
While there are other viable candidates in the race, these five fundraising leaders have collectively raised some $1.57 million since fundraising started in June. That's quite a trajectory in two short months.
Conspicuously absent from this activity is the incumbent—Alabama Governor Kay Ivey. At the very least, it seems uncommon that nearly $1.6 million has poured into a race in eight short weeks while the sitting governor remains silent in the equation.
Kay Ivey took office on April 10th and has enjoyed four months of quiet stability at the Governor's Mansion. She's signed popular bills into law, met with the President, made big economic development announcements, and seems to have garnered the acceptance of a wide swath of Alabamians. As we reported last month, Morning Consult's July survey rates Ivey with the 6th highest approval marks of any U.S. Governor. As of July 10th (when the poll was concluded), she had 64% approval ratings and only 13% disapproval ratings.
Her popularity notwithstanding, the campaign's frenetic fundraising activity begs some important questions, the most obvious being, will Kay Ivey seek re-election? If she does, will she be able to catch up in the fundraising race? Has she already lost the support of key donors who may have otherwise been in her corner? How many big donors are waiting on Ivey to decide? How long will they wait? Are other prospective candidates waiting to see what Ivey does before throwing their hat in the ring?
While there's no shortage of speculation as pundits and political enthusiasts spit-ball answers to these questions, mum is the word from the Governor's inner circle. Meanwhile, the summer—and the fundraising race—marches on.
Ten months remain until the primaries and those months will seem like weeks in this election. In other words, in modern-day Alabama politics that are largely driven by the outcome of Republican primaries, the campaign calendar has been compressed. Twelve years ago, the summer before an election year was considered early, and plenty of time remained to announce, organize, and raise money. Today, however, at ten months out the horses are out of the gate and well on their way to the first turn.
Before long, clear leaders will emerge in fundraising, polling, and ground-game organization. The show will go on, as candidates will increasingly secure commitments from donors, grassroots supporters, and strategic allies.
If the June and July fundraising numbers tell us nothing else, they clearly indicate that a number of big donors have already started making decisions based on reasonable assumptions. Look for more to the same as summer winds down, and Alabama's next governor's race marches on.
UPDATED Friday, August 4 at 9:50 am to include revised amounts from campaign finance reports.
Don't miss out!  Subscribe today to have Alabama's leading headlines delivered to your inbox.