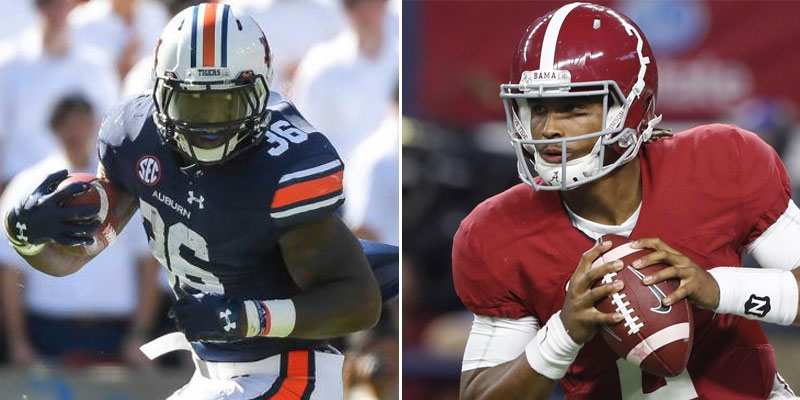 The first preseason college football poll was released today, and Division One coaches from across the nation have voted Alabama in the #1 spot, once again placing the Tide as the game's most dominant force in the country.
For all of Alabama's hard-earned and well-deserved prestige, college coaches from around the nation also made it known that Auburn is expected to be a force to be reckoned with in 2017, ranking the at Tigers 13th.
The Amway Coaches' Poll is the first preseason ranking, and it reminds us that the glorious gridiron Saturday's are only four short weeks away. USA Today Sports sponsors the Amway on the poll, explained that it's a coaches' poll made up of 65 leading FBC coaches. As USA Today reported, "Each coach submits a Top 25 with a first-place vote worth 25 points, second place 24, and so on down to one point for 25th."
Alabama's opening day opponent, Florida State, was voted 3rd in the country while several of Alabama and Auburn's SEC foes made the elite group, with LSU coming in at 12, Georgia at 15, Florida at 16, and Tennessee at 24.
The 65 voting coaches who voted in the poll dropped reigning national champs Clemson down to number 5, while Ohio State (who lost to Clemson 31-0 in the playoff semifinal last season) is ranked 2nd, and Washington (who lost to 'Bama 24-7 in the playoff semifinal) was voted into 7th place.
Fall camp started this week for most college football programs, with one major difference that's a departure from a decades-long tradition—the infamous two-a-day practices are now a thing of the past.
However these teams spend the next month preparing, there's little doubt that Nick Saban's Crimson Tide will be more than ready to square off against the Seminoles in exactly 30 days. Likewise, Gus Malzahn's Tigers will be equally eager to mix it up with their twin-brothers up I-85 at Clemson a week later in their first real test of the 2017 campaign.
Stay tuned. College football is almost here!!
Don't miss out!  Subscribe today to have Alabama's leading headlines delivered to your inbox.