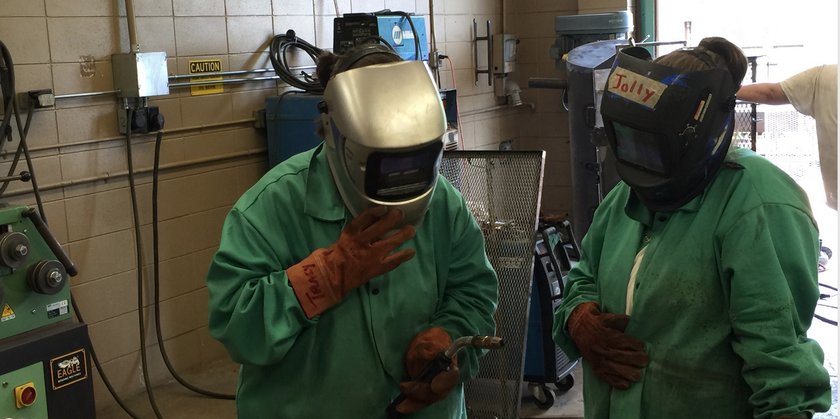 By John Herr
Welders wielding blowtorches. Students repairing air conditioners. An instructor teaching administrative office skills.
It could be a vocational school anywhere in the U.S. But it's not.
This is J.F. Ingram State Technical College, one of the only community colleges in America exclusively serving men and women serving time.
Headquartered in Deatsville, the school was established by the Legislature 50 years ago to give prisoners practical skills in preparation for their release into society. But its vision goes much further.
"Why do we exist? To develop responsible citizens," said Ingram State President Hank Dasinger. "Job training is not all that we do and, for many students, it's arguably not the most important service we provide."
Ingram State serves prisoners from numerous locations: Elmore, Draper and Staton Correctional Facilities in Elmore; Kilby Correctional Facility in Montgomery; Tutwiler Prison for Women in Wetumpka; Donaldson Correctional Facility in Bessemer; Alabama Therapeutic Educational Facility (ATEF) in Columbiana; and the Main Campus adjacent to the Frank Lee Work-Release Center in Deatsville.
Its programs include automotive mechanics, masonry, plumbing, electrical technology, drafting and design and horticulture. Carpentry and cabinetmaking are offered too, as evidenced by the new hickory desks in the state Senate chamber, built by Ingram students.
A recent tour through Tutwiler found a classroom filled with women learning about quadratic equations as they studied for their high school equivalency certificates.
Next door, inmate welders fired up their blowtorches. Down the hall, budding beauticians styled hair in a fully equipped salon.
A few miles away at Ingram's main campus, inmates bused in from other facilities attended their own courses. One of the most sought-after is HVAC (heating, ventilation and air conditioning). And it has a familiar patron.
"Alabama Power is a huge, huge education partner for HVAC," said Ingram State HVAC instructor Stan Humphries as he pointed to a large machine donated by the company.
"A lot of school systems don't have the finances to purchase equipment or have access to newer model equipment," said Alabama Power's Training Center Manager Joel Owen. "We're able to make that happen based on our relationships and interactions with the industry, so more people get hands-on training to become employable in the workforce."
The company assists in other ways. "As an instructor, I can go to any of Alabama Power's training courses for free," Humphries said. "All I have to do is buy my study material. That's invaluable."
"We feel like we're training our future," said Owen. "Hopefully they'll be productive in society and not do something that will put them back in."
Studies show that education and skills training do indeed reduce recidivism. Prisoners who took education programs while incarcerated are 43 percent less likely to re-offend than those who do not. Inmates in vocational training programs are 28 percent more likely to obtain post-release employment, according to the RAND Corp.
This is critical. About twice as many state and federal inmates compared to the general population lack a high school diploma or equivalency certificate. Many are also unfamiliar with the day-to-day routine of work that other citizens take for granted.
"One of the things we are trying to weave into all of our programs is the importance of soft skills," said fawn Romine, workforce development coordinator for the college. "Employers believe that if they've got somebody who shows up and is dependable, they can train them for the specific job."
"We help them navigate the challenges of life," said Dasinger.
One of the biggest challenges Ingram State faces is funding. The Legislature this year proposed a 3 percent cut in the Department of Corrections (DOC) budget. This comes on the heels of a 12.5 percent reduction in funding for prison education a few years ago, which hit Ingram State hard.
In April, DOC Commissioner Jefferson Dunn warned that the cuts would necessitate closing the Ventress Correctional Facility in Clayton, which specializes in substance abuse treatment, as well as the Red Eagle Community Work Center in Montgomery.
Alabama has the nation's fourth-highest incarceration rate. Already at 185 percent of capacity, the prison population would have swollen to 222 percent under the budget proposal, which Gov. Robert Bentley vetoed in June.
"We know that somewhere between 95 and 98 percent of everybody incarcerated in a federal or state penitentiary today is going to be let out," said Dasinger. "So the best investment is on the front end while they're behind wires, to try to give them the life, vocational and other kind of skills they need to be successful."
This was the message conveyed at a recent DOC community meeting in Wetumpka. Mayors, wardens and DOC officials agreed that education and training on the inside can lead to a better and safer transition to the outside.
"DOC has taken an interest in this," said Leon Forniss, warden of the Elmore Correctional Facility. "Getting intervention while in prison, getting education and a skill they can feel proud of."
Dasinger said taxpayers save on every inmate who is released and does not return.
"In other words, we're a good business model," he said.
Don't miss out!  Subscribe today to have Alabama's leading headlines delivered to your inbox.