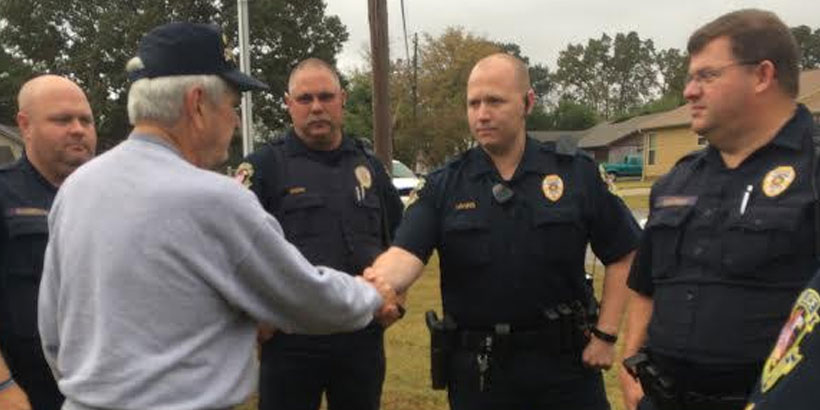 ALABASTER, Ala. — Thomas Feltman, an 83-year-old Korean War Veteran and Alabaster resident, woke up Sunday morning to find that the American flag he'd proudly flown in his yard for more than 10 years had been torn by vandals the on the Halloween night before.
After filing a report with the Alabaster Police Department, Feltman was blown away when seven police cars arrived bearing a brand new nicely folded American flag.
"One of them walked up to me said, 'We got something  for you,'" said Feltman. "I looked and there was a beautiful American Flag."
The officers insisted that Feltman not buy another flag, but allow them to honor him with their gift.
"All of us gathered  around as the flag went up," said Feltman. "All of us, 8 or 9 of us, we all saluted the flag all the way to the top."
After the salute, Feltman shook the hands of the officer's who had gone out of their way to show their support and respect for the Alabaster veteran.
Feltman served in the military for over 21 years, traveling to 27 countries during his time spent in service for his country.
The Korean War Veteran has an appointment with Mayor Marty Handlon to personally let her know how thankful he is to live in a city with such a respectful police department that would replace his flag. Feltman is willing to forgive the vandals under one condition, that they take responsibility and come to apologize.
"I wish they just come back and apologize," said Feltman. "That would take care of it. I'm not mad at anyone. I just think it's sad."
---
Thanks for reading! Let me know what you think about this story on Twitter.

— John James (@john_james_20) August 19, 2015
Don't miss out!  Subscribe today to have Alabama's leading headlines delivered to your inbox.