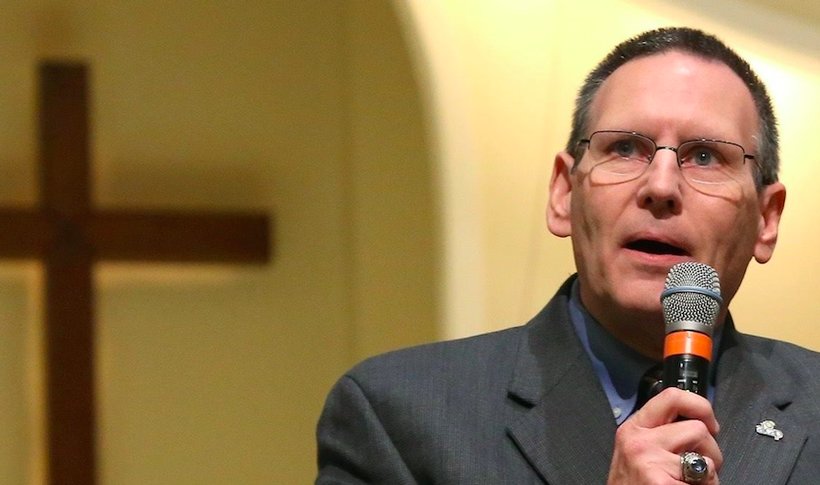 MONTGOMERY, Ala. — The leader of an interdenominational organization that lobbies the Alabama legislature on behalf of the Christian community issued a stern warning on Tuesday: "Illegal gambling is taking over this state."
Dr. Joe Godfrey is the executive director of the Alabama Citizens Action Program (ALCAP), an almost 80-year-old organization that describes itself as "Alabama's moral compass" and has long been one of the state's most active anti-gambling groups.
Dr. Godfrey's latest comments came in response to the imminent re-opening of VictoryLand, a Macon County casino that has opened and closed time and again since 2010 when the State first raided the facility and seized its electronic bingo machines.
Alabama's Constitution contains amendments declaring gambling illegal statewide, but also includes other county-specific amendments legalizing certain types of gambling — most notably "bingo" and dog racing — in a handful of counties, while they remain forbidden in others.
Then-Gov. Bob Riley issued executive orders empowering the attorney general's office to enforce Alabama's gambling laws during his tenure, but later rescinded the authority, establishing instead the Governor's Task Force on Illegal Gambling. Gov. Bentley renewed the AG's authority in his first official act as governor in 2011.
But in October of this year, Circuit Judge William Shashy ruled these orders unconstitutional because he said they led to unequal enforcement of the laws in different areas of the state.
The rub revolved around Victoryland, which had been repeatedly shut down by state authorities, while other similar casinos in Greene and Lowndes Counties remained open.
In response to the judge's ruling, Gov. Bentley issued another executive order, stripping the attorney general's office of the authority to enforce gambling laws and paving the way for gambling to take place in local areas under the supervision of sheriffs and district attorneys.
Macon County Sheriff Andre Brunson and District Attorney E. Paul Jones wrote to Bentley on Dec. 4 thanking him for the order and, according to a report by the Montgomery Advertiser, "outlined their plans" for inspecting VictoryLand's bingo machines and getting them prepared to re-open.
"I am satisfied with the terms and conditions you outlined in your letter to me with respect to the inspection and legal compliance for any bingo machine brought to Macon County," Bentley replied. "I have every confidence that you will enforce the law in your county as it applied to this important issue."
In response to this series of events, ALCAP's Dr. Godfrey sent the following statement to Yellowhammer (emphasis his):
The Governor of Alabama has abdicated his responsibility to enforce the laws of Alabama. The Alabama Supreme Court clearly ruled that the machines at VictoryLand were illegal slot machines, but the Governor, instead of enforcing the laws of Alabama, has chosen to ignore those laws as interpreted by the State Supreme Court. If he allows (VictoryLand owner) Milton McGregor to bring back slot machine gambling and does not stop the slot machines currently operating at other locations in the state, then why do we need a governor or why do we need (the Alabama Law Enforcement Agency)? If local sheriff's and DAs are going to be the only law enforcement in the state, then we might as well close the governor's office.

As I understand it, the Attorney General has been handcuffed by the Governor. The Attorney General cannot mobilize State Troopers (ALEA) to shut down the illegal gambling operations without the Governor releasing those troopers to the AG, so illegal gambling is again taking over this state. During the 2016 Regular Session of the Alabama Legislature, the pro-gambling legislators will argue, "Well, gambling is already going on. We might as well legalize it and tax it."

NO! What we should do is ENFORCE THE CONSTITUTION AND THE LAWS OF ALABAMA! We need a governor who will stand up and do what is right, not what Milton McGregor tells him to do! I guess one might surmise that Milton McGregor is the real Governor of Alabama.
An effort to legalize a state-sponsored lottery and expand casino gambling briefly gained momentum in the Alabama legislature in 2015, but ultimately did not have enough support to pass. Senate President Pro Tem Del Marsh (R-Anniston), the legislation's most prominent proponent, has said he will not renew the effort in 2016.
"I will not block an effort by anyone who wants to try to do it," Marsh said. "I'm just saying that as of today I won't be pushing it."
Alabama has a long and sordid history with gambling.
Phenix City, a small town on Alabama's eastern border, in the 1940s and 1950s was overrun by gambling and prostitution rings handled by organized crime figures. Al Patterson, a local attorney, won the Democratic nomination for Alabama attorney general on a platform of cleaning up the city, but was gunned down outside of his office before being elected.
In 2010, 11 individuals, including casino owners Milton McGregor and Ronnie Gilley and multiple legislators and lobbyists, were indicted in an alleged scheme to buy votes for a gambling bill in the Alabama legislature.
Mr. McGregor and most of the accused were acquitted, but Mr. Gilley, a state representative and a lobbyist all took plea deals that included time in prison.
A spokesperson for Governor Bentley told Yellowhammer the governor remains personally opposed to gambling.
"The Governor did not make the decision to reopen VictoryLand," said Bentley communications director Jennifer Ardis. "The Governor directed the enforcement of the State's gambling laws be done at the local level with Sheriff's and DAs.
"The Governor's position on gaming hasn't changed," she reiterated. "Milton McGregor is reopening VictoryLand–not Governor Bentley."
---
RELATED: The gambling argument every Alabamian should hear
---
Don't miss out!  Subscribe today to have Alabama's leading headlines delivered to your inbox.