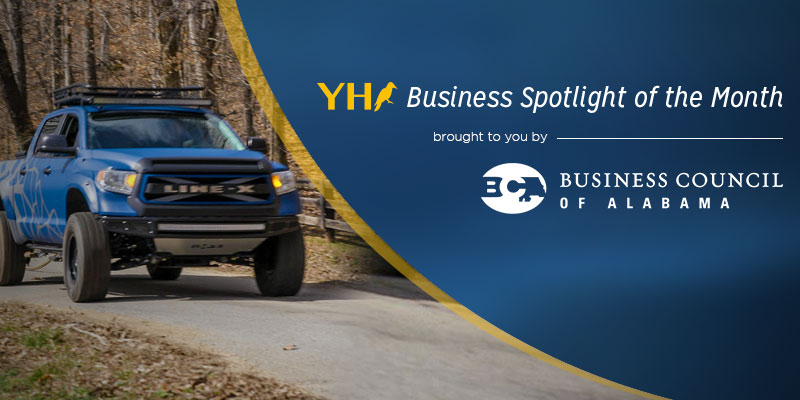 By Lauren Naumcheff
Truck owners across the nation use a spray-on coating to protect their bed liners from rust, corrosion and leaks. What most users of this product don't know is that the same product they apply to their trucks is also used by soldiers and police officers to catch bullet fragments. The Huntsville-based business responsible for creating this multipurpose coating has grown into a global operation.
LINE-X began as a small family-owned company in Santa Ana, California specializing in chemical manufacturing. The company was one of the first to develop a high-tech, spray-on elastomer polyurea. Right away the founders recognized the coating's incredible durability and how well it adhered to metal, wood, fiberglass, concrete, foam and much more. The coating was branded LINE-X and soon became a high-end option for truck bed protection.
Since 1993, LINE-X has been used to protect bridges, farm equipment, construction equipment, boats, trailers and much more. It found a niche as the perfect coating for truck bed liners. LINE-X launched a national franchise program in 1999 focusing on the automotive aftermarket. LINE-X franchises expanded to offer truck, SUV and Jeep accessories as well as protective coatings for various industries.
LINE-X has now grown to include more than 500 locations in 70 countries and over 45 manufacturing partners.
One of the company's greatest accomplishments is recognizing how LINE-X can benefit security and defense applications. The coating has anti-spall properties, meaning it can effectively catch bullet fragments that strike a ballistic plate. Today, many US soldiers and police officers wear LINE-X coated ceramic plates for added protection. LINE-X can also reduce the threat of falling debris and shrapnel caused by a bomb blast by basically holding a wall or structure together. In fact, there are walls of the US Pentagon that are sprayed with LINE-X for exactly this purpose.
While LINE-X was not founded in Alabama, after the economic recession in 2009, the business relocated to Huntsville and now proudly calls Alabama its home. Since the move, LINE-X has been able to expand its business to include even more industries, going far beyond automotive applications.
"Huntsville's high tech atmosphere is the perfect environment for continued growth of our LINE-X research and development programs," said Dennis Weese, president of LINE-X.
Alabama has proved to be a favorable business environment for LINE-X, as the company has nearly doubled its workforce since the move. It also recently expanded its facility with a move to Huntsville's Jetplex Industrial Park in February. The new space is almost three times as large as its previous headquarters.
LINE-X has enjoyed much success in Alabama, and was named the 2017 Alabama Manufacturer of the Year in the medium category by the Business Council of Alabama (BCA) and the Alabama Technology Network.
"The annual Manufacturer of the Year Awards seeks to honor Alabama manufacturers – from the largest industrial employers to the smallest businesses – for displaying efficiency, safety, and excellence in their products and the process for making them," said William J. Canary, president and CEO of the BCA. "Quite simply, manufacturing is an economic engine powering the state's economy. Alabama manufacturers in the 21st century are leveraging technology in new and exciting ways."
In the future, LINE-X hopes to continue to thrive, bringing more recognition and innovation to Alabama.
"We want LINE-X to become known as the best provider of automotive aftermarket services in North America. Not only that, it's our hope that many other industries come to realize how well LINE-X coatings prevent corrosion and reduce the need for costly, ongoing maintenance. It could be a game changer for infrastructure, manufacturing, and construction," said Weese.
---
About the Business Council of Alabama: For more than three decades, the Business Council of Alabama has been Alabama's foremost voice for business, standing up for Alabama businesses that are the job creators and innovators driving our state's economy. Through this Business Spotlight Series, the BCA tells the stories of these businesses that proudly call Alabama home and in the process, we hope to show why we work hard every day making a sweet home for business. For more information about the BCA, please visit their website.
---
Sponsored Content
Don't miss out!  Subscribe today to have Alabama's leading headlines delivered to your inbox.