ADC's Joe Reed demands 'fair share' payment of $25k from Dem candidates — Calls not paying 'political folly,' warns 'grave risk'
Some might call it a shakedown of Democratic candidates three weeks out of an election — many of which were long-shots at best and at a massive financial disadvantage against their Republican opponents.
Alabama Democratic Conference chairman Joe Reed calls it "your fair share."
In a letter obtained by Yellowhammer News dated October 17 to "Democratic Candidates Seeking Office on November 6, 2018," Reed makes a request for $25,000 for a get out the vote effort, in which he wrote entails printing and distributing ballots, passing them out and also distributing them in, "Churches and other public places such as barber and beauty shops."
"Your fair share for the position you seek is $25,000," he wrote. "Make your check payable to the Democracy Advancement Fund Incorporated, 424 South Decatur Street, Montgomery, AL 36104."
Reed warns candidates against "withholding GOTV money," calling it "political folly," and suggesting doing so poses a "grave risk to their campaign."
Excerpt from the letter as follows:
It has come to my attention that some candidates have discussed withholding GOTV money black community through the ADC and other organizations in the November 6 General Election. Whether this rumor is true or false, I do not know, but I wish to warn those counsel and those who embrace this political folly do so at grave risk to their campaign and perilous danger to their election. However, I hasten to add every candidate reserves the right to run and fund his or her campaign as they choose. However, I wish to impress upon each candidate in no small way, the ADC and I personally support all democrats, but the ADC cannot be expected to fund all democrats we support. I am a volunteer. I do not get one dime for working to turn out the vote. No one is doing me a favor by contributing to ADC for his or her own campaign. If no money is available, I will tell the county leaders so they can plan accordingly. Just remember he or she who comes in second "never takes the oath."

Alabama Democratic Conference letter, 10/17/2018
Reed's solicitation in this letter is similar to the one detailed in Ruth Graham's October 17 New York Times Magazine profile of Alabama second congressional Democratic nominee Tabitha Isner. According to Isner, Reed sought $15,000 "to help distribute voter guides printed with the group's endorsements."
According to Graham's piece, there were legal questions about writing a check to Reed's organization.
"We joke about the Democratic Party in Alabama being like a vampire, sucking you of all of your resources," Isner campaign manager Megan Skipper said to the Times Magazine regarding Reed's request. "That's very frustrating, but it's the way the system has worked so far."
Another Democratic candidate is also declining to pay Reed. According to a since-deleted Facebook post by State Senate District 11 candidate Carl Carter, he is also apparently refusing to send a solicitation of $2,500 to the ADC.
"I will note that standing outside polling places and handing out sample ballots is NOT getting out the vote," Carter wrote. "By definition, the people getting those are already "out" and voting. I will not be sending any money to the ADC."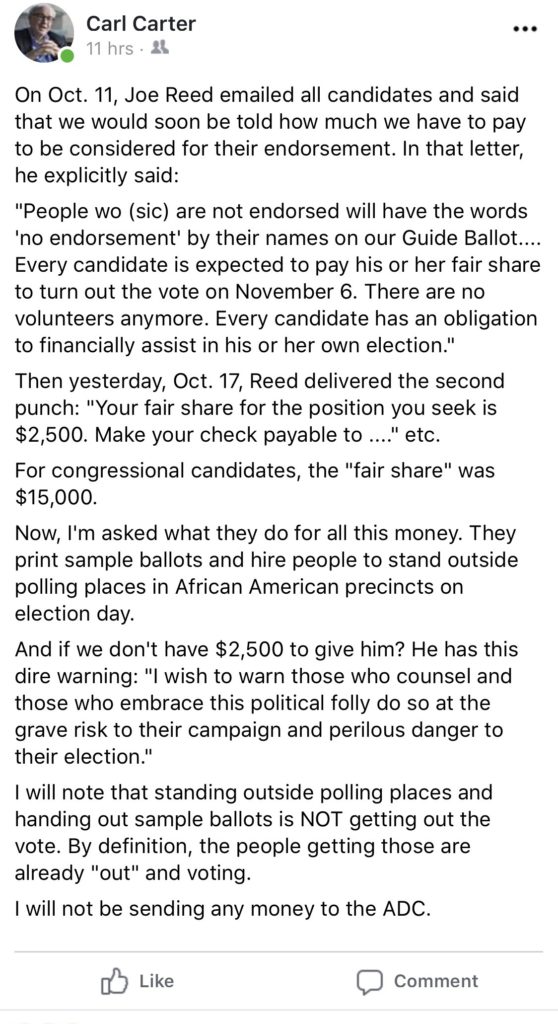 Yellowhammer News reached out to Carter for comment about Reed's solicitation but has not heard back.
Back in August, there was an effort led in part by Sen. Doug Jones (D-Mountain Brook) to reduce Reed's role in Alabama Democratic politics by replacing Reed-backed Nancy Worley with Jones-backed Peck Fox as chairman of the Alabama Democratic Party.
However, Jones' effort failed, and Worley was reelected to another term as chairwoman.
Yellowhammer News also reached out to the Alabama Democratic Conference about its get-out-the-vote effort but did not get a response.
@Jeff_Poor is a graduate of Auburn University and is the editor of Breitbart TV.