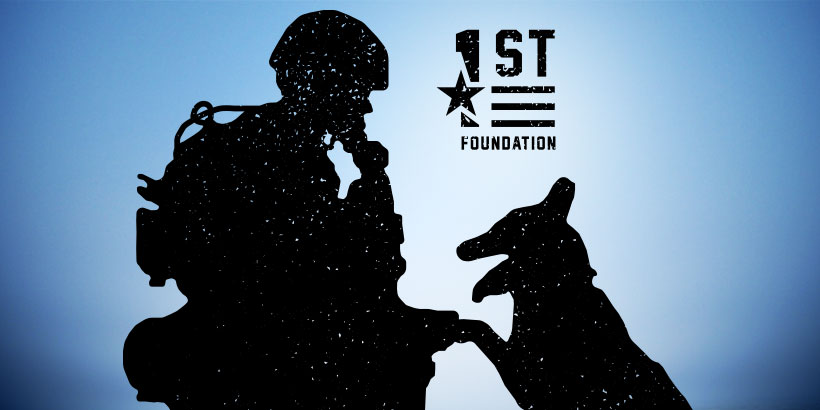 BIRMINGHAM, Ala. — Thanks to the 1st Foundation, Alabamians can now purchase a license plate that will help support U.S. military veterans, law enforcement, and dogs. Earlier this month, the 1st Foundation's commitment phase for their branded Alabama specialty license plate was approved, allowing drivers in the state to commit to buying one.
Thanks to the donation of an unnamed benefactor, the first 250 people that commit to buying one of the 1st Foundation's specialty plates will receive it free of charge.
The 1st Foundation is a 501(c)(3) nonprofit that supports first responders, special operations personnel, and their families. The 1st Foundation works with many organizations to place dogs that need rehabilitation with veterans who could use some companionship, helping them both reacclimate to civilian life. But according to founder Landon Ash, providing emotional support or companion dogs to veterans is just one leg of the 1st Foundation.
Ash noted that in addition to K9 adoptions, his non profit works to provide training, equipment donations, grants, scholarships and memorial funds to those who have served in America's military and police forces.
Now, he is ready to take the 1st Foundation's mission to the next level with the help of the proceeds from license plates. "With the 1st Foundation tag, we are excited to be able to expand Alabamian's choices for specialty license plates while also bringing awareness to our foundation and the work we do for our military, K9's and law enforcement," Ash said.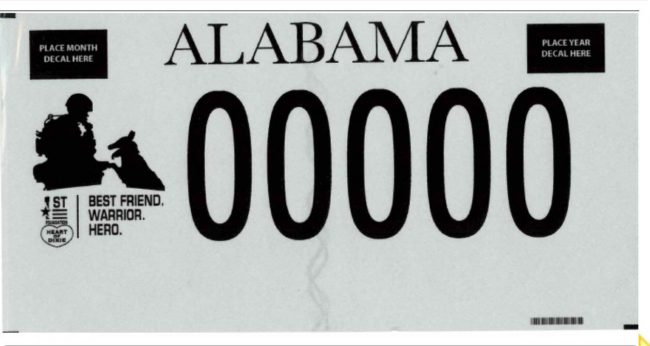 In addition to his work with the 1st Foundation, Ash works closely with those keeping America safe through his companies Xtreme Concepts and iK9. Headquartered in Birmingham, Xtreme Concepts is a worldwide leader in providing turnkey security solutions, training, and technology integration to U.S. government, military and commercial clients on a global scale. iK9 is a comprehensive Canine Solutions provider for detection and service dogs, along with professional handler education. At iK9, specialists are guided by the commitment to provide highly skilled and well-bred detection and service dogs, experienced and industry-intelligent master trainers, and responsive and needs-based curricula.
RELATED: iK9: the untold story of an Alabama detection and service dog provider working to keep Americans safe
The 1st foundation is run entirely by volunteers, so 100 percent of the proceeds from the plates will go directly to its support programs, individuals, and families in need.
Commitments for the 1st Foundation plate can be made here. Those interested in doing so may commit through May 31.
www.1stfoundation.com/license-plate
Don't miss out!  Subscribe today to have Alabama's leading headlines delivered to your inbox.