Why do we hate the media? This isn't hard to figure out
The media's obsession with the term "gaslighting" in relation to President Donald Trump's less than truthful statements and projections is rather amusing. But, what is often missed is that the folks in the media are actively "gaslighting" the American public about the fear the media feels.
The main perpetrator of this nonsense is none other than CNN's Jim Acosta who vacillates between being an ultra-aggressive in media scrums and whining on Twitter that the American people don't appreciate him enough and telling us he is scared.
Just a sample of the sad scene we faced at the Trump rally in Tampa. I'm very worried that the hostility whipped up by Trump and some in conservative media will result in somebody getting hurt. We should not treat our fellow Americans this way. The press is not the enemy. pic.twitter.com/IhSRw5Ui3R

— Jim Acosta (@Acosta) August 1, 2018
This very cute baby at the Trump rally in Florida needs a "Team Real News" onesie. pic.twitter.com/ZwOHmloXfG

— Jim Acosta (@Acosta) August 1, 2018
Another snapshot from Trump's Tampa rally, I tried to take a picture with a father and his daughter while people yelled "CNN sucks" in my face. I am sorry that this little girl had to see that. pic.twitter.com/DIHPpCdbb6

— Jim Acosta (@Acosta) August 1, 2018
The anger these Americans feel towards the press is completely justified.
The coverage of last night's rally is either infuriatingly bad or open dishonest:
President Trump said, "The time has come for voter ID," while speaking at a rally in Tampa and also claimed it's already needed to buy groceries. Photo IDs are required for certain purchases like alcohol and cigarettes but not food. pic.twitter.com/6hvKWjNAYy

— TODAY (@TODAYshow) August 1, 2018
It's like they have no ability to understand what is being said; it has to be intentional.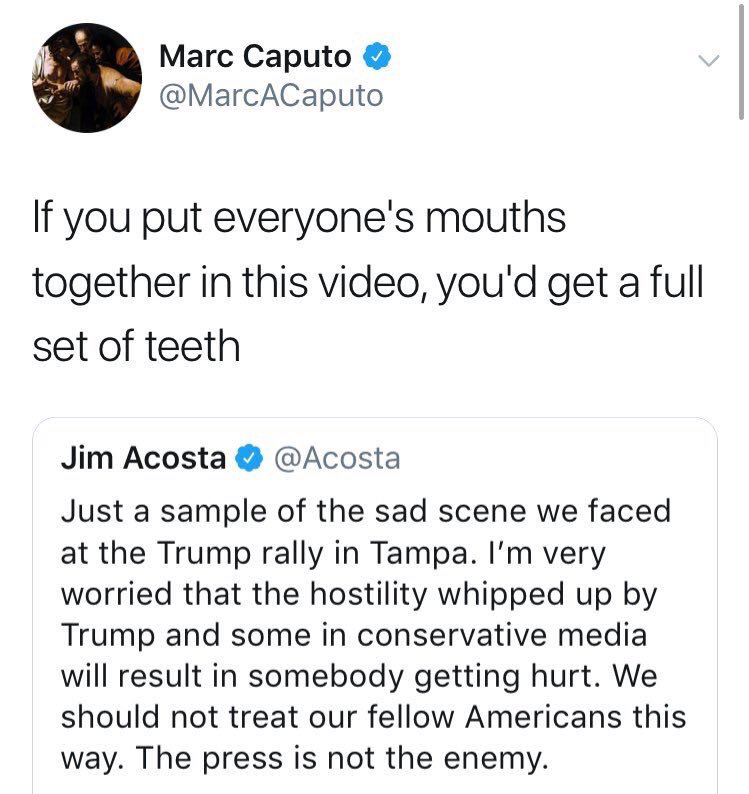 Oh.
The idea that the president makes them fearful for their lives is laughable. They go on television and rip this president daily. 90-plus percent of the media's coverage is outright negative.
On the other hand, the press has implied for almost two years that the current president of the United States is a foreign asset, or at least colluded with the Russian government, and is attempting to steal the presidency. This same media has alleged that Republican-led efforts to repeal ObamaCare, cut taxes, end net neutrality, resist gun control laws and curb illegal immigration all come from evil and vile places and must be stopped. Their rhetoric and the platforms they provide to the "Resistance," with little pushback, has actually led to deadly violence on a baseball field in Virginia.
They are whining about people yelling at them.
The First Amendment does not only include the part about the free press.
President Trump has the First Amendment right to slam the media and the American people have a right to tell CNN that they suck. The media needs to stop pretending they are under-siege because Trump says mean things about them.
Stop playing the victim.
@TheDaleJackson is a contributing writer to Yellowhammer News and hosts a conservative talk show from 7-11 am weekdays on WVNN