U.S. Rep. Jerry Carl (R-Mobile) recently hosted fellow colleague and lead Republican on the House Armed Services Committee Mike Rogers (R-Saks) as the two GOP lawmakers toured Mobile-based Austal USA and Master Boat Builders.
The two shipbuilders are staples of Alabama's first congressional district and sources of robust economic activity in South Alabama.
Carl, a member of the House Armed Services Committee, noted the contributions of both shipyards to the local economy.
"It was an honor to host my colleague, Rep. Mike Rogers, on tours of Austal USA and Master Boat Builders right here in my district," stated Carl. "South Alabama is home to many world-class shipbuilding facilities, and the work they do is critical to our local economy and to the defense footprint of the United States. I'm proud to sit on the House Armed Services Committee, where I'm fighting for their continued success each and everyday."
Rogers touted both company's respected workforces and deemed the work of both shipbuilders to be of national importance.
"Continuing to invest in and build our maritime fleet is critical for our nation's future," advised Rogers. "I was glad to join Rep. Jerry Carl to see the hard work being done right here in Alabama at Austal USA and Master Boat Builders. The people of Austal USA and Master Boat Builders are building a better America."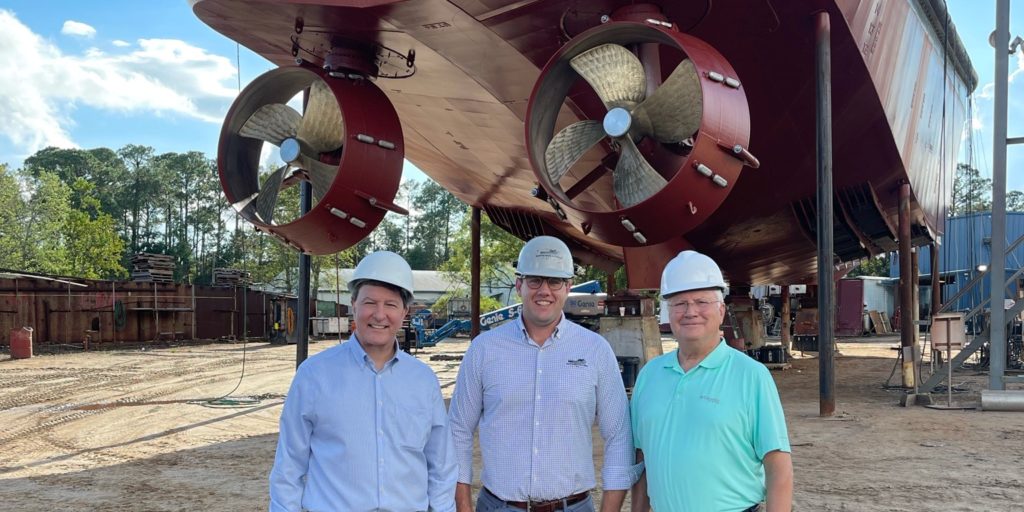 Austal USA president Rusty Murdaugh heaped praise on both congressmen for their efforts to support the company's work in providing products critical to U.S. national security.
"It was a privilege hosting Congressman Rogers and Congressman Carl today," said Murdaugh. "Congressman Rogers has been a champion of advancing our Nation's military readiness throughout his career, and his support of Austal shipbuilding has been unwavering."
He added, 'Congressman Carl, from day one, has been a staunch advocate of national defense and Austal, our incredibly skilled workforce, and our families. We can't thank them enough for all their support."
Echoing Murdaugh's sentiments was Master Boat Builders president Garrett Rice, who thanked Carl and Rogers for placing priority on supporting Alabama industry.
"Master Boat Builders was honored to host U.S. Representatives Jerry Carl and Mike Rogers to see the high-quality workboats and vessels being built right here in Alabama by our hardworking employees," said Rice. "As leading members of the House Armed Services Committee, we greatly appreciate Representatives Carl and Rogers' commitment to Alabama shipbuilding and shipyards across the country, which are critical to our economy and national security."
Dylan Smith is a staff writer for Yellowhammer News. You can follow him on Twitter @DylanSmithAL